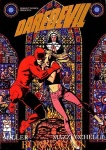 Having more or less successfully rebooted its
X-Men
franchise, 20th Century Fox has hired
Fringe
writer Brad Caleb Kane to pen a script for the big screen re-launch of
Daredevil
, the blind Marvel superhero whose previous movie incarnation in 2003 starring Ben Affleck was widely considered a failure. David Slade (
30 Days of Night, The Twilight Saga: Eclipse
) is attached to direct the film. Slade's involvement was announced in March (see "
David Slade to Direct New Daredevil Film
"). The hiring of Kane was no doubt influenced by the relative success of
X-Men: First Class
, and indicates that Fox has made a new
Daredevil
movie a priority.
Kane will be adapting Born Again, the Daredevil story arc written by Frank Miller and drawn by David Mazzucchelli that originally appeared from February to August of 1986 in Daredevil #227-#233. In Born Again the Kingpin learns Daredevil's identity and methodically begins to destroy Matt Murdock's life piece by piece, literally driving him to point of insanity.
According to
The Hollywood Reporter
Kane, who has just one major writing credit (for
Brooklyn's Finest
), is a big
Daredevi
l fan whose passion for the project was instrumental in getting him the gig.