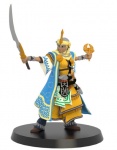 WizKids has released more details on its upcoming joint project with Paizo Publishing: the
Pathfinder Beginner Box Heroes Fantasy Miniatures
(see "
Pre-painted Pathfinder Minis
"). The minis set is on schedule to release in October, 2011.
The set will include four hand-painted miniatures, each on a one inch circular base, fully compatible with the Pathfinder role-playing game. These are all-new sculpts, created under license by WizKids Games.
Each figure in the set represents one of the characters from the
Pathfinder Roleplaying Game Beginner Box
, also scheduled to release in October (see "
Pathfinder Beginner Box
"). The characters are:
Ezren, male human wizard
Kyra, female human cleric
Merisiel, female elf rogue
Valeros, male human fighter
The minis will be packaged in a 5.75" by 9.25" clam shell.