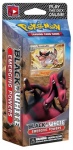 The Pokemon Company International's new Pokemon: Black & White-Emerging Powers Expansion will arrive in stores with theme decks (MSRP $11.99) on August 17th followed by boosters (MSRP $3.99) on August 31st. The brand new Black & White-Emerging Powers Expansion, which includes 90 cards, will be the first to give Pokemon TCG players full access to theme decks and booster packs in the new player-versus-player Pokemon Trading Card Game Online. These new products allow players to build customized decks for online battle with virtual cards that are unlocked with special in-pack codes.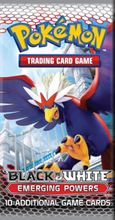 The new expansion includes 25 new, never-before-seen Pokemon from the Unova region including the legendary trio of Cobalion, Terrakion, and Virizion. The series includes full color art cards for the Legendary Pokemon Tornadus and Thundurus.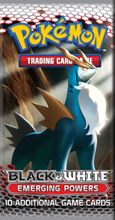 The two
Pokemon TCG: Black & White-Emerging Powers
Theme Decks, will arrive at stores first on August 17th. Each of the theme decks,
Power Play
and
Toxic Tricks
, will feature a special foil card. The two theme decks are built around the powerful Pokemon Krookodile and Scolipede respectively.