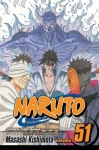 Viz Media's Naruto, which remains the most popular manga property in North America, returned to the top of the "Adult Graphic Novels Sold in Bookstores" chart for June. The 51st volume of Masashi Kissimoto's ninja saga, which debuted on June 7th, sped to its accustomed place at the top of the charts.
Perhaps fortunately for
Naruto
, the latest volume of Robert Kirkman's
The Walking Dead, Volume 14: No Way Out
didn't hit bookstores until June 21st. Still it was able to secure the second spot on the list. May marked the end of a string of 9 straight months in which at least one volume of Kirkman's zombie saga had been in the Nielsen BookScan Top 20 that started as the publicity for AMC's
The Walking Dead
TV series ramped up in August of 2010. The 6-episode first season was over in December so the zombie saga has demonstrated excellent staying power, and the success of
Volume 14
indicates that the series has developed a following in the bookstore market.
BookScan Top 20 Graphic Novels in June 2011

Rank

Title

Author

Publisher

1

NARUTO VOL. 51

MASASHI KISHIMOTO

VIZ MEDIA

2

THE WALKING DEAD VOL. 14

ROBERT KIRKMAN

IMAGE COMICS

3

VAMPIRE KNIGHT VOL. 12

MATSURI HINO

VIZ MEDIA

4

FULLMETAL ALCHEMIST VOL. 25

HIROMU ARAKAWA

VIZ MEDIA

5

BLEACH VOL. 35

TITE KUBO

VIZ MEDIA

6

BLUE EXORCIST VOL. 2

KATO KAZUE

VIZ MEDIA

7

MAXIMUM RIDE: THE MANGA VOL. 4

JAMES PATTERSON

YEN PRESS

8

BLUE EXORCIST VOL. 1

KATO KAZUE

VIZ MEDIA

9

GREEN LANTERN: SECRET ORIGIN

GEOFF JOHNS

DC COMICS

10

FABLES VOL 15: ROSE RED

BILL WILLINGHAM

VERTIGO

11

BAKUMAN VOL. 5

TSUGUMI OHBA

VIZ MEDIA

12

ONE PIECE VOL. 57

EIICHIRO ODA

VIZ MEDIA

13

BLACK BIRD VOL. 8

KANOKO SAKURAKOJI

VIZ MEDIA

14

GREEN LANTERN: BRIGHTEST DAY HC

GEOFF JOHNS

DC COMICS

15

OURAN HIGH SCHOOL HOST CLUB VOL. 16

BISCO HATORI

VIZ MEDIA

16

NEGIMA! MAGISTER NEGI MAGI VOL. 29

KEN AKAMATSU

KODANSHA COMICS

17

BLACK BUTLER VOL. 5

YANA TOBOSO

YEN PRESS

18

SCOTT PILGRIM VOL. 2

BRYAN LEE O'MALLEY

ONI PRESS

19

BATMAN & ROBIN VOL. 3 HC

GRANT MORRISON

DC COMICS

20

DARK TOWER: THE GUNSLINGER VOL. 2 HC

PETER DAVID

MARVEL COMICS
Speaking of staying power, Bryan Lee O'Malley's Scott Pilgrim series placed two volumes in the Top 20 ten months after the debut of a movie adaptation that was a box office disappointment, but which has proven to be a roaring graphic novel sales-driving success.
Manga continues to dominate this chart, which is based on units rather than dollars. In June 13 of the Top 20 volumes were manga, and Viz Media reasserted its dominance with 10 of the 13 titles. Viz Media's dominance was the result of fresh releases of books from its top series, which include the #1 Shonen (boys) manga
Naruto
, and the #1 Shojo (girl) manga
Vampire Knight
, plus volumes from other potent properties such as
Full Metal Alchemist, Bleach
, and what appears to be a new hit,
Blue Exorcist
. Yen Press, which scored a rare coup in May (see "
Yen Has Most Manga in the Top 20
"), had two titles on the chart (versus 6 in May), and Kodansha Comics had one.
DC led on the American comics side with three title (all from DC Comics and two featuring
Green Lantern--
the big budget
Green Lantern
movie debuted on June 17th), followed by Oni Press with two, and Marvel and Image with one each.
For past BookScan Top 20 Graphic Novel lists, see the "
BookScan Top 20 GNs Index
."