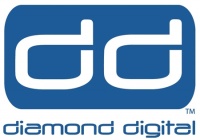 Diamond Comic Distributors has announced that in September Diamond Digital, the joint venture between DCD and iVerse Media, will be up and running, allowing Diamond's retail comic shop customers to pre-generate codes redeemable for new digital comics. Many of the digital comics in Diamond's e-comics delivery program will be available in digital form first from comic shops or will include special bonus material unavailable in other digital editions. A special "Print Plus" option will allow customers at brick-and-mortar retailers to buy a digital copy of a book they have purchased in the conventional paper format for just and additional 99 cents.
More than 30 publishers including Image, IDW, Archie, NBM/Papercutz, and Top Shelf are participating in the Diamond Digital program. Unlike other options for brick and mortar retailers, Diamond's plan does not require that retailers have a functioning store Website in order to participate (see "
Diamond Offers In-Store Digital Sales
").
Fifty retailers from all around the country have already been involved in dry-run testing of the Diamond Digital delivery system. In August Diamond will begin beta testing weekly digital comic offerings in physical stores with full implementation planned for September.