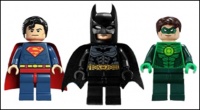 Warner Bros. Consumer Products is expanding it relationship with toymaker Lego and providing the toymaker with access to DC Comics' extensive library of comic book heroes, which will enable the Danish construction toy specialists to launch a series of Lego Super Heroes figures and playsets starting in 2012.
According to
Variety
, the multi-year deal will result in Lego producing a first wave of 13 figures in January that will include
Batman, Superman, Wonder Woman, Green Lantern
, as well as villains the
Joker, Bane, Harley Quinn
, and
Lex Luthor
.
Lego playsets will eventually allow kids to construct the characters, vehicles, and worlds of some of the most iconic comic book characters.
The first toys will be on display at the Lego booth at Comic-Con where Lego will give away 3,000 minifigures of Batman, Superman and Green Lantern as part of a promotional contest that will run from August to December in which fans will create videos, photos, or illustrations of the figures to win trips to Legoland and the Warner Bros. Studio.