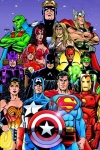 The big news from the Orlando, Florida Megacon last weekend was the announcement from Marvel and DC that the long-awaited JLA/Avengers crossover will become a reality. The four-issue mini-series will be written by Kurt Busiek and George Perez and drawn by Perez. The 48-page prestige-format books will be published alternately by Marvel and DC, with each company producing two books.
George Perez began working on this concept almost 20 years ago. In his current contract with Crossgen, he had one out -- the chance to do this series -- and he is going to take a year's leave of absence from Crossgen after completing work on the next two issues of Crossgen Chronicles. Right now it appears that the crossover should be ready by the summer of 2002.
Through the years crossovers have been a mixed bag, both creatively and commercially, but this one definitely has a lot going for it.

The involvement of Busiek and Perez will give the project a generation-spanning appeal.

It also appears that this is a labor of love on the part of the creators , and that they are being given the resources to produce something special.

This could easily be one of the best-selling comic series of 2002.