Comic-Con News—At the "Marvel Digital: What's Next Panel," Marvel's Senior VP of Publishing David Gabriel announced that by the end of the year the major Spider-Man and X-Men titles would be available in digital form on the same day that they ship to retail in printed form. Gabriel then announced that the process would begin next week with the Spider-Man titles starting with the Amazing Spider-Man #666 and the Spider Island titles.
The
X-Men
titles will go day and date digital by the end of November starting with
Uncanny X-Men
#1 and
Wolverine and the X-Men
#1.
Wolverine & the X-Men
#1 is actually slated for October, while the
Uncanny X-Men
#1 is due in November. Gabriel indicated that Marvel is eager to switch to day and date digital whenever there is an easy jumping-on point such as a #1 issue.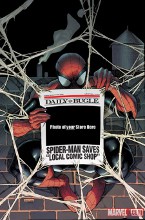 Interestingly,
Amazing Spider-Man
#666 is the issue for which Marvel is creating special brick-and-mortar retailer specific covers for retailers who order enough copies of the issue.