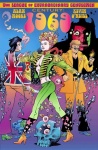 These are estimates of the sales on graphic novels by Diamond U.S. to comic specialty stores during July 2011.
For an overview and analysis of comic sales in July, see "
'Amazing Spider-Man' #666 Tops July Sales
."
For an analysis of the dollar trends in July, see "
Comics Down Again in July
."
For our estimates of actual sales by Diamond
U.S.
from comic specialty stores on comic books shipped during July, see "
Top 300 Comics Actual--July 2011
."
| | | | | | |
| --- | --- | --- | --- | --- | --- |
| | | Top 300 GNs -- July 2011 | | | |
| Rank | Index | Title | Price | Pub | Est.Qty |
| 1 | 44.12 | LOEG III CENTURY #2 1969 (MR) | $9.95 | TOP | 22,672 |
| 2 | 14.45 | CONAN THE BARBARIAN MASK OF ACHERON | $6.99 | DAR | 7,427 |
| 3 | 12.23 | KICK-ASS TP (MR) | $19.99 | MAR | 6,286 |
| 4 | 12.01 | BLACKEST NIGHT TP | $19.99 | DC | 6,172 |
| 5 | 8.50 | BLACKEST NIGHT GREEN LANTERN TP | $19.99 | DC | 4,368 |
| 6 | 7.62 | JACK OF FABLES TP VOL 09 THE END (MR) | $17.99 | DC | 3,916 |
| 7 | 7.48 | STAR WARS CLONE WARS YR TV TP VOL 06 STARCRUSHER TRAP | $7.99 | DAR | 3,846 |
| 8 | 7.36 | BLACKEST NIGHT GREEN LANTERN CORPS TP | $19.99 | DC | 3,784 |
| 9 | 7.35 | NORTHLANDERS TP VOL 05 METAL (MR) | $17.99 | DC | 3,778 |
| 10 | 7.11 | INCOGNITO TP VOL 02 BAD INFLUENCES (MR) | $17.99 | MAR | 3,653 |
| 11 | 6.22 | WALKING DEAD TP VOL 14 NO WAY OUT (MR) | $14.99 | IMA | 3,196 |
| 12 | 5.79 | LOCKE & KEY HC VOL 04 KEYS TO THE KINGDOM | $24.99 | IDW | 2,974 |
| 13 | 5.75 | BLACKEST NIGHT BLACK LANTERN CORPS TP VOL 01 | $19.99 | DC | 2,954 |
| 14 | 5.69 | BATMAN BRUCE WAYNE THE ROAD HOME HC | $24.99 | DC | 2,925 |
| 15 | 5.66 | BLACKEST NIGHT RISE OF THE BLACK LANTERNS TP | $19.99 | DC | 2,908 |
| 16 | 5.66 | BLACKEST NIGHT BLACK LANTERN CORPS TP VOL 02 | $19.99 | DC | 2,906 |
| 17 | 5.30 | BATMAN HUSH UNWRAPPED DELUXE ED HC | $39.99 | DC | 2,721 |
| 18 | 5.24 | BLACKEST NIGHT TALES OF THE CORPS TP | $19.99 | DC | 2,694 |
| 19 | 4.97 | SCARLET PREM HC BOOK ONE (MR) | $24.99 | MAR | 2,553 |
| 20 | 4.77 | LOCKE & KEY TP VOL 03 CROWN OF SHADOWS | $19.99 | IDW | 2,453 |
| 21 | 4.74 | JUSTICE HC | $39.99 | DC | 2,438 |
| 22 | 4.64 | DEADPOOL TP VOL 06 I RULE YOU SUCK | $15.99 | MAR | 2,384 |
| 23 | 4.60 | STAR WARS KNIGHT ERRANT TP VOL 01 AFLAME | $17.99 | DAR | 2,364 |
| 24 | 4.54 | CAPTAIN AMERICA FIRST VENGEANCE TP | $14.99 | MAR | 2,331 |
| 25 | 4.44 | AVENGERS BY BRIAN MICHAEL BENDIS TP VOL 01 | $19.99 | MAR | 2,281 |
| 26 | 4.34 | NEW AVENGERS BY BRIAN MICHAEL BENDIS TP VOL 01 | $19.99 | MAR | 2,231 |
| 27 | 4.24 | GOTHAM CENTRAL TP BOOK 02 JOKERS AND MADMEN | $19.99 | DC | 2,181 |
| 28 | 4.17 | AVENGERS ACADEMY TP VOL 01 PERMANENT RECORD | $19.99 | MAR | 2,145 |
| 29 | 4.16 | USAGI YOJIMBO TP VOL 25 FOX HUNT | $16.99 | DAR | 2,139 |
| 30 | 4.09 | SAGA OF THE SWAMP THING HC BOOK 05 (MR) | $24.99 | DC | 2,101 |
| 31 | 4.07 | SECRET AVENGERS TP VOL 01 MISSION TO MARS | $19.99 | MAR | 2,091 |
| 32 | 3.99 | AVENGERS BY BRIAN MICHAEL BENDIS PREM HC VOL 02 | $24.99 | MAR | 2,051 |
| 33 | 3.86 | SHOWCASE PRESENTS DOC SAVAGE TP | $19.99 | DC | 1,986 |
| 34 | 3.85 | INCREDIBLE HULKS TP PLANET SAVAGE | $15.99 | MAR | 1,979 |
| 35 | 3.83 | CASANOVA GULA TP (MR) | $14.99 | MAR | 1,969 |
| 36 | 3.78 | YU-GI-OH 5DS GN VOL 01 | $9.99 | VIZ | 1,943 |
| 37 | 3.55 | HEROES FOR HIRE TP CONTROL | $15.99 | MAR | 1,826 |
| 38 | 3.52 | BLACK PANTHER MAN WITHOUT FEAR TP VOL 01 URBAN JUNGLE | $16.99 | MAR | 1,811 |
| 39 | 3.33 | BLACK BUTLER TP VOL 06 | $11.99 | HAC | 1,712 |
| 40 | 3.32 | CAPTAIN AMERICA HAIL HYDRA TP | $14.99 | MAR | 1,706 |
| 41 | 3.29 | NEGIMA GN VOL 30 (MR) | $10.99 | RAN | 1,688 |
| 42 | 3.27 | GREEN ARROW HC VOL 01 INTO THE WOODS | $22.99 | DC | 1,681 |
| 43 | 3.26 | X-FILES 30 DAYS OF NIGHT TP (MR) | $17.99 | DC | 1,677 |
| 44 | 3.23 | WALKING DEAD TP VOL 01 DAYS GONE BYE | $9.99 | IMA | 1,661 |
| 45 | 3.21 | STAND NO MANS LAND PREM HC | $24.99 | MAR | 1,652 |
| 46 | 3.21 | DAVE STEVENS COMPLETE SKETCHBOOK COLL HC | $50.00 | IDW | 1,647 |
| 47 | 3.17 | ATOMIC ROBO TP VOL 05 DEADLY ART OF SCIENCE | $19.95 | RED | 1,631 |
| 48 | 3.17 | HAWKEYE TP BLINDSPOT | $15.99 | MAR | 1,629 |
| 49 | 3.06 | BATMAN STREETS OF GOTHAM HC VOL 03 HOUSE OF HUSH | $22.99 | DC | 1,573 |
| 50 | 3.03 | COWBOYS HC (MR) | $19.99 | DC | 1,558 |
| 51 | 3.03 | STEVE ROGERS TP SUPER-SOLDIER | $14.99 | MAR | 1,556 |
| 52 | 3.00 | HIGH SCHOOL OF DEAD GN VOL 03 (MR) | $13.99 | HAC | 1,540 |
| 53 | 2.94 | BLACK WIDOW KISS OR KILL TP | $12.99 | MAR | 1,513 |
| 54 | 2.92 | CLASSIC GI JOE TP VOL 12 | $24.99 | IDW | 1,499 |
| 55 | 2.91 | DAKEN AND X-23 PREM HC COLLISION | $24.99 | MAR | 1,495 |
| 56 | 2.90 | MMW AVENGERS HC VOL 11 | $54.99 | MAR | 1,492 |
| 57 | 2.87 | THOR BLACK GALAXY SAGA TP | $19.99 | MAR | 1,476 |
| 58 | 2.87 | SPIDER-MAN BLUE TP | $19.99 | MAR | 1,474 |
| 59 | 2.82 | SPIDER-MAN FANTASTIC FOUR TP | $14.99 | MAR | 1,447 |
| 60 | 2.78 | HALO TP BLOOD LINE (MR) | $19.99 | MAR | 1,430 |
| 61 | 2.78 | BATMAN HUSH COMPLETE TP | $24.99 | DC | 1,428 |
| 62 | 2.78 | DEADPOOL PULP TP | $14.99 | MAR | 1,427 |
| 63 | 2.73 | SPIDER-MAN ORIGIN OF SPECIES TP | $19.99 | MAR | 1,403 |
| 64 | 2.69 | DANGER GIRL CAMPBELL SKETCHBOOK HC | $19.99 | IDW | 1,382 |
| 65 | 2.57 | FLIGHT GN VOL 08 | $27.00 | RAN | 1,323 |
| 66 | 2.55 | WATCHMEN TP | $19.99 | DC | 1,309 |
| 67 | 2.52 | ASTONISHING SPIDER-MAN AND WOLVERINE PREM HC | $24.99 | MAR | 1,295 |
| 68 | 2.51 | ROSARIO VAMPIRE SEASON II TP VOL 05 | $9.99 | VIZ | 1,290 |
| 69 | 2.51 | SPIDER-MAN AM I AN AVENGER TP | $29.99 | MAR | 1,288 |
| 70 | 2.49 | THUNDERBOLTS TP VIOLENT REJECTION | $15.99 | MAR | 1,282 |
| 71 | 2.48 | DOCTOR WHO ONGOING 2 TP VOL 01 RIPPER | $17.99 | IDW | 1,272 |
| 72 | 2.42 | AMORY WARS SECRETS OF SILENT EARTH 3 TP VOL 03 | $14.99 | BOO | 1,245 |
| 73 | 2.36 | PENNY ARCADE TP VOL 07 BE GOOD LITTLE PUPPY | $15.00 | RAN | 1,211 |
| 74 | 2.35 | X-FACTOR SCAR TISSUE PREM HC | $24.99 | MAR | 1,207 |
| 75 | 2.32 | WOLVERINE WOLVERINE VS X-MEN PREM HC | $19.99 | MAR | 1,192 |
| 76 | 2.29 | GREEN LANTERN REBIRTH TP NEW EDITION | $14.99 | DC | 1,175 |
| 77 | 2.27 | SMURFS GN VOL 07 THE ASTRO SMURF | $5.99 | NBM | 1,169 |
| 78 | 2.23 | KULL TP VOL 02 HATE WITCH | $15.99 | DAR | 1,146 |
| 79 | 2.21 | REVOLVER TP (MR) | $19.99 | DC | 1,138 |
| 80 | 2.15 | MMW X-MEN TP VOL 03 | $24.99 | MAR | 1,103 |
| 81 | 2.12 | TRANSFORMERS ONGOING TP VOL 03 | $19.99 | IDW | 1,089 |
| 82 | 2.09 | X-MEN LIFEDEATH PREM HC | $24.99 | MAR | 1,072 |
| 83 | 2.08 | MAGIC KNIGHT RAYEARTH DH OMNIBUS ED VOL 01 | $19.99 | DAR | 1,069 |
| 84 | 2.07 | ESSENTIAL PETER PARKER SPECTACULAR SPIDER-MAN TP VOL 05 | $19.99 | MAR | 1,063 |
| 85 | 2.04 | SPAWN NEW BEGINNINGS TP VOL 01 | $14.99 | IMA | 1,047 |
| 86 | 2.00 | X-MEN LEGACY AFTERMATH PREM HC | $19.99 | MAR | 1,026 |
| 87 | 1.99 | SPIDER-MAN DEATH JEAN DEWOLFF PREM HC | $24.99 | MAR | 1,025 |
| 88 | 1.98 | INFINITY INC HC VOL 01 THE GENERATIONS SAGA | $39.99 | DC | 1,018 |
| 89 | 1.97 | LUCKY STAR GN VOL 08 | $10.99 | BAN | 1,010 |
| 90 | 1.96 | JERICHO TP SEASON 3 | $19.99 | IDW | 1,006 |
| 91 | 1.95 | WALKING DEAD TP VOL 02 MILES BEHIND US (NEW PTG) | $14.99 | IMA | 1,002 |
| 92 | 1.94 | MARVEL POINT ONE TP | $24.99 | MAR | 999 |
| 93 | 1.94 | DISNEY TREASURY DONALD DUCK TP VOL 02 | $14.99 | BOO | 997 |
| 94 | 1.92 | DARK AVENGERS HC | $49.99 | MAR | 985 |
| 95 | 1.88 | NEW X-MEN BY GRANT MORRISON TP BOOK 03 | $14.99 | MAR | 966 |
| 96 | 1.88 | MORNING GLORIES TP VOL 01 FOR A BETTER FUTURE | $9.99 | IMA | 965 |
| 97 | 1.88 | ENDERS GAME SPEAKER FOR DEAD PREM HC | $24.99 | MAR | 965 |
| 98 | 1.86 | WOLVERINE BEST THERE IS PREM HC CONTAGION | $24.99 | MAR | 956 |
| 99 | 1.79 | ANITA BLAKE VAMPIRE HUNT CIRCUS DAMNED TP BOOK 01 (MR) | $16.99 | MAR | 921 |
| 100 | 1.78 | VAMPIRELLA TP VOL 01 CROWN OF WORMS | $19.99 | DYN | 917 |
| 101 | 1.76 | MARVEL ADVENTURES SPIDER MAN VOL 01 SINISTER SIX DIGEST | $6.99 | MAR | 904 |
| 102 | 1.76 | GI JOE A REAL AMERICAN HERO TP VOL 02 | $19.99 | IDW | 902 |
| 103 | 1.73 | MARVEL ADVENTURES IRON MAN SPIDER-MAN TP DIGEST | $9.99 | MAR | 890 |
| 104 | 1.71 | Y THE LAST MAN TP VOL 01 UNMANNED | $14.99 | DC | 878 |
| 105 | 1.67 | MARVEL ADVENTURES TP THOR DIGEST | $9.99 | MAR | 858 |
| 106 | 1.66 | BROKEN TRINITY TP VOL 02 PANDORAS BOX | $19.99 | IMA | 854 |
| 107 | 1.65 | COWBOYS AND ALIENS IT BOOKS TP | $15.99 | HAR | 847 |
| 108 | 1.63 | WALKING DEAD TP VOL 13 TOO FAR GONE (MR) | $14.99 | IMA | 836 |
| 109 | 1.62 | BATMAN DARK KNIGHT RETURNS TP | $14.99 | DC | 834 |
| 110 | 1.60 | GREEN LANTERN SECRET ORIGIN TP | $14.99 | DC | 824 |
| 111 | 1.60 | ONE SOUL HC GN | $24.99 | ONI | 822 |
| 112 | 1.59 | BATMAN AND ROBIN TP VOL 01 BATMAN REBORN | $14.99 | DC | 819 |
| 113 | 1.59 | ARCHIES WEIRD MYSTERIES TP | $9.95 | ARC | 817 |
| 114 | 1.58 | HOMELAND DIRECTIVE GN (MR) | $14.95 | TOP | 811 |
| 115 | 1.57 | CHEW TP VOL 01 (MR) | $9.99 | IMA | 808 |
| 116 | 1.56 | MARVEL ADVENTURES THOR AND AVENGERS TP DIGEST | $9.99 | MAR | 803 |
| 117 | 1.55 | PANDORA HEARTS GN VOL 06 | $11.99 | HAC | 795 |
| 118 | 1.53 | SWEET TOOTH TP VOL 01 OUT OF THE WOODS (MR) | $12.99 | DC | 786 |
| 119 | 1.53 | TRANSFORMERS PRIME TP VOL 02 | $7.99 | IDW | 784 |
| 120 | 1.52 | BATMAN YEAR ONE DELUXE SC | $14.99 | DC | 782 |
| 121 | 1.52 | DEATH NOTE BLACK ED TP VOL 04 | $14.99 | VIZ | 780 |
| 122 | 1.51 | SUPERMAN RED SON TP | $17.99 | DC | 777 |
| 123 | 1.51 | ARCHIES WORLD TOUR GN | $9.95 | ARC | 775 |
| 124 | 1.51 | MARVEL ADVENTURES SPIDER-MAN SPECTACULAR DIGEST TP | $9.99 | MAR | 775 |
| 125 | 1.50 | SCOTT PILGRIM GN VOL 01 PRECIOUS LITTLE LIFE | $11.99 | ONI | 771 |
| 126 | 1.50 | FAIRY TAIL GN VOL 14 | $10.99 | RAN | 771 |
| 127 | 1.47 | NEW MUTANTS CLASSIC TP VOL 06 | $29.99 | MAR | 757 |
| 128 | 1.47 | ALL STAR SUPERMAN TP VOL 01 | $12.99 | DC | 756 |
| 129 | 1.47 | BLOOM COUNTY TO MARS IMAGINATION OF BERKELEY BREATHED SC | $20.00 | IDW | 756 |
| 130 | 1.45 | WELCOME TO TRANQUILITY ONE FOOT IN THE GRAVE TP | $17.99 | DC | 744 |
| 131 | 1.43 | MARVEL ADVENTURES SPIDER-MAN AND AVENGERS TP DIGEST | $9.99 | MAR | 737 |
| 132 | 1.43 | MARVEL ART OF MIKE DEODATO HC | $49.99 | MAR | 737 |
| 133 | 1.43 | STAN LEE STARBORN TP VOL 01 | $9.99 | BOO | 733 |
| 134 | 1.42 | THOR SPIRAL TP | $24.99 | MAR | 732 |
| 135 | 1.41 | ONSLAUGHT UNLEASHED HC | $19.99 | MAR | 726 |
| 136 | 1.41 | X-MEN STEVE ROGERS HC ESCAPE FROM NEGATIVE ZONE | $19.99 | MAR | 722 |
| 137 | 1.40 | MARVEL ADVENTURES AVENGERS TP VOL 10 DIGEST | $9.99 | MAR | 721 |
| 138 | 1.40 | MARVEL ADVENTURES AVENGERS TP IRON MAN DIGEST | $9.99 | MAR | 719 |
| 139 | 1.40 | WALKING DEAD TP VOL 03 SAFETY BEHIND BARS | $14.99 | IMA | 717 |
| 140 | 1.37 | DANCE IN THE VAMPIRE BUND GN VOL 10 (MR) | $10.99 | ST. | 705 |
| 141 | 1.36 | MARVEL ADVENTURES AVENGERS TP VOL 07 DIGEST | $8.99 | MAR | 701 |
| 142 | 1.36 | MARVEL ADVENTURES AVENGERS TP VOL 02 MISCHIEF DIGEST | $7.99 | MAR | 700 |
| 143 | 1.36 | CHI SWEET HOME GN VOL 06 | $13.95 | RAN | 697 |
| 144 | 1.35 | CROSSED TP VOL 01 (MR) | $24.99 | AVA | 693 |
| 145 | 1.34 | CAPTAIN AMERICA ART OF CAPTAIN AMERICA HC | $49.99 | MAR | 691 |
| 146 | 1.34 | DISNEY FAIRIES GN VOL 06 A PRESENT FOR TINKER BELL | $7.99 | NBM | 691 |
| 147 | 1.33 | RIP KIRBY HC VOL 04 | $49.99 | IDW | 681 |
| 148 | 1.33 | MARVEL ADVENTURES AVENGERS TP VOL 08 DIGEST | $9.99 | MAR | 681 |
| 149 | 1.32 | ANGEL OMNIBUS TP VOL 02 | $24.99 | IDW | 677 |
| 150 | 1.30 | FABLES TP VOL 15 ROSE RED (MR) | $17.99 | DC | 668 |
| 151 | 1.30 | MARVEL ADVENTURES IRON MAN TP VOL 02 DIGEST | $7.99 | MAR | 667 |
| 152 | 1.30 | FLASH REBIRTH TP | $14.99 | DC | 666 |
| 153 | 1.29 | EXCALIBUR VISIONARIES ALAN DAVIS TP VOL 03 | $24.99 | MAR | 665 |
| 154 | 1.29 | MARVEL ADVENTURES AVENGERS TP VOL 03 DIGEST | $7.99 | MAR | 664 |
| 155 | 1.29 | MARVEL ADVENTURES AVENGERS TP VOL 04 DIGEST | $7.99 | MAR | 662 |
| 156 | 1.28 | MARVEL ADVENTURES IRON MAN TP VOL 03 DIGEST | $7.99 | MAR | 657 |
| 157 | 1.28 | FABLES TP VOL 01 LEGENDS IN EXILE | $12.99 | DC | 656 |
| 158 | 1.27 | TURF HC (MR) | $39.99 | IMA | 655 |
| 159 | 1.27 | SQUEE TP | $15.95 | SLA | 654 |
| 160 | 1.27 | X-MEN ORIGINS HC | $29.99 | MAR | 653 |
| 161 | 1.26 | GURREN LAGANN GN VOL 06 (RES) | $10.99 | BAN | 650 |
| 162 | 1.25 | PHANTOM COMP DAILIES HC VOL 03 1939-1941 | $49.99 | HER | 642 |
| 163 | 1.24 | LOCKE & KEY TP VOL 01 WELCOME TO LOVECRAFT | $19.99 | IDW | 639 |
| 164 | 1.22 | MARVEL ADVENTURES SPIDER-MAN TP AMAZING DIGEST | $9.99 | MAR | 627 |
| 165 | 1.22 | MARVEL ADVENTURES BLACK WIDOW & AVENGERS TP DIGEST | $9.99 | MAR | 625 |
| 166 | 1.21 | GREEN LANTERN BRIGHTEST DAY HC | $22.99 | DC | 623 |
| 167 | 1.20 | WALKING DEAD TP VOL 04 HEARTS DESIRE (NEW PTG) | $14.99 | IMA | 617 |
| 168 | 1.20 | ART OF LADY DEATH SGN HC VOL 01 | $49.99 | AVA | 615 |
| 169 | 1.19 | BATMAN KNIGHTFALL TP PART 01 BROKEN BAT | $19.99 | DC | 614 |
| 170 | 1.17 | BATMAN THE KILLING JOKE SPECIAL ED HC | $17.99 | DC | 601 |
| 171 | 1.17 | BATMAN THE LONG HALLOWEEN TP | $19.99 | DC | 601 |
| 172 | 1.16 | WALKING DEAD TP VOL 09 HERE WE REMAIN (MR) | $14.99 | IMA | 598 |
| 173 | 1.16 | SANDMAN TP VOL 01 PRELUDES & NOCTURNES NEW ED (MR) | $19.99 | DC | 597 |
| 174 | 1.16 | RIN-NE GN VOL 06 | $9.99 | VIZ | 597 |
| 175 | 1.16 | NIGHT O/T LIVING DEAD TP VOL 02 (MR) | $19.99 | AVA | 594 |
| 176 | 1.15 | GEORGE R R MARTIN FEVRE DREAM TP (MR) | $24.99 | AVA | 593 |
| 177 | 1.15 | WOLVERINE OLD MAN LOGAN TP | $29.99 | MAR | 591 |
| 178 | 1.14 | CLASSIC NEXT MEN TP VOL 01 | $24.99 | IDW | 586 |
| 179 | 1.14 | WALKING DEAD TP VOL 05 BEST DEFENSE (NEW PTG) | $14.99 | IMA | 585 |
| 180 | 1.14 | ESSENTIAL PUNISHER TP VOL 01 NEW ED | $19.99 | MAR | 585 |
| 181 | 1.14 | NINJA GIRLS GN VOL 06 (MR) | $10.99 | RAN | 585 |
| 182 | 1.13 | IDENTITY CRISIS TP | $14.99 | DC | 581 |
| 183 | 1.13 | BLACK BIRD GN VOL 09 | $9.99 | VIZ | 581 |
| 184 | 1.13 | DUNGEONS & DRAGONS HC VOL 01 SHADOWPLAGUE | $24.99 | IDW | 580 |
| 185 | 1.13 | BATWOMAN TP VOL 01 ELEGY | $17.99 | DC | 579 |
| 186 | 1.11 | V FOR VENDETTA NEW EDITION TP (MR) | $19.99 | DC | 571 |
| 187 | 1.11 | SPIDER-MAN NOIR TP | $14.99 | MAR | 570 |
| 188 | 1.11 | SAM & TWITCH COMPLETE COLLECTION HC VOL 01 | $29.99 | IMA | 568 |
| 189 | 1.10 | CODE GEASS ALTERNATE SHOGUNATE GN | $10.99 | BAN | 567 |
| 190 | 1.10 | QUEEN SONJA TP VOL 02 | $19.99 | DYN | 566 |
| 191 | 1.10 | RED SONJA TP VOL 08 BLOOD DYNASTY | $19.99 | DYN | 566 |
| 192 | 1.10 | GALACTICA 1980 TP | $16.99 | DYN | 564 |
| 193 | 1.09 | GARTH ENNIS BATTLEFIELDS HC VOL 02 (MR) | $29.99 | DYN | 562 |
| 194 | 1.09 | WANDERING SON HC VOL 01 | $19.99 | FAN | 561 |
| 195 | 1.09 | WALKING DEAD TP VOL 12 LIFE AMONG THEM | $14.99 | IMA | 561 |
| 196 | 1.08 | MONSTER HUNTER ORAGE TP VOL 01 (MR) | $10.99 | RAN | 557 |
| 197 | 1.07 | BATMAN KNIGHTFALL TP PART 03 KNIGHTSEND | $19.99 | DC | 552 |
| 198 | 1.07 | TINTIN YOUNG READERS ED GN CIGARS OF THE PHARAOH | $8.99 | HAC | 549 |
| 199 | 1.05 | NARUTO 3-IN-1 ED VOL 02 | $14.99 | VIZ | 540 |
| 200 | 1.04 | 27 (TWENTY SEVEN) TP VOL 01 FIRST SET | $16.99 | IMA | 534 |
| 201 | 1.02 | WALKING DEAD TP VOL 07 THE CALM BEFORE | $14.99 | IMA | 526 |
| 202 | 1.02 | WALKING DEAD TP VOL 11 FEAR THE HUNTERS (MR) | $14.99 | IMA | 525 |
| 203 | 1.02 | WALKING DEAD TP VOL 10 WHAT WE BECOME | $14.99 | IMA | 524 |
| 204 | 1.02 | PLANETARY TP VOL 01 ALL OVER THE WORLD AND OTHER STORIES | $14.99 | DC | 523 |
| 205 | 1.01 | WALKING DEAD TP VOL 06 SORROWFUL LIFE (NEW PTG) | $14.99 | IMA | 519 |
| 206 | 1.01 | SPIDER-MAN COMPLETE BEN REILLY EPIC TP BOOK 01 | $39.99 | MAR | 519 |
| 207 | 1.01 | SCOTT PILGRIM GN VOL 02 VS THE WORLD | $11.99 | ONI | 517 |
| 208 | 1.01 | SKIP BEAT TP VOL 24 | $9.99 | VIZ | 517 |
| 209 | 1.00 | SAYONARA ZETSUBOU SENSEI GN VOL 09 | $10.99 | RAN | 513 |
| 210 | 0.99 | GREEN LANTERN SINESTRO CORPS WAR TP VOL 01 | $14.99 | DC | 508 |
| 211 | 0.98 | NARUTO 3-IN-1 ED VOL 01 (NOTE PRICE) | $14.99 | VIZ | 505 |
| 212 | 0.98 | AVATAR LAST AIRBENDER TP VOL 01 LOST ADVENTURES | $14.99 | DAR | 503 |
| 213 | 0.96 | TRANSMETROPOLITAN TP VOL 01 BACK ON THE STREET (MR) | $14.99 | DC | 491 |
| 214 | 0.95 | WALKING DEAD TP VOL 08 MADE TO SUFFER (MR) | $14.99 | IMA | 487 |
| 215 | 0.94 | WORMWOOD HC VOL 03 DEVIANT EDITION | $24.99 | IDW | 485 |
| 216 | 0.94 | ABSOLUTE BATMAN THE LONG HALLOWEEN HC | $75.00 | DC | 483 |
| 217 | 0.93 | BATMAN DARK VICTORY TP | $19.99 | DC | 476 |
| 218 | 0.93 | FALLEN ANGEL TP RETURN OF THE SON | $17.99 | IDW | 476 |
| 219 | 0.92 | TORADORA GN VOL 02 | $10.99 | ST. | 475 |
| 220 | 0.91 | WALLFLOWER GN VOL 25 (MR) | $10.99 | RAN | 467 |
| 221 | 0.90 | LOCKE & KEY TP VOL 02 HEAD GAMES | $19.99 | IDW | 464 |
| 222 | 0.90 | SERENITY BETTER DAYS TP | $9.99 | DAR | 462 |
| 223 | 0.90 | GARFIELD & CO HC VOL 01 FISH TO FRY | $7.99 | NBM | 462 |
| 224 | 0.90 | IRON SIEGE TP | $17.99 | IDW | 460 |
| 225 | 0.89 | BTVS SEASON 8 TP VOL 08 LAST GLEAMING | $16.99 | DAR | 459 |
| 226 | 0.89 | EDGE OF DOOM TP | $19.99 | IDW | 457 |
| 227 | 0.89 | MAMESHIBA ON THE LOOSE GN | $6.99 | VIZ | 455 |
| 228 | 0.88 | ARKHAM ASYLUM ANNIVERSARY ED SC (MR) | $17.99 | DC | 453 |
| 229 | 0.88 | KIMI NI TODOKE GN VOL 09 FROM ME TO YOU | $9.99 | VIZ | 452 |
| 230 | 0.88 | TIME LINCOLN TP VOL 01 FATE OF THE UNION | $19.95 | ANT | 450 |
| 231 | 0.87 | GREEN LANTERN NO FEAR TP | $12.99 | DC | 449 |
| 232 | 0.87 | FRAGGLE ROCK HC VOL 02 | $19.95 | ARA | 448 |
| 233 | 0.87 | MARVEL ADVENTURES IRON MAN TP ARMORED AVENGER DIGEST | $8.99 | MAR | 445 |
| 234 | 0.86 | FABLES TP VOL 02 ANIMAL FARM | $12.99 | DC | 444 |
| 235 | 0.86 | PREACHER TP VOL 01 GONE TO TEXAS NEW EDITION (MR) | $17.99 | DC | 443 |
| 236 | 0.86 | MARVEL ADVENTURES AVENGERS TP CAPTAIN AMERICA DIGEST | $9.99 | MAR | 443 |
| 237 | 0.86 | KIM HARRISON HOLLOWS GN VOL 01 BLOOD WORK | $23.00 | RAN | 443 |
| 238 | 0.86 | BRIGHTEST DAY HC VOL 02 | $29.99 | DC | 440 |
| 239 | 0.85 | SCOTT PILGRIM GN VOL 03 INFINITE SADNESS | $11.99 | ONI | 437 |
| 240 | 0.85 | SKULLKICKERS TP VOL 01 1000 OPAS & DEAD BODY | $9.99 | IMA | 435 |
| 241 | 0.84 | GARFIELD & CO HC VOL 02 CURSE O/T CAT PEOPLE | $7.99 | NBM | 434 |
| 242 | 0.84 | BATMAN RIP TP | $14.99 | DC | 430 |
| 243 | 0.83 | TREASURY 20TH CENTURY MURDER HC VOL 04 SACCO & VANZETTI | $15.99 | NBM | 425 |
| 244 | 0.82 | 100 BULLETS TP VOL 01 FIRST SHOT LAST CALL | $9.99 | DC | 423 |
| 245 | 0.82 | ULTIMATE FANTASTIC FOUR HC VOL 01 | $29.99 | MAR | 422 |
| 246 | 0.82 | BOYS TP VOL 08 HIGHLAND LADDIE | $19.99 | DYN | 420 |
| 247 | 0.82 | X-MEN SECOND COMING TP | $34.99 | MAR | 419 |
| 248 | 0.81 | RUNAWAYS TP VOL 07 LIVE FAST DIGEST | $9.99 | MAR | 416 |
| 249 | 0.81 | SCOTT PILGRIM GN VOL 04 GETS IT TOGETHER | $11.99 | ONI | 416 |
| 250 | 0.81 | DENGEKI DAISY GN VOL 05 | $9.99 | VIZ | 415 |
| 251 | 0.81 | THE RAVEN HC (MR) | $22.99 | FAN | 414 |
| 252 | 0.80 | SHAME GN VOL 01 CONCEPTION (MR) | $9.99 | REN | 412 |
| 253 | 0.80 | TONIGHTS TAKE OUT NIGHT GN (MR) | $12.95 | DIG | 410 |
| 254 | 0.79 | SHUGO CHARA GN VOL 11 | $10.99 | RAN | 407 |
| 255 | 0.79 | EYESHIELD 21 TP VOL 36 | $9.99 | VIZ | 405 |
| 256 | 0.79 | SERENITY THOSE LEFT BEHIND TP | $9.99 | DAR | 404 |
| 257 | 0.78 | ENTANGLED CIRCUMSTANCES GN (MR) | $12.95 | DIG | 403 |
| 258 | 0.78 | OOKU INNER CHAMBERS GN VOL 06 (MR) | $12.99 | VIZ | 403 |
| 259 | 0.78 | ULTIMATE SPIDER-MAN HC VOL 11 | $39.99 | MAR | 399 |
| 260 | 0.77 | SWAMP THING TP VOL 01 SAGA OF THE SWAMP THING | $19.99 | DC | 398 |
| 261 | 0.77 | TWISTED SAVAGE DRAGON FUNNIES TP | $18.99 | IMA | |