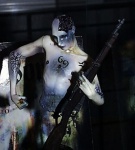 We are not talking about DVD players and BMW convertibles here, but real toys for real adult collectors. While the toy industry, and in particular the action figure category had a terrible year in the mass market in 2000, the segment that targets the adult collector market continued to grow. It's not Hasbro and Mattel that are making these products (even with higher retail prices, the smaller runs of collector figures wouldn't make a huge difference in the bottom line of the toy giants); it's smaller companies like McFarlane Toys, N2, Graphitti Designs, Palisades Marketing, Evil Genius Toys, X-Toys, Mezco, Moore Creations, Fewture Models and Stan Winston Creatures, not the big boys, who are putting out this new generation of collector's toys. These new toys are pushing the boundaries of propriety with creations that are chock full of sex, drugs, and rock 'n roll, to say nothing of that good old 'ultra violence.' Once again specialty market manufacturers and retailers are likely to come up against the public perception that 'toys are for children,' a benighted concept that is strikingly similar to the public attitudes about comics and cartoons that have created problems for retailers who sell comics or anime with mature or adult themes. Nevertheless, having identified this successful market niche, there is no doubt that manufacturers are going to continue to create new products with a strong appeal to mature toy collectors.
Sex
While bad girl figures have been around for several years, Diamond Select was one of the first companies to associate previously adult brands with toys with their series of die-cast cars featuring various Playboy Playmates. Leave it to Evil Genius Toys (formerly Living Toys) to take things a step further with its anatomically correct Playboy Fashion Dolls. Starting this summer Evil Genius Toys plans to market two new Playboy Fashion Dolls every six months. The Playboy figures sport a smooth life-like 'skin' with no visible joints, and come with several outfits including multiple changes of lingerie. While these busty beauties are far too small to qualify as 'sex toys,' it is doubtful that these will be marketed to the traditional doll audience of young girls.
Drugs
Speaking of 'no visible joints,' that's not a comment you can make about Graphitti Designs' Jay and Silent Bob figures. These two action figures, originally produced in 1999, were taken directly from the films of Kevin Smith (Clerks, Chasing Amy, etc.), where the use of soft drugs is an important part of anchoring the films in reality. These are to be followed this summer by 'Bluntman and Chronick,' also from Graphitti.
Rock n' Roll
No one is going to create much of a fuss about Elvis Presley action figures these days even if they do have multiply-articulated, swiveling hips, but rock and rap are quite a bit edgier now, and toy makers are right there on the front lines. McFarlane Toys' excellent likeness of the sartorially repugnant Kid Rock is a dead-on image of the punk rapper, but it doesn't have half the controversial potential of Fewture Model's grotesque, blood-drenched figure of a rifle-toting, sheep-killing Marilyn Manson, which Diamond will be distributing in August. And for those of you that prefer rap controversy to rock there is the chainsaw-wielding Eminem figure from Art Asylum.
Ultra Violence
N2 helped pioneer the 'toys for adults' genre with their first series of toys based on the 'R' rated film, The Matrix. It's pretty obvious when you make toys for a film that kids aren't supposed to see that you aren't making toys for just kids anymore. Cult films like The Matrix appear to have the most potential with collectors (a second series of Matrix figures will be out this summer, see N2 Does The Matrix...) -- and a film doesn't have to be current, witness Palisades Marketing's and Mezco Toyz' Reservoir Dogs figures, based on the ear-lopping suspense of the Tarentino-scripted cult classic (straight razor accessory included). Movie special effects maven Stan Winston is also getting into the act with a series of toys based on his screen creations. Mention should also be made here of the blood-drenched, superbly-detailed Movie Maniacs series from McFarlane Toys (see 'McFarlane Fields Diverse Lineup Part I' and McFarlane Fields Diverse Lineup, Part II), as well as the non-movie derived series of Clive Barker's Tortured Souls, which is as grisly and grotesque as any cinema-inspired toy offering to date.
Be careful.
As toys get sexier, bloodier, and edgier retailers are going to have to be more careful about selling them. Ever since the R-rated Aliens spawned a toy line back in the 90s, the older, more collector-oriented portion of the toy market has been growing and the toys created for it are becoming more adult in content. The national brouhaha that arose when a McFarlane Austin Powers figure with collector (adult) packaging was sold in a Toys R Us a couple of years ago demonstrated the kind of risks that retailers must be aware of when selling these products. These days it's much more than just a matter of a few sexy resin-cast figures, and the potential for trouble is always present because the general public still thinks of action figures and dolls as the exclusive province of ten-year-olds. And the issues with toys are more nuanced than they are with a mature-themed comic or video. For example, if a toy is ultra-violent in nature but not adults-only, and it's based on an R movie or M-rated videogame, is it ok to sell to a 10- or 12-year-old? We'll go back to the things we recommended in our article on how to 'Avoid Hidden Camera Stings'--know the product, the customer, and your community and apply a large dollop of common sense--and be sure to set clear limits on the sale of products that are definitively appropriate only for adults.