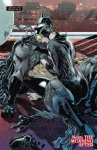 As if the amount of publicity surrounding DC's relaunch of its entire line in September hasn't created enough buzz on its own, now there's a couple of controversies driving tons of attention to specific aspects of the relaunch. The controversy with the most heat surrounds two books released last week,
Catwoman
#1 and
Red Hood and the Outlaws
#1, in which female characters with sex-charged outfits have casual sex. The last page of the story in
Catwoman
#1 is getting special interest as it appears to depict Catwoman ravaging Batman, with reference to the story title, "…and most of the costumes stay on."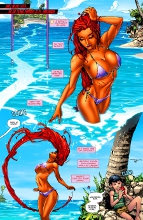 In
Red Hood and the Outlaws
#1, Starfire wears a tiny bathing suit and ends up having casual sex with a team member other than her main squeeze.
Criticism has been widespread, both for the macro issues of how female characters are depicted in the DC universe, and for the ways in which these characters, particularly Starfire, are being changed in the process of adding a more sexual component to their storylines.
DC has also come under fire for the past depiction of mental illness in its comics, and is being urged to take a new direction in the New 52. The criticism came in the op ed page of the
New York Times
, where psychiatrists H. Eric Bender, Praveen R. Kambam, and Vasilis K. Pozios contributed an essay enumerating ways in which DC has contributed to stereotypes about mental illness. Among the issues raised in the essay were the depiction of Arkham Asylum, tying criminality to mental illness, and misuse of psychiatric terms.
The doctors argue that "…such inaccuracies perpetuate harmful stereotypes…. Such stereotypes can in turn lead to discrimination and cause those with mental disorders to avoid treatment for fear of being labeled lunatics."
Unlike the controversy surrounding
Catwoman
and
Red Hood and the Outlaws
, which is a reaction to the content of the New 52, the criticism of DC's depiction of the mentally ill takes advantage of the New 52 publicity to draw attention to broader issues with the DC universe. But both add to the total weight of publicity surrounding the relaunch, another reflection of the scale of the attention that's being drawn to comics by the DC relaunch.