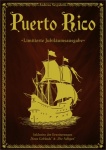 Rio Grande games has announced plans to release a special tenth anniversary edition of Andreas Seyfarth's award winning board game Puerto Rico.
This special edition will include not only the base game but also the "new buildings" and "nobles" expansions that were published separately from the original game in the Treasure Chest, a collection of expansions for seven games produced by Rio Grande Games and Alea released in 2009.
No changes have been made to the game-play but there are many custom components in this edition such as metal doubloons in place of cardboard ones and colored wooden crates instead of the octagonal shaped resource tokens. All new artwork is included on the redesigned player boards, the VP tokens and ships. Even the cardboard has been thickened to almost 3 mm so the pieces have more weight and substance. All this will be packaged in a gold-embossed limited edition box that will retail for around $100.
The first of these anniversary editions will be available at Spiel 2011 in Essen Germany from October 20th - 23rd. The English version will release in the U.S. in November.