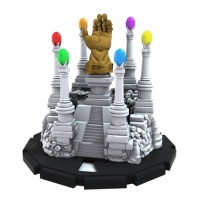 WizKids has announced plans for Infinity Gauntlet, its most aggressive organized play program in years. The program, which supports Marvel HeroClix, will consist of monthly events from January through August of 2012 supporting the release of Incredible Hulk, Galactic Guardians, and Mighty Avengers, the three Marvel sets that will release during that period. This separate arcing OP program is in addition to the standard organized play program that supports the release of a new set.
Players at the monthly Infinity Gauntlet events will compete to win limited edition figures, with ultimate winners receiving Thanos on his Shrine to Death. Participation prizes will reward all players.
For example, the January Kit will include four Adam Warlock with Infinity Gauntlet limited edition figures, 20 Infinity Gauntlets as participation prizes, and ten double-sided maps. The February Kit will include four In-Betweener limited edition figures and 20 Soul Gems (the participation prizes. March will include four Champion limited edition figures and 20 Power Gems. April includes four Gardner LE figures and 20 Time Gems. May includes four Runner LE figures and 20 Space Gems. June includes four Collector LE figures and 20 Reality Gems. July includes four Grandmaster LE figures and 20 Mind Gems. And August includes two Thanos LE figures and two Shrine to Death colossal bases, and 20 Terraxia LE figures.
Each of the gems attaches to the Infinity Gauntlet and unlocks a special power; once players have a Gauntlet with six gems they are ready for the showdown with Thanos at his Shrine.
Retailers must order four cases of each of the Marvel releases to qualify for a single kit per month. Purchase requirements for a second kit move to 12 cases per release.