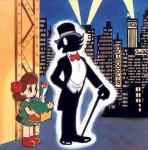 Dark Horse has announced that it will be publishing Metropolis, the 1949 manga graphic novel by the legendary Osamu Tezuka, in March. Not only was this graphic novel an important manga work on its own, it was also the inspiration for the Metropolis anime recently released in the U.S. (see 'Tezuka's Metropolis'). The story is of a beautiful, artificially created girl seeking her non-existent parents in a near-future world populated by humans and the slave-driven robots that serve them. It is impossible to overstate the importance of Tezuka (see 'Osamu Tezuka -- An Overview') in the history of Japanese anime and manga, and this work is a very important part of his oeuvre, now available in the U.S. for the first time. The book will be 168 pages, 4.5' x 7', b&w, and retail for $13.95.
Also coming from Dark Horse in March is a limited edition of Ghost in the Shell II:

Man Machine Interface #1, the hot new book from Masamune Shirow, with 'an eye-popping cover in dazzling full color with awe-inspiring holographic effects.'
The Dark Horse SRP for this limited edition of 2500 pieces is $10.