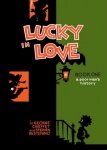 A glimpse of what's happening in bookstores as Borders liquidation sales are ending is provided by the BookScan Top 20 Graphic Novel list from September (see "'
Sailor Moon' Is #1
"). The liquidation sales have been having a big impact on graphic novel sales in recent months, even helping to grow sales in bookstores by 7% in the first half of the year after years of declines (see "
Graphic Novel Sales Grew in 1st Half of 2011
").
But those sales are ending now, with Nielsen telling ICv2 that Borders has ceased reporting sales to BookScan as of mid-September. The graphic novel titles listed as bestsellers in bookstores in September, especially below the top five, are an eclectic group, including many titles that are unexpectedly appearing, reflecting either sales made at ultra-low prices at the end of the Borders liquidation sales, or sales through other retailers that are becoming more visible as the sales through Borders end.
Lucky in Love, Book One, for example, a Fantagraphics title that was first released in October of 2010, appeared for the first time in the Top 20 at #7 in September. Three volumes of Dance in the Vampire Bund from Seven Seas appear in the Top 20 despite the fact that no new volume shipped in the period, usually a requirement to stimulate that kind of backlist sales. T he first volume of Omamori Himari from Yen, which was released in October of 2010, appeared at #18, the only one of four volumes of the series in the Top 20.
There will be more clarity next month, the first full month without Borders sales included in BookScan rankings since Nielsen began providing these lists to ICv2 in early 2008. But what's clear Snow is that the period of transition is ending, as the second largest brick and mortar book retailer in the U.S. shuts its doors (and online store, see "
Borders Assets Auctioned
") for good.
Thanks to Nielsen BookScan for providing ICv2 with the Top 20 Graphic Novel lists and the explanation of how its reporting panel has changed in September and for the future.