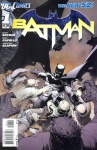 These are estimates of the sales on comic books by Diamond
U.S.
to comic specialty stores during September 2011.

For an overview and analysis of comic sales in September, see "'Batman' #1 Tops September Sales."

For an analysis of the dollar trends in September, see "DC Wins September Market Share."
For our estimates of actual sales by Diamond U.S. from comic specialty stores on graphic novels shipped during September, see "Top 300 Graphic Novels Actual--September 2011."


TOP 300 COMICS -- September 2011

Rank

Index

Title

Price

Pub

Est.Qty

1

100.00

BATMAN #1

$2.99

DC

188,420

2

96.99

ACTION COMICS #1

$3.99

DC

182,748

3

75.19

GREEN LANTERN #1

$2.99

DC

141,682

4

68.60

FLASH #1

$2.99

DC

129,260

5

62.83

SUPERMAN #1 [*]

$2.99

DC

118,376

6

54.87

DETECTIVE COMICS #1 [*]

$2.99

DC

103,392

7

52.22

BATMAN THE DARK KNIGHT #1 [*]

$2.99

DC

98,389

8

49.37

FEAR ITSELF #6

$3.99

MAR

93,032

9

46.30

ULTIMATE COMICS SPIDER-MAN #1

$3.99

MAR

87,237

10

45.24

BATMAN AND ROBIN #1 [*]

$2.99

DC

85,242

11

44.60

GREEN LANTERN NEW GUARDIANS #1

$2.99

DC

84,033

12

43.25

BATGIRL #1 [*]

$2.99

DC

81,489

13

40.45

WONDER WOMAN #1

$2.99

DC

76,214

14

39.68

GREEN LANTERN CORPS #1 [*]

$2.99

DC

74,769

15

39.10

TEEN TITANS #1

$2.99

DC

73,675

16

38.36

AQUAMAN #1 [*]

$2.99

DC

72,272

17

38.33

BATWOMAN #1

$2.99

DC

72,228

18

38.18

AMAZING SPIDER-MAN #669

$3.99

MAR

71,944

19

35.32

RED LANTERNS #1 [*]

$2.99

DC

66,546

20

33.36

JUSTICE LEAGUE DARK #1 [*]

$2.99

DC

62,856

21

33.29

NIGHTWING #1 [*]

$2.99

DC

62,717

22

32.95

ULTIMATE COMICS X-MEN #1

$3.99

MAR

62,080

23

32.64

AVENGERS #17

$3.99

MAR

61,492

24

32.42

JUSTICE LEAGUE INTERNATIONAL #1 [*]

$2.99

DC

61,079

25

30.96

UNCANNY X-MEN #543

$3.99

MAR

58,326

26

30.76

NEW AVENGERS #16

$3.99

MAR

57,959

27

30.57

AMAZING SPIDER-MAN #670

$3.99

MAR

57,599

28

29.46

GREEN ARROW #1 [*]

$2.99

DC

55,512

29

29.06

SWAMP THING #1

$2.99

DC

54,757

30

28.88

CAPTAIN AMERICA #3

$3.99

MAR

54,413

31

28.69

SUPERGIRL #1 [*]

$2.99

DC

54,052

32

28.54

UNCANNY X-FORCE #15

$3.99

MAR

53,771

33

28.48

CATWOMAN #1 [*]

$2.99

DC

53,670

34

28.18

FF #9

$2.99

MAR

53,091

35

27.90

ULTIMATE COMICS SPIDER-MAN #2

$3.99

MAR

52,569

36

27.87

X-MEN SCHISM #4

$3.99

MAR

52,509

37

27.34

NEW AVENGERS #16.1

$2.99

MAR

51,506

38

27.07

KICK-ASS 2 #4 (MR)

$2.99

MAR

51,014

39

26.80

RED HOOD AND THE OUTLAWS #1 [*]

$2.99

DC

50,501

40

26.78

BIRDS OF PREY #1 [*]

$2.99

DC

50,466

41

26.73

SAVAGE HAWKMAN #1 [*]

$2.99

DC

50,359

42

26.56

SUPERBOY #1 [*]

$2.99

DC

50,047

43

26.41

NEW AVENGERS ANNUAL #1

$4.99

MAR

49,770

44

24.76

JUSTICE LEAGUE #1

$3.99

DC

46,650

45

24.62

STORMWATCH #1

$2.99

DC

46,397

46

24.62

FURY OF FIRESTORM THE NUCLEAR MEN #1 [*]

$2.99

DC

46,383

47

24.07

LEGION OF SUPER HEROES #1 [*]

$2.99

DC

45,362

48

24.01

MIGHTY THOR #6

$3.99

MAR

45,231

49

23.87

SUICIDE SQUAD #1 [*]

$2.99

DC

44,981

50

23.82

SECRET AVENGERS #17

$3.99

MAR

44,890

51

22.93

X-MEN #17

$3.99

MAR

43,200

52

22.79

BTVS SEASON 9 FREEFALL #1

$2.99

DAR

42,945

53

22.68

ULTIMATE COMICS ULTIMATES #2

$3.99

MAR

42,728

54

22.46

DEATHSTROKE #1 [*]

$2.99

DC

42,325

55

22.33

X-MEN #18

$3.99

MAR

42,066

56

22.15

LEGION LOST #1 [*]

$2.99

DC

41,726

57

22.00

ANIMAL MAN #1 [*]

$2.99

DC

41,446

58

21.96

BATWING #1 [*]

$2.99

DC

41,382

59

21.92

INVINCIBLE IRON MAN #508

$3.99

MAR

41,295

60

21.83

DC UNIVERSE PRESENTS #1 [*]

$2.99

DC

41,131

61

21.39

DAREDEVIL #4

$2.99

MAR

40,311

62

21.23

BLUE BEETLE #1 [*]

$2.99

DC

40,003

63

21.07

CAPTAIN ATOM #1 [*]

$2.99

DC

39,699

64

20.95

DAREDEVIL #3

$2.99

MAR

39,477

65

20.86

ALL STAR WESTERN #1 [*]

$3.99

DC

39,313

66

20.85

X-MEN LEGACY #255

$2.99

MAR

39,284

67

20.53

X-MEN LEGACY #256

$2.99

MAR

38,680

68

20.20

HAWK AND DOVE #1 [*]

$2.99

DC

38,065

69

20.14

WOLVERINE #15

$3.99

MAR

37,951

70

20.06

WOLVERINE #16

$3.99

MAR

37,796

71

19.94

RESURRECTION MAN #1 [*]

$2.99

DC

37,566

72

19.87

DEMON KNIGHTS #1 [*]

$2.99

DC

37,442

73

19.85

FRANKENSTEIN AGENT OF SHADE #1 [*]

$2.99

DC

37,396

74

19.80

MISTER TERRIFIC #1 [*]

$2.99

DC

37,305

75

19.69

GRIFTER #1 [*]

$2.99

DC

37,100

76

19.25

VOODOO #1 [*]

$2.99

DC

36,271

77

19.11

BLACKHAWKS #1 [*]

$2.99

DC

36,013

78

18.95

I VAMPIRE #1 [*]

$2.99

DC

35,715

79

18.10

CAPTAIN AMERICA AND BUCKY #622

$2.99

MAR

34,096

80

18.05

STATIC SHOCK #1 [*]

$2.99

DC

34,004

81

17.91

MEN OF WAR #1 [*]

$3.99

DC

33,739

82

17.82

OMAC #1 [*]

$2.99

DC

33,581

83

17.58

VENOM #7 SPI

$2.99

MAR

33,130

84

17.35

ASTONISHING X-MEN #42

$3.99

MAR

32,700

85

17.23

FEAR ITSELF UNCANNY X-FORCE #3

$2.99

MAR

32,459

86

16.05

AVENGERS CHILDRENS CRUSADE #7

$3.99

MAR

30,247

87

15.75

JOURNEY INTO MYSTERY #627

$2.99

MAR

29,678

88

15.37

BRILLIANT #1 (MR)

$3.95

MAR

28,951

89

15.31

JOURNEY INTO MYSTERY #628

$2.99

MAR

28,843

90

15.08

MOON KNIGHT #5

$3.99

MAR

28,423

91

14.22

PUNISHER #3

$2.99

MAR

26,802

92

14.14

DEADPOOL #43

$2.99

MAR

26,643

93

14.11

HULK #40

$2.99

MAR

26,591

94

13.84

HULK #41

$2.99

MAR

26,084

95

13.62

NEW MUTANTS #31

$2.99

MAR

25,672

96

13.56

ULTIMATE COMICS HAWKEYE #2

$3.99

MAR

25,551

97

12.84

THUNDERBOLTS #163

$2.99

MAR

24,199

98

12.70

AVENGERS ACADEMY #19

$2.99

MAR

23,928

99

12.59

X-23 #14

$2.99

MAR

23,727

100

12.48

X-FACTOR #225

$2.99

MAR

23,507

101

12.34

ALPHA FLIGHT #4

$2.99

MAR

23,242

102

12.32

X-FACTOR #224.1

$2.99

MAR

23,220

103

12.21

FEAR ITSELF WOLVERINE #3

$2.99

MAR

22,997

104

11.99

THUNDERBOLTS #163.1

$2.99

MAR

22,596

105

11.81

ANNIHILATORS EARTHFALL #1

$3.99

MAR

22,259

106

11.77

GHOST RIDER #3

$2.99

MAR

22,180

107

11.09

GAME OF THRONES #1

$3.99

DYN

20,888

108

11.08

SPIDER-ISLAND AVENGERS #1 SPI

$2.99

MAR

20,884

109

10.87

ANGEL & FAITH #2

$2.99

DAR

20,473

110

10.86

DAKEN DARK WOLVERINE #14

$2.99

MAR

20,460

111

10.74

GENERATION HOPE #11 SCHISM

$2.99

MAR

20,243

112

10.28

FEAR ITSELF HULK VS DRACULA #1

$2.99

MAR

19,373

113

10.26

TEENAGE MUTANT NINJA TURTLES ONGOING #2

$3.99

IDW

19,333

114

10.18

JOHN CARTER A PRINCESS OF MARS #1

$2.99

MAR

19,173

115

9.98

BLACK PANTHER MAN WITHOUT FEAR #523

$2.99

MAR

18,798

116

9.97

WOLVERINE BEST THERE IS #10

$3.99

MAR

18,781

117

9.62

FEAR ITSELF HOME FRONT #6

$3.99

MAR

18,123

118

9.59

FABLES #109 (MR)

$2.99

DC

18,072

119

9.38

FEAR ITSELF HULK VS DRACULA #2

$2.99

MAR

17,681

120

9.37

BOYS #58 (MR)

$3.99

DYN

17,660

121

9.31

HEROES FOR HIRE #11

$2.99

MAR

17,550

122

9.31

PUNISHERMAX #17 (MR)

$3.99

MAR

17,540

123

9.04

SPIDER-ISLAND SPIDER-WOMAN #1 SPI

$2.99

MAR

17,030

124

8.92

WOLVERINE DEBT OF DEATH #1

$3.99

MAR

16,814

125

8.87

GHOSTBUSTERS ONGOING #1

$3.99

IDW

16,716

126

8.81

BLACK PANTHER MOST DANGEROUS MAN ALIVE #523.1

$2.99

MAR

16,592

127

8.56

SPIDER-ISLAND CLOAK AND DAGGER #2 SPI

$2.99

MAR

16,129

128

8.51

FEAR ITSELF DEEP #4

$2.99

MAR

16,041

129

8.46

STAR TREK ONGOING #1

$3.99

IDW

15,943

130

8.38

DARK TOWER GUNSLINGER BATTLE OF TULL #4

$3.99

MAR

15,788

131

8.33

HEROES FOR HIRE #12

$2.99

MAR

15,698

132

8.28

IRON MAN 2.0 #9

$2.99

MAR

15,600

133

8.26

KIRBY GENESIS #3

$3.99

DYN

15,568

134

8.15

FEAR ITSELF YOUTH IN REVOLT #5

$2.99

MAR

15,347

135

8.13

SPIDER-ISLAND AMAZING SPIDER-GIRL #2 SPI

$2.99

MAR

15,311

136

8.13

SPIDER-ISLAND I LOVE NEW YORK CITY #1 SPI

$3.99

MAR

15,310

137

8.11

AMERICAN VAMPIRE #19 (MR)

$2.99

DC

15,288

138

8.04

HERC #7 SPI

$2.99

MAR

15,152

139

7.89

STAR WARS DARK TIMES OUT O/T WILDERNESS #2

$2.99

DAR

14,870

140

7.86

HERC #8 SPI

$2.99

MAR

14,813

141

7.78

RED SKULL #3

$2.99

MAR

14,650

142

7.75

BOYS BUTCHER BAKER CANDLESTICKMAKER #3 (MR)

$3.99

DYN

14,605

143

7.74

INFINITE #2

$2.99

IMA

14,585

144

7.70

DEADPOOLMAX #12 (MR)

$3.99

MAR

14,507

145

7.63

ULTIMATE COMICS FALLOUT #4 DOSM

$3.99

MAR

14,372

146

7.54

AMERICAN VAMPIRE SURVIVAL OT FITTEST #4 (MR)

$2.99

DC

14,204

147

7.53

FEAR ITSELF FEARSOME FOUR #4

$2.99

MAR

14,195

148

7.49

STAR WARS OLD REPUBLIC #4 LOST SUNS

$3.50

DAR

14,121

149

7.44

MARVEL UNIVERSE VS WOLVERINE #4

$3.99

MAR

14,026

150

7.29

STAR WARS INVASION REVELATIONS #3

$3.50

DAR

13,732

151

7.28

STAND NIGHT HAS COME #2

$3.99

MAR

13,723

152

7.27

STAR WARS JEDI DARK SIDE #5

$2.99

DAR

13,692

153

7.20

WARLORD OF MARS #9

$3.99

DYN

13,565

154

7.18

SPAWN #211

$2.99

IMA

13,526

155

7.14

SPIDER-ISLAND DEADLY HANDS OF KUNG FU #2 SPI

$2.99

MAR

13,446

156

7.13

VENGEANCE #3

$3.99

MAR

13,443

157

6.94

CRIMINAL LAST OF INNOCENT #4 (MR)

$3.50

MAR

13,068

158

6.92

FEAR ITSELF MONKEY KING #1

$2.99

MAR

13,035

159

6.90

WARLORD OF MARS #10

$3.99

DYN

13,003

160

6.85

WARLORD OF MARS DEJAH THORIS #6

$3.99

DYN

12,903

161

6.78

STAR WARS KNIGHT ERRANT DELUGE #2

$3.50

DAR

12,767

162

6.66

GARTH ENNIS JENNIFER BLOOD #4 (MR)

$3.99

DYN

12,557

163

6.55

KEVIN SMITH BIONIC MAN #2

$3.99

DYN

12,343

164

6.52

TRUE BLOOD FRENCH QUARTER #1

$3.99

IDW

12,277

165

6.29

ABE SAPIEN DEVIL DOES NOT JEST #1

$3.50

DAR

11,846

166

6.28

RED WING #3

$3.50

IMA

11,825

167

6.17

BPRD HELL ON EARTH RUSSIA #1

$3.50

DAR

11,634

168

6.17

CONAN ROAD OF KINGS #8

$3.50

DAR

11,621

169

5.93

WOLVERINE AND BLACK CAT CLAWS 2 #3

$3.99

MAR

11,174

170

5.93

DANGER GIRL ARMY OF DARKNESS #3

$3.99

DYN

11,169

171

5.91

GODZILLA KINGDOM OF MONSTERS #7

$3.99

IDW

11,141

172

5.78

ULTIMATE COMICS ULTIMATES #1

$3.99

MAR

10,892

173

5.77

DOLLHOUSE EPITAPHS #3

$3.50

DAR

10,866

174

5.65

DOROTHY AND WIZARD IN OZ #1

$3.99

MAR

10,648

175

5.63

TRUE BLOOD FRENCH QUARTER #2

$3.99

IDW

10,605

176

5.59

MORNING GLORIES #12 (MR)

$2.99

IMA

10,537

177

5.58

UNWRITTEN #29 (MR)

$2.99

DC

10,511

178

5.53

CAPTAIN AMERICA CORPS #4

$2.99

MAR

10,424

179

5.51

THOR HEAVEN AND EARTH #4

$2.99

MAR

10,377

180

5.50

GI JOE VOL 2 ONGOING #5

$3.99

IDW

10,371

181

5.47

HELLRAISER #5 (MR)

$3.99

BOO

10,303

182

5.37

TRANSFORMERS ONGOING #26

$3.99

IDW

10,118

183

5.09

HELLBLAZER #283

$2.99

DC

9,597

184

5.06

GI JOE A REAL AMERICAN HERO #170

$3.99

IDW

9,542

185

5.06

TRANSFORMERS ONGOING #25

$3.99

IDW

9,533

186

4.98

COBRA ONGOING #4

$3.99

IDW

9,391

187

4.94

IZOMBIE #17 (MR)

$2.99

DC

9,316

188

4.93

SEVERED #2 (MR)

$2.99

IMA

9,280

189

4.92

GREEN HORNET #18

$3.99

DYN

9,279

190

4.90

SUPREME POWER #4 (MR)

$3.99

MAR

9,237

191

4.89

ARTIFACTS #10

$3.99

IMA

9,215

192

4.85

SNAKE EYES ONGOING (IDW) #5

$3.99

IDW

9,141

193

4.81

COBRA ONGOING #5

$3.99

IDW

9,068

194

4.81

GODZILLA GANGSTERS & GOLIATHS #4

$3.99

IDW

9,061

195

4.80

MYSTERY MEN #5

$2.99

MAR

9,046

196

4.77

BALTIMORE CURSE BELLS #2

$3.50

DAR

8,988

197

4.64

MEGA MAN #5

$2.99

ARC

8,741

198

4.55

IRREDEEMABLE #29

$3.99

BOO

8,582

199

4.49

VAMPIRELLA SCARLET LEGION #4

$3.99

DYN

8,466

200

4.49

WITCHBLADE #148

$3.99

IMA

8,461

201

4.48

DUNGEONS AND DRAGONS #11

$3.99

IDW

8,441

202

4.47

THE GUILD CLARA (ONE SHOT)

$3.50

DAR

8,420

203

4.44

DARK HORSE PRESENTS #4

$7.99

DAR

8,366

204

4.42

DUNGEONS & DRAGONS DRIZZT #2

$3.99

IDW

8,328

205

4.41

SUPER DINOSAUR #4

$2.99

IMA

8,303

206

4.35

RACHEL RISING #2

$3.99

ABS

8,189

207

4.34

GRIMM FAIRY TALES #64

$2.99

ZEN

8,183

208

4.31

LADY DEATH (ONGOING) #9 (MR)

$3.99

AVA

8,127

209

4.23

HACK SLASH #7 (MR)

$3.50

IMA

7,967

210

4.21

YOUNG JUSTICE #8

$2.99

DC

7,930

211

4.20

ALL WINNERS SQUAD BAND OF HEROES #4

$2.99

MAR

7,914

212

4.19

SWEET TOOTH #25 (MR)

$2.99

DC

7,896

213

4.11

HACK SLASH #8 (MR)

$3.50

IMA

7,737

214

4.07

SIMPSONS TREEHOUSE OF HORROR #17

$4.99

BON

7,671

215

4.06

WITCH DOCTOR #3

$2.99

IMA

7,659

216

4.04

TINY TITANS #44

$2.99

DC

7,619

217

4.02

FATHOM VOL 4 #2

$2.99

ASP

7,579

218

4.00

PIGS #1

$2.99

IMA

7,546

219

3.89

DOCTOR WHO ONGOING VOL 2 #9

$3.99

IDW

7,324

220

3.89

HALO FALL OF REACH COVENANT #3 (MR)

$3.99

MAR

7,321

221

3.77

MYSTIC #2

$2.99

MAR

7,105

222

3.75

CASANOVA AVARITIA #1 (MR)

$4.99

MAR

7,059

223

3.73

SONIC UNIVERSE #32

$2.99

ARC

7,027

224

3.71

ULTIMATE COMICS HAWKEYE #1

$3.99

MAR

6,982

225

3.69

TAROT WITCH OF THE BLACK ROSE #70 (MR)

$2.95

BRO

6,955

226

3.66

PLANET OF THE APES #6

$3.99

BOO

6,890

227

3.65

QUEEN SONJA #20

$3.99

DYN

6,883

228

3.64

SERGIO ARAGONES FUNNIES #3

$3.50

BON

6,859

229

3.64

NORTHLANDERS #44 (MR)

$2.99

DC

6,858

230

3.62

TUROK SON OF STONE #3

$3.50

DAR

6,821

231

3.61

SIMPSONS COMICS #182

$2.99

BON

6,808

232

3.59

FF 50 FANTASTIC YEARS #1

$4.99

MAR

6,761

233

3.59

TERMINATOR ROBOCOP KILL HUMAN #2

$3.99

DYN

6,755

234

3.54

INCORRUPTIBLE #22

$3.99

BOO

6,669

235

3.53

ANITA BLAKE CIRCUS DAMNED SCOUNDREL #1 (MR)

$3.99

MAR

6,650

236

3.50

GREEN HORNET YEAR ONE #12

$3.99

DYN

6,588

237

3.49

BIG LIE #1

$3.99

IMA

6,572

238

3.48

MAGDALENA #8 CVR A CHA

$3.99

IMA

6,551

239

3.47

INFERNO GFT DREAM EATER ONE SHOT

$2.99

ZEN

6,544

240

3.40

ALL NEW BATMAN THE BRAVE AND THE BOLD #11

$2.99

DC

6,410

241

3.39

HOUSE OF MYSTERY #41 (MR)

$2.99

DC

6,387

242

3.37

ELRIC THE BALANCE LOST #3

$3.99

BOO

6,345

243

3.36

LADY DEATH ORIGINS ANNUAL #1 (MR)

$4.99

AVA

6,331

244

3.33

SCALPED #52 (MR)

$2.99

DC

6,270

245

3.32

GRIMM FAIRY TALES THE LIBRARY #1

$2.99

ZEN

6,255

246

3.32

FUTURAMA COMICS #57

$2.99

BON

6,252

247

3.31

DOCTOR SOLAR MAN OF ATOM #8

$3.50

DAR

6,229

248

3.14

NEAR DEATH #1

$2.99

IMA

5,922

249

3.12

LAST PHANTOM #9

$3.99

DYN

5,878

250

3.11

DARKNESS #93

$2.99

IMA

5,856

251

3.04

TERMINATOR ROBOCOP KILL HUMAN #3

$3.99

DYN

5,735

252

3.04

KA-ZAR #4

$2.99

MAR

5,731

253

2.96

50 GIRLS 50 #4

$2.99

IMA

5,578

254

2.94

DMZ #69 (MR)

$2.99

DC

5,544

255

2.92

EXECUTIVE ASSISTANT IRIS VOL 2 #3

$3.50

ASP

5,502

256

2.91

BART SIMPSON COMICS #63

$2.99

BON

5,475

257

2.87

FLY #4 (MR)

$2.99

ZEN

5,416

258

2.80

KATO #12

$3.99

DYN

5,283

259

2.80

ZORRO RIDES AGAIN #3

$3.99