Heritage will auction the last 150 comics from the Edgar Church Mile High Collection this month. Mile High founder Chuck Rozanski is selling the Quality
Spirit
issues and
Red Raven
#1, one of the rarest Timely Comics, with art by Jack Kirby. These are the last comics from an 18,000 copy collection of pre-1955 comics in high grade condition, the highest value comic collection ever found. It's estimated that the current value of the Mile High comics is over $100 million.
Rozanski kept the
Spirits
because of his respect for the work and for the creator, Will Eisner, and the
Red Raven
#1 because of its rarity, especially in high grade condition, he said.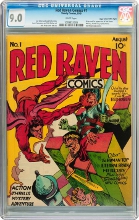 Rozanski sold off most of the collection between 1977 and 1987 to fund the growth of his business, Mile High Comics, so it's been a long time since any new Mile High pedigree comics have been released into the marketplace. Recent trends have been for record prices for extremely high grade books, such as the $1.5 million paid for an 8.5
Action Comics
#1 (see "
'Action' #1 -- $1.5 Million
"). It will be interesting to see what kinds of prices the books in this auction, which are not as important as that
Action Comics
#1 but in better condition, will bring.