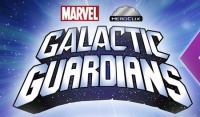 "Cosmic powers" are the focus of the next Marvel HeroClix expansion from WizKids. Called Galactic Guardians, this expansion includes some of the most powerful beings in the Marvel comics universe, including the Silver Surfer, Dr. Strange, and Galactus. More than 45 new sculpts will be included.
This expansion will be available in four different booster formats:
Standard five-figure Booster boxes, with a random assortment from the collection of 45 new figures.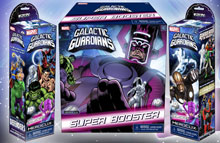 Galactic Guardians Bricks
will also include over-sized single-figure
Super Boosters
—each with one of six different colossal figures, including Galactus and Master Mold.
Annihilators Fast Forces Packs with six figures from the full collection, but with different dial designs not available elsewhere. Fast Forces Packs also include 2 maps and custom dice.
Galactic Guardians Single-Figure Boosters offer sculpts from the full set with different dials unique to this format.
Booster boxes will be packaged as a combination "booster brick," including eight standard boosters and one super booster. This is similar to the format used for the Giant-Size X-Men expansion.
Galactic Guardians will also include a special "marquee figure," which replaces the former "Buy it By the Brick" promo figures. The marquee figure for this set will be Super Nova. An Organized Play Kit will also be available for retailers to provide support for in-store events.