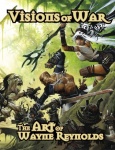 Fantasy artist Wayne Reynolds will be featured in an artbook to be published by Paizo Publishing. Visions of War: The Art of Wayne Reynolds is scheduled to release next May.
Reynolds has been a leading fantasy artist for more than ten years. His work includes both interior and cover art from many popular fantasy game titles, including Pathfinder, Dungeons & Dragons, World of Warcraft, and Magic: The Gathering.
Visions of War will be a 160 page hardcover book, with full color illustrations taken from Reynolds' portfolio, including paintings, full-color covers, interior art pieces, and CCG card art. Notes from the artist and "behind-the-scenes" looks at some of his works will be included. Some of the artwork will be new images never published before.
The suggested retail price will be $29.99.