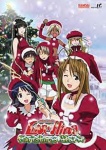 The ICv2 Awards are an on-line continuation of a tradition that began in Internal Correspondence, the print predecessor of ICv2, over a decade ago. These awards are given as a way of reflecting on the events of the year and to draw some conclusions from them. The ICv2 Awards are based entirely on the business impact of events on retailers, as determined by the editorial staff of ICv2.
Top Anime Company of the Year -- Bandai Entertainment
Our choice for anime company of the year is Bandai Entertainment, which successfully introduced the highly popular Love Hina anime series (see 'Love Hina Sales Break Trends') without benefit of TV exposure, while not missing a beat in exploiting Cowboy Bebop and Gundam, properties that enjoyed prime slots on the Cartoon Network. In 2002 Bandai also introduced American audiences to Char's Counterattack, the best of all the feature films spawned by the long-running Gundam saga (see 'Bandai Plans Char's Counterattack Release This Summer'). Among the year's other notable releases was Bandai's Cowboy Bebop Best Sessions DVD, the anime equivalent of a 'greatest hits' compilation, which used Yoko Kanno's distinctive music for the series to great effect (see 'Cowboy Bebop Best Sessions DVD'), and Arjuna.
During 2002 Bandai Entertainment also helped secure its future by grabbing the rights to a number of new series that should prove popular in the coming year. Bandai will release the new Ghost in the Shell: Stand Alone Complex TV series (see 'Bandai Gets TV Ghost in the Shell') as well as the second season of The Big O (see 'Inu-Yasha, Big O 2 On Cartoon Network'), and the multi-platform .hack//SIGN anime series (see 'Bandai Nabs .hack//SIGN Anime Rights'). Of course Bandai Entertainment's connection to its parent corporation in Japan makes acquisition of new series a different matter than it is for American companies, so part of the success of Bandai Entertainment in the U.S. can be traced directly to decisions made by Bandai Visual in Japan.
This was no easy choice as numerous anime publishers introduced great products that are bound to provide American retailers and audiences with more opportunities. In particular it is important to single out ADVision for its key outreach efforts in launching a highly successful American version of Newtype, Japan's leading anime publication (see 'Newtype Print Run Doubled For Second Issue'), and for launching an all-anime cable channel (see 'ADV To Launch 24-Hour Cable Channel'). FUNimation Productions was another serious contender, since the company that brought Dragon Ball Z to the U.S. picked up the distribution for the up and coming Yu-Gi-Oh anime series from 4Kids, and also secured the rights to a long-running anime series that just may have the ability to replace the formidable DBZ.
Anime Product of the Year -- Love Hina
Without the benefit of television exposure and utterly lacking in conflicts between giant robots or powerful sorcerers, Love Hina has quietly established itself as one of the genuine hits of 2002 in a variety of media. Retailers quickly caught on to the sales power of the anime series, with reorders making up a huge portion of sales on the early volumes of the series (see 'Love Hina Sales Break Trend'). By November two separate volumes of the series both made it onto ICv2's Top Ten Cool Anime List for the month. The success of the anime has also helped power other Love Hina products. The Love Hina graphic novels from Tokyopop are consistent bestsellers, often with two volumes in the Top 10 Book Scan report of bookstore graphic novel sales (see 'Manga Dominate Graphic Novel Sales in Bookstores'). The first statue in Tokyo Mint's series of Love Hina Beauties also sold out at wholesale in 2002 (see 'New Love Hina Statue Set For May'), and Diamond plans on importing Love Hina Action Figures early in 2003.
The success of the Love Hina anime, which is based on the hit manga series by Ken Akamatsu, follows a similar pattern to that enjoyed by earlier 'romantic comedy' anime series including Kimagure Orange Road, and Tenchi Muyo.

The lack of any American-made animated fare in this genre should not prevent us from realizing that there is a hunger for this sort of light, sexy, romantic comedy involving young protagonists (see 'Love Hina -- A Love Story For the Otaku Generation').

The success of the Love Hina anime series also reminds us that one of the great features of anime is wide range of genres that it encompasses.

Just because American attempts to create animated movies such as Treasure Planet that are aimed at an older demographic have failed doesn't mean that it can't be done -- Love Hina is proof that it can.