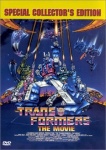 Specialty retailers who limit themselves to just anime could be missing the boat if they neglect the cartoons that flourished on American television in the 70s and 80s.
Rhino Video has been extremely active in resurrecting vintage kiddie-treats like the
Transformers.
Over the past year Rhino has sold close to a million units of its various
Transformer
reissues, with the
Transformers: The Movie DVD
actually making into the Billboard Top 15 list last November. In fact Rhino has done such a good job in selling the original
Transformers
series that Hasbro has decided to give Rhino the home video rights to
Transformers: Beast Wars
from the 90s as well as the current
Transformers: Beast Machines.
Of course, the
Transformers
cartoon was produced in Japan by Toei, so anime fans do have an interest in the property, even if it is hardly what one would call a pure anime.
But Warner Home Video has done equally great numbers with its vintage American-style
Scooby-Doo
cartoons, with over 12 million units moved in the last three years.
Rhino has big plans to increase its output of retro toons this year with releases planned for the Inhumanoids, Visionaires, and Robotics. But the one Rhino title to key on appears in August, when Rhino will release Battle of the Planets, which is the U.S. adaptation of the Japanese anime classic Kagaku Ninjatai Gatchaman (1972,1978), which featured character designs by the young Yoshitaka Amano. This release promises to have appeal both to anime fans and to nostalgia-driven 30-somethings who can recall a misspent youth parked in front of the TV watching cartoons. Warner Home Video also has a number of interesting offerings for this summer, but a DVD compilation of Hanna-Barbera classics (Huckleberry Hound, Yogi Bear, The Jetsons, The Flintstones) entitled Cartoon Crackups looks like a sure thing.
Although retro cartoons have sold quite well, they are not in the Matrix/Castaway category that's going to attract a lot of mass retailer attention.

This gives specialty retailers more opportunities, since it is less likely that these retro tunes will be deeply discounted at retail.

If your clientele includes enough fans of a 'certain age,' you should consider trying some of these retro toons.

If you carried Hanna-Barbera videos when they first appeared back in the late 80s, think about carrying them again in DVD.

Not only are DVDs visually sharper and easier to store than VHS tapes, they often have special features that collectors love.

The Transformers Movie DVD from Rhino for example includes the unedited version of the film with remastered visual quality, storyboards for unusual scenes, and Dolby 5.1 audio. All this plus the stentorian voice of Orson Welles as 'Unicron,' who could ask for anything more?