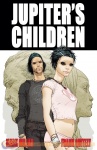 The unveiling of the Millarworld family of titles continued this week on
CBR
, with the news that Mark Millar and Frank Quitely will collaborate on a long miniseries (variously described as ten or twelve issues), a superhero crossover in a newly created universe.
Jupiter's Children
will launch in September.
The concept, according to Millar, is to make a big event book accessible. "The biggest complaint I hear with company crossovers is inaccessibility," he said, "but if everybody is starting with page one it eliminates that beautifully and you can bring the same excited, commercial head to the book as you would if you were doing this for one of the Big Two."
The story involves the superhero children and grandchildren of the members of a doomed expedition from the 1920s, who are weak shadows of their progenitors but face serious challenges in the deeply troubled modern world.
Millar compares the situation to a modern celebrity. "In the same way, Paris Hilton is the granddaughter of a man with incredible business sense and the will to build that Hilton chain of hotels. She doesn't have the skills or drive he had. She's just a vacuous party girl who was born with a silver spoon and mistakes money and fame for success or respect," he said. "In the same way, these superheroes know something enormous is missing from their lives and are daunted by the prospect of replacing their parents."
Millar promises a work of tremendous scale. "It's a huge, grand operatic piece that runs for ten issues and does superheroes on a scale I've never even tried in something like The Ultimates," he said. And he's expecting sales to be his best ever. "I think it's going to be bigger than Kick-Ass or Wanted or Nemesis or anything, he said. "I think this one's going to break the 100,000 mark. This is my Star Wars."
Media rights are not being shopped, according to the report, to give the property time to develop.
In addition to the previously revealed (see "'
Big Two Just Became the Big Three'
")
Supercrooks
(Millar and Leinil Francis Yu) and
The Secret Service
(Millar and Dave Gibbons),
Kick-Ass
spin-off
Hit Girl
will launch in May.