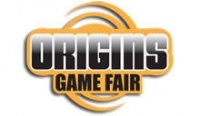 Responding to complaints about the decision to move the Origins Game Fair from late June to late May, GAMA has announced new 2013 dates for the event, which will be held from May 30th to June 2nd this year in Columbus, Ohio. In response to a survey in which 56% of the respondents, who apparently wanted avoid conflicts with the school year, indicated that the third weekend in June was the "Best Date" for the show, GAMA has decided to change the dates for Origins in 2013, 2014, and 2015 that were announced last spring (see "
Origins Moves Dates
") and move to the second weekend in June when possible.
While the new dates are not permanent yet, they appear to represent a reasonable attempt to compromise with a number of exhibitors and attendees who complained that the new dates put the show during the school year and thus made it more difficult for families and young gamers to attend. So instead of the previously announced May 29th to June 2nd dates for the 2013 show, the new 2013 Origins Game Fair dates are June 12th to June16th.
The newly announced 2014 Origins dates are similar, June 11th to June 15th. As is the case with the 2013 dates, the 2014 show should take place after the majority of schools are out for the summer. In 2015 GenCon is moving earlier (to the end of July), so in order to maintain some distance between the two major summer game shows, the 2015 Origins will be held during the first week in June, from June 3rd to June 7th.
In order to make the most out of its late May, early June dates this year GAMA has inaugurated a "School Field Trip" program with sponsorship from Mayfair Games, Virtual World Entertainment, and Sharp as a Tac that will provide numerous local schools with the ability to provide free field trips to Origins. GAMA is also partnering with the ROTC programs from local colleges to market the show to college students whose schools will still be in session during the 2012 show.
Other programs in place to encourage attendance in 2012 include a $15,000 Magic Open Series tournament sponsored by Star City as well as cuts to admission prices (a single-day pass will be available for $20 with a full show badge for $55), and lower hotel prices (down about $17 per night).