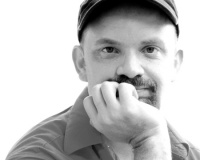 ICv2 caught up with Eisner Award-winning retailer Atom! Freeman, who has been named Sale Manager for the resurgent Valiant Entertainment. Freeman, who co-owned the award winning retail outlet Brave New World and also enjoyed a stint as Top Cow Production's Director of Sales & Marketing, has been tasked by his new employer's Valiant Entertainment with speaking to every comic book retailing organization in the direct market in order to get feedback and direction to support the relaunch of Valiant's superhero comics (see "
Valiant Returns
"). Though Freeman is only partway through his unprecedented undertaking that involves contacting 2,500 retailers, he took some time out to discuss the reasons why Valiant is employing this strategy and some of the things he's already learned from retailers.
What is the main point you are trying to make to retailers concerning Valiant's re-launch?
My main point to retailers is that Valiant Entertainment is the real deal. We are in this for the sake of comics and we're in it for the long haul. Valiant Entertainment was founded by two passionate fans, Jason Kothari and Dinesh Shamdasani, who later became successful businessmen and pounced upon the opportunity to rescue the Valiant characters from the Acclaim estate. They then set about putting together the proper team, plan, and financing to bring Valiant back to its former position as a leader in the comics industry. That team now includes the CEO who helped take Marvel from bankruptcy to the Disney sale, Peter Cuneo; an editor who reintroduced and improved cultural icons, and whose books collected 21 Eisner and Harvey nominations along the way, Warren Simons, a publisher who made the original Valiant and Wizard into sales juggernauts, Fred Pierce; and an Eisner Award-winning retailer – yours truly. And now, in May, with all of those components in place, we're ready to give the Valiant Universe the kind of relaunch it deserves.
With the launch of DC's "New 52" and Marvel's plethora of titles, what do you say to retailers who express skepticism concerning the need for more superhero comics?
One of the phrases I hear over and over again on my calls to retailers is "quality sells." I can safely say that Warren Simons is one of the most gifted editors working in comics today, and that his eye for talent and quality is unmatched. Last week, we announced that Robert Venditti and Cary Nord are working on the first of several new Valiant series, X-O Manowar. Good comics – super-hero or not – come down to great casting, and the combination of Rob and Cary is just that. Valiant is creating smart, creative comics that stand as a testament to Valiant's history as the only universe to ever rival Marvel and DC's in both sales and popularity.
What are the main concerns of retailers in relation to Valiant's re-launch?
I try to ask every retailer I speak with what his or her biggest concern is in dealing with a new publisher. The number one answer I get is timeliness. Retailers want to know that they will have a consistent product shipped on a consistent schedule. I can tell you that everyone in the building knows how important reliability and timeliness are on the ground, in any and every comic shop and it factors heavily into every decision we make.
What sort of marketing suggestions have you received from retailers?
We've had a tremendous outpouring of suggestions thus far, and we have guys emailing, tweeting and calling us not just with marketing ideas, but ideas for everything across the board. While we'll be using some of the standard tools that every publisher uses, we have a few aces up our sleeve and some new ideas that we're really excited about. Many of these were directly born out of the calls I've been making.
Are you interested in any editorial input from retailers—general stuff about what kind of books are selling, or specific comments about their impressions of the Valiant characters the first time around? Does Valiant have a particular strategy to attack the market, and are you tasked with explaining it to retailers?
The average retailer I've spoken to at this point has been reading comics for 34 years and over half of them consider themselves Valiant fans. But they also know exactly what moves in their particular stores and what does not. A huge amount of that calculation is born out of fan demand. From the very beginning, Valiant Entertainment has also has been very involved with activating Valiant's vocal contingent of fans. Very soon, Valiant will unveil a program designed to bring Valiant fans past and present into brick and mortar comic stores. I can't talk to specifics just yet, but the fact that Valiant brought me, a ten-year comic book retail veteran, on board for the express purpose of retailer outreach says a lot.
Have you asked retailers what they think about variant covers as ordering incentives?
I've talked to many retailers about variant covers. Not surprisingly, they are split on what they think about the effectiveness of variant covers as ordering incentives. We have put together a line-up of variant covers that we think even the naysayers will be interested in. We're taking a new look at promotion, technology, and the community of comic shops
and developing an incentive strategy that delivers on all three counts
Have retailers been asking you about returnability for the first three issues? DC's program appears to be working quite well, any chance that Valiant will follow suit?
I have talked to many retailers about returnability. One of the things that has surprise me most about these calls is how few retailers seem to value this as an option. Don't get me wrong, I can see how this is a valuable sales tool to many publishers where the risk is a complete unknown. But just based on my calls, when you compare returnability to issues like timeliness, promotion, quality, and communication with retailers, it actually comes in very low on the list of things that are important to retailers. As to our plans, we're still kicking it around.
As far as graphic novels collections of the Valiant comics are concerned, have you asked retailers whether they think Valiant should release hardcover collections first or lower cost trade paperbacks?
Hang on, we're supposed to make graphic novels out of these things? Yes, I've talked to a number of retailers about the hardcover/paperback issue. It will be so much fun when I can start talking about our plans for this.

What is the most useful bit of feedback you have had from a retailer so far?
Wow. You want just one bit? At the moment, I've spoken to just over 20 percent of the market, who have between them have thousands of years of sales experience. Everyday I learn something new from these incredible men and women. I've talked to dozens of retailers with customers who have been waiting to put Valiant titles back on their pull list for a decade. Many still get requests for Valiant back issues on a regular basis. During one of my favorite calls fans in the background started chanting "Bring Back Harbinger!" when they found out who was on the phone.
They've taught me that as much experience as I thought I had running a comics shop and dealing with other shop owners, every single one of them has something new to say and something to add to the conversation.
I've also learned that comic shops are much stronger than they are getting credit for. A vast majority are telling me that they are doing better this year than last. Every day, it seems, I'm adding more new stores to what I thought was a complete list. The more calls I make, the brighter the future of comics (and the shops that sell them) seems for me. I am looking forward to having spoken to all of them and being able to report on that strength.