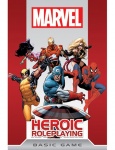 The Basic Game rulebook will include everything needed to play the game. The new rules system was developed by Cam Banks, but includes input from such well-known game developers as Rob Donoghue, Matt Forbeck, Will Hindmarch, Philippe-Antoine Menard, and Jesse Scoble.

The initial background for the system centers on the "Breakout" story arc described in the New Avengers issues 1 through 6 by Brian Michael Bendis, David Finch, and Danny Miki. Game statistics for many popular Marvel characters are also included in the basic game book, including Captain America, Spider-Man, Daredevil, Iron Man, and Wolverine, as well a numerous Marvel Super Villians.
The game system is designed to be easy to learn, acting as an entry-level game for fans of super hero comics while offering enough complexity to satisfy experienced players. It is based on the proven Cortex Plus System that has been featured in other licensed Margaret Weis Productions titles, including Smallville and Leverage.
The Marvel Heroic Roleplaying Basic Game will be presented as a softcover book with a suggested retail price of $19.99. The game will be available only in the US and Canada.
Future releases will tie the role-playing game to on-going themes in Marvel's comics. These releases, called "Events," will include Event Books and Event Supplements for introducing new characters and expanding gameplay. Three Events are planned for 2012: Civil War in March, Annihilation in June, and Age of Apocalypse in September. Event supplements will be published as softover books with a suggested retail price of $19.99.
Special casebound Essential Editions will also be available for the Events, with a suggested retail price of $29.99, as well as full-color hardcover Premium Editions priced at $39.99.