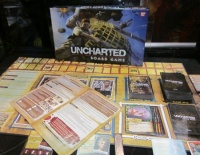 At the GAMA Trade Show, Bandai America, which is well known in the hobby game market for its card games, unveiled a new board game, Uncharted (MSRP $29.99), which will ship to stores in June. The game is based on Sony's popular action-adventure platform video game, in which a trio of treasure hunters scours the world in a high-adventure game that is the equivalent of an Indiana Jones movie (with maybe a little more of an edge) set in the present day.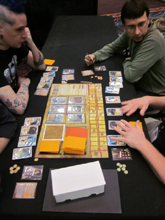 Over 13 million copies of the various iterations of Sony's
Uncharted
game have been sold already, so Bandai's board game, which is targeted at that user base along with anyone who enjoys action/adventure board games, should have a built-in audience of considerable size. The
Uncharted
video game property has also been optioned by Hollywood for a feature film.