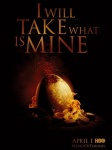 Sunday's Season 2 premiere of HBO's Game of Thrones set a new series record with 3.9 million viewers, which was up a whopping 74% from the show's first season premiere last April, and also topped the series' previous record of 3 million viewers for the Season 1 finale last June. Unless the ratings suddenly fall off a cliff, an order for a third season in this adaptation of George R.R. Martin's epic fantasy series A Song of Ice and Fire would appear to be inevitable.
The strong ratings earned by the
GOT
premiere assuaged the fears of some that the killing of
Season 1's
most popular character, Ned Stark (Sean Bean, see "
Controversial New Poster For Game of Thrones
"), would hurt ratings. In fact the total audience for all three Sunday showings of the
Season 2
premiere was 6.3 million.
Game of Thrones'
opening audience of 3 million was especially impressive given the fact that pay channel HBO is in far fewer households than basic cable channel AMC, yet the season premiere of
The Killing
only garnered 1.8 million and the most recent episode of AMC's
Mad Men
drew 2.9 million viewers. Of course the finale of AMC's
The Walking Dead
drew 9 million viewers for its recent season finale (see "
'The Walking Dead' Season 2 Finale Sets New Records
").
The solid ratings should help sales of Dynamite Entertainment's
A Game of Thrones
comics and graphic novels, as well as board and card games from Fantasy Flight Games, and the newly revamped RPG from Green Ronin (see "
A Game of Thrones Edition'
RPG").