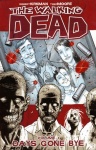 These are estimates of the sales on graphic novels by Diamond U.S. to comic specialty stores during March 2012.
For an overview and analysis of comic sales in March, see "
'AvX' #1 Ends 'Justice League's' Reign
."
For an analysis of the dollar trends in March, see "
Streak Stopped at 7--Comics Slip in March
."
For our estimates of actual sales by Diamond
U.S.
from comic specialty stores on comic books shipped during March, see "
Top 300 Comics Actual--March 2012
."
Top 300 GNs -- March 2012

Rank

Index

Title

Price

Pub

Est.Qty

1

4.62

WALKING DEAD TP VOL 01 DAYS GONE BYE

$9.99

IMA

5,880

2

4.41

HELLBOY TP VOL 12 THE STORM AND THE FURY

$19.99

DAR

5,617

3

4.15

BOYS TP VOL 10 BUTCHER BAKER CANDLESTICKMAKER (MR)

$19.99

DE

5,283

4

3.91

FLASHPOINT TP

$14.99

DC

4,976

5

3.39

X-MEN SEASON ONE PREM HC

$24.99

MAR

4,322

6

3.12

DMZ TP VOL 11 FREE STATES RISING (MR)

$19.99

DC

3,971

7

2.96

STAR WARS CLONE WARS YR TP VOL 07 ENEMY WITHIN

$7.99

DAR

3,773

8

2.75

FLASHPOINT WORLD OF FLASHPOINT BATMAN TP

$17.99

DC

3,500

9

2.70

NORTHLANDERS TP VOL 06 THORS DAUGHTER (MR)

$14.99

DC

3,444

10

2.69

WALKING DEAD TP VOL 02 MILES BEHIND US (NEW PTG)

$14.99

IMA

3,425

11

2.54

NARUTO TP VOL 55

$9.99

VIZ

3,241

12

2.48

VENOM BY RICK REMENDER TP VOL 01

$16.99

MAR

3,161

13

2.25

BATMAN BIRTH OF THE DEMON TP

$29.99

DC

2,872

14

2.20

SECRET INVASION TP

$29.99

MAR

2,808

15

2.20

WALKING DEAD TP VOL 15 WE FIND OURSELVES (MR)

$14.99

IMA

2,802

16

2.11

DEADPOOL TP VOL 08 OPERATION ANNIHILATION

$15.99

MAR

2,687

17

2.09

SAILOR MOON TP KODANSHA ED VOL 04

$10.99

RAN

2,666

18

2.06

WALKING DEAD TP VOL 03 SAFETY BEHIND BARS

$14.99

IMA

2,622

19

1.99

FLASHPOINT WORLD OF FLASHPOINT SUPERMAN TP

$17.99

DC

2,539

20

1.97

AVENGERS CHILDRENS CRUSADE HC

$34.99

MAR

2,506

21

1.95

FLASHPOINT WORLD OF FLASHPOINT WONDER WOMAN TP

$17.99

DC

2,480

22

1.92

FLASHPOINT WORLD OF FLASHPOINT GREEN LANTERN TP

$17.99

DC

2,447

23

1.89

FLASHPOINT WORLD OF FLASHPOINT THE FLASH TP

$17.99

DC

2,404

24

1.87

BATMAN YEAR ONE DELUXE EDITION HC

$24.99

DC

2,378

25

1.83

KING CITY TP (MR)

$19.99

IMA

2,337

26

1.74

RACHEL RISING TP VOL 01 SHADOW OF DEATH

$16.99

ABS

2,212

27

1.71

STAR WARS OLD REPUBLIC TP VOL 03 LOST SUNS

$18.99

DAR

2,178

28

1.70

AXE COP TP VOL 03

$14.99

DAR

2,165

29

1.70

CROSSED TP VOL 03 PSYCHOPATH (MR)

$19.99

AVA

2,164

30

1.66

WALKING DEAD TP VOL 04 HEARTS DESIRE (MR)

$14.99

IMA

2,116

31

1.61

ANNIHILATORS EARTHFALL TP

$14.99

MAR

2,055

32

1.55

AVENGERS INVADERS HC

$39.99

MAR

1,972

33

1.54

GOTHAM CITY SIRENS TP VOL 04 DIVISION

$14.99

DC

1,957

34

1.46

WALKING DEAD TP VOL 05 BEST DEFENSE (MR)

$14.99

IMA

1,866

35

1.44

ULTIMATE COMICS AVENGERS VS NEW ULTIMATES DOSM TP

$19.99

MAR

1,830

36

1.35

SPIDER-MAN PREM HC TORMENT

$19.99

MAR

1,723

37

1.34

ASTONISHING THOR TP

$16.99

MAR

1,701

38

1.33

DC UNIVERSE BY ALAN MOORE HC

$39.99

DC

1,691

39

1.33

ULTIMATE COMICS X-MEN BY NICK SPENCER PREM HC VOL 01

$24.99

MAR

1,689

40

1.31

UNCANNY X-MEN BY KIERON GILLEN PREM HC VOL 01

$19.99

MAR

1,672

41

1.30

X-MEN FIRST TO LAST TP

$15.99

MAR

1,659

42

1.30

GONE TO AMERIKAY HC (MR)

$24.99

DC

1,658

43

1.30

IRREDEEMABLE ANT-MAN TP

$34.99

MAR

1,654

44

1.30

MARVEL FIRSTS 1970S TP VOL 02

$29.99

MAR

1,651

45

1.25

WALKING DEAD TP VOL 09 HERE WE REMAIN (MR)

$14.99

IMA

1,589

46

1.24

ELEKTRA ASSASSIN PREM HC (MR)

$24.99

MAR

1,578

47

1.23

WALKING DEAD TP VOL 06 SORROWFUL LIFE (MR)

$14.99

IMA

1,566

48

1.23

AVENGERS ROAD TO MARVEL AVENGERS TP

$24.99

MAR

1,561

49

1.22

RED ROBIN SEVEN DAYS OF DEATH TP

$19.99

DC

1,557

50

1.22

SECRET AVENGERS RUN MISSION DONT GET SEEN SAVE WORLD

$24.99

MAR

1,548

51

1.20

WALKING DEAD TP VOL 14 NO WAY OUT (MR)

$14.99

IMA

1,535

52

1.16

ONE PIECE TP VOL 61

$9.99

VIZ

1,474

53

1.15

STAR TREK ONGOING TP VOL 01

$17.99

IDW

1,465

54

1.14

WALKING DEAD TP VOL 10 WHAT WE BECOME

$14.99

IMA

1,452

55

1.13

BPRD PLAGUE OF FROGS HC VOL 03

$34.99

DAR

1,441

56

1.13

WOLVERINE AND NICK FURY SCORPIO TP

$19.99

MAR

1,441

57

1.11

GREEN LANTERN CHRONICLES TP VOL 04

$14.99

DC

1,415

58

1.11

JUSTICE LEAGUE RISE AND FALL TP

$17.99

DC

1,411

59

1.09

STUFF OF LEGEND TP VOL 03

$15.95

TH3

1,395

60

1.09

WONDER WOMAN ODYSSEY HC VOL 02

$22.99

DC

1,390

61

1.09

MARVEL ZOMBIES RETURN HC

$24.99

MAR

1,386

62

1.09

WALKING DEAD TP VOL 11 FEAR THE HUNTERS (MR)

$14.99

IMA

1,385

63

1.08

CLASSIC GI JOE TP VOL 14

$24.99

IDW

1,372

64

1.07

GHOSTBUSTERS ONGOING TP VOL 01

$17.99

IDW

1,361

65

1.07

WALKING DEAD TP VOL 07 THE CALM BEFORE (MR)

$14.99

IMA

1,359

66

1.06

QUEEN CRAB HC (MR)

$12.99

IMA

1,353

67

1.06

AVATAR LAST AIRBENDER TP VOL 01 PROMISE PART 1

$10.99

DAR

1,350

68

1.05

COVER GIRLS HC (MR)

$24.99

IMA

1,340

69

1.05

WALKING DEAD TP VOL 08 MADE TO SUFFER (MR)

$14.99

IMA

1,334

70

1.05

KNUCKLES THE ECHIDNA ARCHIVES TP VOL 02

$9.99

ARC

1,332

71

1.04

DC UNIVERSE ONLINE LEGENDS TP VOL 02

$19.99

DC

1,320

72

1.03

SUPERMAN LAST STAND OF NEW KRYPTON TP VOL 02

$14.99

DC

1,309

73

1.03

WALKING DEAD TP VOL 12 LIFE AMONG THEM

$14.99

IMA

1,307

74

1.02

SECRET WARRIORS TP VOL 06 WHEELS WITHIN WHEELS

$14.99

MAR

1,295

75

1.01

MMW MIGHTY THOR HC VOL 11

$59.99

MAR

1,287

76

1.01

DEADPOOL PREM HC VOL 10 EVIL DEADPOOL

$19.99

MAR

1,284

77

1.00

WALKING DEAD TP VOL 13 TOO FAR GONE (MR)

$14.99

IMA

1,271

78

0.98

JOURNEY INTO MYSTERY FEAR ITSELF FALLOUT PREM HC

$19.99

MAR

1,252

79

0.97

SONIC GENESIS HC

$24.99

ARC

1,235

80

0.97

STAR WARS OMNIBUS OTHER SONS OF TATOOINE TP

$24.99

DAR

1,233

81

0.96

JUSTICE LEAGUE OF AMERICA DARK THINGS TP

$17.99

DC

1,223

82

0.95

AVENGERS KORVAC SAGA TP

$24.99

MAR

1,205

83

0.94

ESSENTIAL X-MEN TP VOL 10

$19.99

MAR

1,199

84

0.93

SHOWCASE PRESENTS YOUNG LOVE TP VOL 01

$19.99

DC

1,191

85

0.93

AVENGERS 1959 TP

$16.99

MAR

1,180

86

0.90

GFT DREAM EATER SAGA TP VOL 02 (MR)

$15.99

ZEN

1,148

87

0.90

FEAR ITSELF INVINCIBLE IRON MAN PREM HC

$19.99

MAR

1,145

88

0.89

COMPLEAT TERMINAL CITY TP

$24.99

DAR

1,133

89

0.87

MARVEL ZOMBIES 04 HC

$19.99

MAR

1,108

90

0.87

MMW GOLDEN AGE YOUNG ALLIES HC VOL 02

$64.99

MAR

1,107

91

0.85

SMURFS GN VOL 11 SMURF OLYMPICS

$5.99

NBM

1,082

92

0.85

WOMANTHOLOGY HEROIC HC

$50.00

IDW

1,077

93

0.84

AVENGERS BY BENDIS HEROIC AGE HC

$39.99

MAR

1,075

94

0.84

DOCTOR WHO ONGOING 2 TP VOL 03 CAME OUTER SPACE

$19.99

IDW

1,073

95

0.84

DUNGEONS & DRAGONS DRIZZT HC VOL 01 NEVERWINTER

$24.99

IDW

1,065

96

0.83

MARVEL ZOMBIES 03 HC

$19.99

MAR

1,059

97

0.83

EXILES ULTIMATE COLLECTION TP BOOK 01

$34.99

MAR

1,056

98

0.82

GFT MYTHS & LEGENDS TP VOL 02 (MR)

$15.99

ZEN

1,044

99

0.81

CAPTAIN AMERICA PREM HC TRUTH

$24.99

MAR

1,029

100

0.81

SCOOBY DOO WHERE ARE YOU TP

$12.99

DC

1,029

101

0.80

AVENGERS ASSEMBLE HISTORY OF EARTHS HEROES GN TP

$14.99

MAR

1,024

102

0.80

LAST OF THE GREATS TP VOL 01 (MR)

$12.99

IMA

1,023

103

0.80

EERIE PRESENTS HUNTER HC

$19.99

DAR

1,020

104

0.80

BATMAN DARK KNIGHT RETURNS TP

$14.99

DC

1,015

105

0.80

BATMAN HUSH COMPLETE TP

$24.99

DC

1,013

106

0.79

FEAR ITSELF DRACULA PREM HC

$19.99

MAR

1,011

107

0.79

KUROSAGI CORPSE DELIVERY SERVICE TP VOL 12 (MR)

$11.99

DAR

1,010

108

0.78

ASTONISHING X-MEN WHEDON CASSADAY ULT COLL TP BOOK 02

$29.99

MAR

996

109

0.78

HEROES REBORN THE RETURN TP

$29.99

MAR

996

110

0.78

SPIDER-MAN SINISTER SIX PREM HC

$24.99

MAR

996

111

0.78

WOLVERINE GOODBYE CHINATOWN PREM HC

$19.99

MAR

990

112

0.78

X-MEN WOLVERINE GAMBIT PREM HC

$19.99

MAR

988

113

0.77

THUNDERBOLTS GREAT ESCAPE TP

$19.99

MAR

982

114

0.77

COMPLETE PEANUTS HC VOL 17 1983-1984

$28.99

FAN

981

115

0.77

TRANSFORMERS TP VOL 07 CHAOS

$19.99

IDW

977

116

0.76

X-MEN ORIGINS HC

$29.99

MAR

971

117

0.76

EXILES ULTIMATE COLLECTION TP BOOK 02

$34.99

MAR

962

118

0.76

MMW AVENGERS TP VOL 04

$24.99

MAR

962

119

0.75

GRIMM FAIRY TALES SINBAD TP

$15.99

ZEN

952

120

0.74

X-MEN SHATTERING TP

$34.99

MAR

944

121

0.74

BATMAN VS BANE TP

$12.99

DC

940

122

0.74

WALKING DEAD COMPENDIUM TP VOL 01 (MR)

$59.99

IMA

937

123

0.73

ARCHIE THE MARRIED LIFE TP VOL 02

$19.99

ARC

927

124

0.72

FEAR ITSELF SPIDER-MAN PREM HC

$19.99

MAR

923

125

0.72

SPAWN ORIGINS TP VOL 14

$14.99

IMA

920

126

0.72

BATMAN THE KILLING JOKE SPECIAL ED HC

$17.99

DC

917

127

0.71

68 TP VOL 01 BETTER RUN THROUGH THE JUNGLE (MR)

$19.99

IMA

908

128

0.71

HULK PLANET SKAAR HC

$29.99

MAR

902

129

0.70

SPICE AND WOLF GN VOL 06 (MR)

$12.99

HAC

897

130

0.70

GHOST RIDER DANNY KETCH TP VOL 01

$29.99

MAR

896

131

0.70

WATCHMEN TP

$19.99

DC

892

132

0.70

WOLVERINE WEAPON X ADAMANTIUM MEN PREM HC VOL 01

$24.99

MAR

889

133

0.67

CHEW TP VOL 01 (MR)

$9.99

IMA

856

134

0.67

FEAR ITSELF AVENGERS ACADEMY PREM HC

$24.99

MAR

856

135

0.67

PUNISHER YEAR ONE TP

$12.99

MAR

852

136

0.66

SNAKE EYES ONGOING TP VOL 02

$17.99

IDW

839

137

0.65

X-MEN MANIFEST DESTINY HC

$29.99

MAR

830

138

0.64

AVENGERS TP NIGHTS OF WUNDAGORE

$16.99

MAR

821

139

0.64

ELEKTRA BY GREG RUCKA ULTIMATE COLLECTION TP

$34.99

MAR

817

140

0.64

BLUE HC (MR)

$14.95

TOP

813

141

0.62

CAPTAIN AMERICA DEATH OF RED SKULL TP

$29.99

MAR

786

142

0.61

BATMAN THE BLACK MIRROR HC

$29.99

DC

780

143

0.61

UNCANNY X-MEN HC MANIFEST DESTINY

$29.99

MAR

778

144

0.61

VAULT TP

$9.99

IMA

777

145

0.61

PANDORA HEARTS GN VOL 09

$11.99

HAC

776

146

0.60

MARVEL UNIVERSE AVENGERS UNITED DIGEST TP

$9.99

MAR

767

147

0.60

FABLES TP VOL 16 SUPER TEAM (MR)

$14.99

DC

765

148

0.60

WALKING DEAD HC VOL 01 (MR)

$34.99

IMA

764

149

0.60

AVENGERS PREM HC HAWKEYE

$24.99

MAR

761

150

0.59

GONZO A GRAPHIC BIOGRAPHY OF HUNTER S THOMPSON

$17.95

ABR

756

151

0.59

CHARLAINE HARRIS GRAVE SIGHT GN VOL 03 (OF 3)

$7.99

DE

755

152

0.59

LEGION OF MONSTERS TP

$15.99

MAR

749

153

0.59

V FOR VENDETTA NEW EDITION TP (MR)

$19.99

DC

746

154

0.58

BATMAN YEAR ONE DELUXE SC

$14.99

DC

737

155

0.57

CHI SWEET HOME GN VOL 08

$13.95

RAN

730

156

0.57

SPAWN NEW BEGINNINGS TP VOL 02

$14.99

IMA

729

157

0.57

WOLVERINE TP DANGEROUS GAMES

$19.99

MAR

727

158

0.56

SUPERMAN EARTH ONE HC

$19.99

DC

719

159

0.56

AMERICAN VAMPIRE TP VOL 01 (MR)

$19.99

DC

717

160

0.56

DARK AVENGERS PREM HC VOL 01 ASSEMBLE

$24.99

MAR

711

161

0.55

CHEW TP VOL 04 FLAMBE (MR)

$12.99

IMA

701

162

0.55

WOLVERINE TP LOGAN

$14.99

MAR

701

163

0.55

ANITA BLAKE VH CIRCUS DAMNED SCOUNDREL PREM HC BOOK 03 (MR)

$19.99

MAR

699

164

0.54

SANDMAN TP VOL 01 PRELUDES & NOCTURNES NEW ED (MR)

$19.99

DC

691

165

0.54

WOLVERINE PREM HC NOT DEAD YET

$19.99

MAR

691

166

0.54

INCREDIBLE HULK PAST PERFECT TP

$39.99

MAR

688

167

0.54

CORTO MALTESE TP VOL 01 BALLAD OF THE SALT SEA

$25.00

RAN

685

168

0.53

HAWK AND DOVE GHOSTS AND DEMONS TP

$14.99

DC

681

169

0.53

AVENGERS EARTHS MIGHTIEST HEROES ULT COLL TP

$34.99

MAR

676

170

0.53

EXCALIBUR VISIONARIES ALAN DAVIS TP VOL 01

$24.99

MAR

672

171

0.52

ULTIMATE ORIGINS TP

$19.99

MAR

668

172

0.52

DARKNESS ACCURSED TP VOL 06 (MR)

$19.99

IMA

663

173

0.52

FAIRY TAIL GN VOL 18

$10.99

RAN

660

174

0.52

X-MEN LEGACY TP SINS OF THE FATHER

$14.99

MAR

660

175

0.51

DARK SHADOWS TP VOL 01

$16.99

DE

656

176

0.51

MELANCHOLY OF SUZUMIYA HARUHI CHAN GN VOL 05

$11.99

HAC

653

177

0.51

PUNISHER WAR ZONE TP

$19.99

MAR

647

178

0.51

IS THIS A ZOMBIE VOL 01 (MR)

$11.99

HAC

645

179

0.50

FABLES TP VOL 01 LEGENDS IN EXILE

$12.99

DC

639

180

0.50

ANITA BLAKE VH TP BOOK 02 CIRCUS OF DAMNED INGENUE (MR)

$16.99

MAR

638

181

0.50

BLACKEST NIGHT TP

$19.99

DC

637

182

0.50

BATMAN THE LONG HALLOWEEN TP

$24.99

DC

634

183

0.50

AIR GEAR GN VOL 22 (MR)

$10.99

RAN

632

184

0.50

FABLES TP VOL 02 ANIMAL FARM

$12.99

DC

632

185

0.49

RICHIE RICH DIGEST GN VOL 01 BOON UNDER THE BAY

$6.99

APE

629

186

0.49

DARKNESS ACCURSED TP VOL 07

$19.99

IMA

628

187

0.49

TORPEDO HC VOL 05

$24.99

IDW

628

188

0.49

COMPLETE CRUMB TP VOL 01 EARLY YEARS OF BITTER STRUGGLE

$24.99

FAN

624

189

0.49

FRIENDS WITH BOYS GN

$15.99

ST.

624

190

0.49

RIN-NE GN VOL 08

$9.99

VIZ

623

191

0.49

SINCEREST FORM OF PARODY SATIRICAL COMICS TP

$24.99

FAN

619

192

0.48

EARL AND FAIRY VOL 01

$9.99

VIZ

607

193

0.48

OFF HANDBOOK OF MARVEL UNIVERSE A TO Z TP VOL 04

$19.99

MAR

607

194

0.48

SPIDER-MAN PREM HC DEATH & DATING

$24.99

MAR

607

195

0.47

WALKING DEAD HC VOL 03 (MR)

$34.99

IMA

603

196

0.47

NYX WANNABE PREM HC

$24.99

MAR

600

197

0.47

GIRL GENIUS OMNIBUS HC VOL 01 AGATHA AWAKENS

$34.99

ST.

599

198

0.47

BLACK BIRD GN VOL 13

$9.99

VIZ

596

199

0.46

INCREDIBLE HULKS WORLD WAR HULKS HC

$49.99

MAR

591

200

0.46

PHOENIX WRIGHT GN VOL 04

$10.99

RAN

590

201

0.46

AVENGERS WEST COAST LOST SPACE TIME PREM HC

$34.99

MAR

588

202

0.46

WOLVERINE DARK WOLVERINE PREM HC VOL 01 PRINCE

$24.99

MAR

583

203

0.46

SHARKNIFE GN VOL 02 SHARKNIFE ZZ

$11.99

ONI

580

204

0.45

BRIDES STORY HC GN BOOK 03

$16.99

HAC

579

205

0.45

SPIDER-MAN 24-7 PREM HC

$24.99

MAR

574

206

0.45

CAPTAIN AMERICA FIGHTING CHANCE TP VOL 01 DENIAL

$19.99

MAR

571

207

0.45

WOLVERINE TP FLIES TO A SPIDER

$16.99

MAR

571

208

0.45

WOLVERINE WEAPON X FILES TP

$24.99

MAR

568

209

0.44

ULTIMATUM SPIDER-MAN PREM HC

$24.99

MAR

560

210

0.44

X-MEN NOIR PREM HC

$19.99

MAR

559

211

0.44

PUNISHER DEAD END PREM HC

$24.99

MAR

556

212

0.44

WOLVERINE FIRST CLASS TP WOLVERINE BY NIGHT

$12.99

MAR

555

213

0.43

POWERS PREM HC VOL 05 ANARCHY (MR)

$19.99

MAR

554

214

0.43

TRANSFORMERS CLASSICS UK TP VOL 02

$29.99

IDW

549

215

0.43

X-MEN MANIFEST DESTINY TP

$24.99

MAR

549

216

0.43

Y THE LAST MAN TP VOL 01 UNMANNED

$14.99

DC

549

217

0.43

POKEMON BLACK & WHITE GN VOL 05

$4.99

VIZ

548

218

0.43

CIVIL WAR TP

$24.99

MAR

546

219

0.43

SPIDER-MAN SHORT HALLOWEEN PREM HC

$19.99

MAR

545

220

0.43

FEAR ITSELF YOUTH IN REVOLT PREM HC

$19.99

MAR

544

221

0.42

EMITOWN TP VOL 02

$24.99

IMA

539

222

0.42

SHATTERED HEROES HC

$19.99

MAR

539

223

0.42

POKEMON BLACK & WHITE GN VOL 06

$4.99

VIZ

538

224

0.42

CAPTAIN AMERICA ROAD TO REBORN PREM HC

$24.99

MAR

536

225

0.42

CHEW TP VOL 02 INTERNATIONAL FLAVOR (MR)

$12.99

IMA

531

226

0.42

ENDERS GAME PREM HC BATTLE SCHOOL

$24.99

MAR

529

227

0.41

SPIDER-MAN AND NEW WARRIORS HERO KILLERS TP

$24.99

MAR

528

228

0.41

WOLVERINE OLD MAN LOGAN TP

$29.99

MAR

527

229

0.41

MORIARTY TP VOL 02 LAZARUS TREE

$14.99

IMA

526

230

0.41

DAREDEVIL NOIR PREM HC

$19.99

MAR

525

231

0.41

X-MEN 2099 TP VOL 01

$29.99

MAR

524

232

0.40

PET AVENGERS CLASSIC TP

$24.99

MAR

512

233

0.40

BATMAN KNIGHTFALL TP PART 01 BROKEN BAT

$19.99

DC

511

234

0.40

EXILES ULTIMATE COLLECTION TP BOOK 03

$34.99

MAR

511

235

0.40

X-INFERNUS TP

$19.99

MAR

509

236

0.40

MIGHTY AVENGERS TP VOL 03 SECRET INVASION BOOK 01

$14.99

MAR

506

237

0.40

NINJA GIRLS GN VOL 09 (MR)

$10.99

RAN

506

238

0.40

FABLES TP VOL 03 STORYBOOK LOVE (MR)

$14.99

DC

504

239

0.39

PSYREN GN VOL 03

$9.99

VIZ

503

240

0.39

KIMI NI TODOKE GN VOL 13 FROM ME TO YOU

$9.99

VIZ

497

241

0.39

THOR BY J MICHAEL STRACZYNSKI PREM HC VOL 02

$24.99

MAR

497

242

0.39

ARCHIE AMERICANA HC VOL 03 BEST OF THE 60S (IDW)

$24.99

IDW

496

243

0.39

CHEW TP VOL 03 JUST DESSERTS (MR)

$12.99

IMA

496

244

0.39

SPIDER-MAN MARY JANE TP YOU JUST HIT THE JACKPOT

$24.99

MAR

493

245

0.39

UNCANNY X-FORCE TP VOL 02 DEATHLOK NATION

$15.99

MAR

492

246

0.38

MARK TWAIN TALES OF MYSTERY HC

$16.99

IDW

489

247

0.38

WALKING DEAD HC VOL 02 (MR)

$34.99

IMA

489

248

0.38

FEAR ITSELF HERC PREM HC

$19.99

MAR

487

249

0.38

SECRET INVASION TP AMAZING SPIDER-MAN

$14.99

MAR

485

250

0.38

HULK SKAAR SON OF HULK PREM HC VOL 01

$29.99

MAR

484

251

0.38

FANTASTIC FOUR LOST ADVENTURES BY STAN LEE TP

$24.99

MAR

482

252

0.38

DARK REIGN ACCEPT CHANGE TP

$24.99

MAR

481

253

0.38

UNCANNY X-FORCE TP VOL 01 APOCALYPSE SOLUTION

$15.99

MAR

478

254

0.37

SPIDER-MAN PREM HC CRIME AND PUNISHER

$19.99

MAR

476

255

0.37

FABLES TP VOL 15 ROSE RED (MR)

$17.99

DC

472

256

0.37

PRIDE & PREJUDICE PREM HC

$19.99