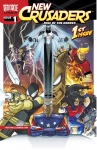 This August Archie Comics is launching a print edition of The New Crusaders: Rise of the Heroes, a new superhero comic series based on the classic Archie-owned characters that will published under Archie's new Red Circle superhero imprint. Paul Kaminski, who edits the Red Circle line generously took time to discuss the new print initiative that will be supported by a number of variant covers (released here for the first time). Kaminski explained how the print edition relates to Archie's Red Circle digital initiative.
Explain what is going on with Archie's Red Circle print initiative?
The print component of the Red Circle imprint, the Red Circle comics is going to kick off in August with The New Crusaders: Rise of the Heroes #1. That will be the very first Archie-produced comic book with these characters in over twenty-five years. So we are really excited to be rolling these guys out and especially to have them here, back at home at Archie Comics once again under the Red Circle comics imprint. Rise of the Heroes is going to be a six-issue series, which will be followed by subsequent six-issue series down the line.
So we have Rise of the Heroes to kick it off as our sort of inaugural story arc, which will take the reader through a major chunk of what we are calling Season One of New Crusaders. This is the intro. This is the getting to know the universe. We will be setting some major things up in these first issues, some things that are going to be affecting the entire Red Circle universe throughout its entire existence. It is in much the same vein as the epic TV shows that come out of the gate with events that will be great import for the entire series. What we are doing is very similar to that. We will be introducing, not only scenes and characters, but also dropping subtle hints at what the rest of the series is going to look like. Nothing happens by accident in this first issue, everything is planned out very meticulously by the Red Circle braintrust, which consists of myself, Alex Segura, Mike Bellarito, and writer Ian Flynn.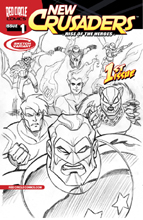 What's the relationship between the digital Red Circle revival and what you have planned for print that starts in August?
The app for the Red Circle comics launches on May 16th with a double-size season opener. Basically the app is the centerpiece of the Red Circle comics imprint in that it's this expansive look at the entire Red Circle universe including tons and tons of back issues that are updated weekly from past incarnations of the Red Circle characters dating all the way back to 1939. So that provides a very broad look at the universe itself. The New Crusaders: Rise of the Heroes will be debuted on the app, but we felt it was important that anyone who does not get the app, even though we highly encourage it, still be able to read about these characters, because we are so enthusiastic about the storytelling and about the way that Ian and Ben particularly have treated it. So yes the Rise of the Heroes saga will be available via the app starting on May 16th in a double-size season opener, but the print component will launch in August shipping.
Will there be any difference between the digital and the print versions?
It is essentially the same material. The difference is in the presentation. With the printed version, you will be able to read the first episode in its entirety in one shot. With the Red Circle app release, we will release six pages a week, except for the debut, the season opener, which is twelve pages, so that you can get a weekly update of new material. Now you can always go back and read those in issue-long chunks, but with the printed version it's all there in one piece.
Will the print comic be in the standard periodical format, and what about trade paperbacks, will you be collecting these six-issue story arcs?
Yes, they will be standard format comics, 32 pages, full color with a $2.99 cover price. We do have plans to collect them. There is nothing we are able to announce formally announce yet, but there are plans in the making.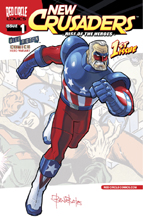 Are you planning to revive The Comet, Fireball, Fly Girl, The Shield, all of the classic Red Circle heroes?
Yes, I will give you the general overview. Our series picks up exactly where the last Archie incarnation left off in the 1980s, so fans of that series as well as Silver Age and Golden Age fans will all be happy to know that all that stuff is still continuity, and we are picking up directly where that left off. This is a direct sequel, so what happened is, after the 1980s Blue Ribbon and Red Circle material, the heroes were finally able to vanquish evil, and creating this sort of Golden Age of peace, where the heroes were all able to settle down and have families. Then when one critical component of that evil returns, the heroes of the older generation are obliterated, and it's up to their kids, the next generation of heroes, to step up led by The Shield, Joe Higgins, who dates all the way back to 1939. He was America's first patriotic superhero. It's up to him to lead these kids to avenge their parents and, as villainy begins to emerge, to learn how to fulfill their parents' roles. A strong theme in the book is "legacy," and it's something that we care about here. We want people to know that we are not wiping out years of history, we're adding to it, and bringing something new and interesting to the table on top of that.
So it's sort of like the DC years of the Red Circle heroes never happened?
Those series are not within the Archie continuity so for all the intents and purposes of our story, they didn't happen, however, even those series have some connection in some ethereal, mythical way to our series in ways that unfortunately I can't elaborate too much on now, but which will be explored at some point in the series.
We have a great array of variant covers planned. We have a sketch variant cover by Mike Norton, who just completely knocked it out of the park, we are very glad to have Mike on board. We also have a "Shield Variant" cover by series artist Ben Bates, and a standard direct market variant cover by Ryan Jampole and Matt Herms. So we have lots of variants and we are going to be doing some concentrated outreach to key retailers. Archie's goal with Red Circle is to make superhero comics that are accessible to fans of digital, fans of print, very much in the same way that Archie is available to everyone. That's the goal with having a printed comic in comic shops. People like to read their comics in different formats. Some people are really hooked into digital and some people are more hooked into the routine of going to their shop on Wednesday, and we definitely didn't want to miss that opportunity.
Do you think that Archie sells a higher percentage of its books in the digital format than other comic publishers?
Archie has been an innovator in digital dating all the way back to Archie's Freshman Year, back in the days when digital comics had just come into existence. I believe that set some digital downloading records. Archie has been a digital comics pioneer and we hope to continue to do that with the Red Circle app as the centerpiece of this project.
Tell us about the creators behind New Crusaders: Rise of the Heroes?
We are really stoked about this. This book is being put together by two really proven creators, Ben Bates, the artist and Ian Flynn, who writes Sonic and Megaman for us. Please note that Rise of the Heroes may be "comics for everyone," but it's definitely not watered down for kids, there's carnage, there are thematic elements that are going to be pretty intense, that's why it has its own imprint.