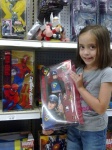 Round 2's Captain Action was the #1 bestselling collectible toy line in Toys R Us the week it was introduced, dislodging McFarlane's The Walking Dead figures after a long run, Captain Action Enterprises revealed. Sellouts were reported in stores at many TRU locations.
TRU is selling the basic line; the Captain Action Deluxe line is sold in comic stores and online retailers.
The newly revived toy line features Captain Action with costume sets for Spider-Man and Captain America. Series 2 will include a new Captain Evil figure and Thor and Loki outfits and accessory packs (see "
Dr. Evil Comes with Three Brains
").