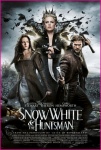 Snow White and the Huntsmen, a live-action take on the classic fairy tale that stars Kristen Stewart and Chris Hemsworth, easily topped the weekend box office with a better-than-expected estimated total of $56.9 million. The film's debut was good news for Universal, whose fortunes took a major hit with the flop of the $210 million Battleship.

Universal's live-action Snow White, which was directed by first time helmer Rupert Sanders, cost at least $175 million, but with an additional $39 million earned overseas this weekend, the movie at least has a chance to break even. But Snow White's potent debut, the fourth best opening of 2012 so far, wasn't enough to help the overall the box office, which was down double digits (11.6%) over the same frame a year ago when X-Men: First Class opened with a nearly identical $55.1 million total.
Weekend Box Office (Studio Estimates): June 1-3, 2012

Film

Weekend Gross

Screens

Avg./

Screen

Total Gross

Wk#

1

Snow White and the Huntsman

$56,255,000

3,773

$14,910

$56,255,000

1

2

MIB 3

$29,300,000

4,248

$6,897

$112,300,000

2

3

The Avengers

$20,273,000

3,670

$5,524

$552,737,000

5

4

Battleship

$4,810,000

3,144

$1,530

$55,123,000

3

5

The Dictator

$4,725,000

2,649

$1,784

$50,835,000

3

6

The Best Exotic Marigold Hotel

$4,600,000

1,294

$3,555

$25,497,000

5

7

What to Expect When You're Expecting

$4,430,000

2,907

$1,524

$30,723,000

3

8

Dark Shadows

$3,860,000

3,002

$1,286

$70,834,000

4

9

Chernobyl Diaries

$3,045,000

2,433

$1,252

$14,416,000

2

10

For Greater Glory

$1,800,000

757

$2,378

$1,800,000

1
Snow White performed well in spite of the critics, who gave the film a middling 46% positive rating on Rotten Tomatoes (though a number of high profile scribes including A.O. Scott in the N.Y. Times and Joe Morgenstern in the Wall St. Journal praised the film). Kristen Stewart, who previously had been unable to open a film outside the Twilight franchise, scored a notable success, though Chris Hemsworth (Thor, The Avengers), who was featured prominently in Universal's ad campaign for the film, definitely help the film attain gender balance (only 53% of the opening weekend audience was female). The most puzzling thing about Snow White's audience was the fact that 52% of the crowd was over 30, which is somewhat surprising given lead actress Stewart's success with the youthful Twilight audience. Snow White, which also features a stand-out performance by Charlize Theron in the juicy role of the evil Queen, earned a mediocre "B" CinemaScore from opening weekend audiences, so its future is hardly assured. It will face more competition next week from Ridley Scott's epic science fiction film Prometheus and Dreamwork's animated feature Madagascar 3.
Sony's Men in Black 3 took second with a solid $29.3 million, which was down just 46.3% from its opening weekend total. So far the reboot of the series that has been out of the theaters for nearly a decade, is performing well with $112.3 million domestically and $274 million overseas, which means profitability for the film, which is based on Lowell Cunningham's Malibu comic, is just around the corner. So even though MIB 3, in spite of the extra 3-D charges and ticket inflation, is earning slightly less domestically than its predecessors, it appears quite likely that the franchise will continue.
Joss Whedon's The Avengers slipped 44.7% as it earned an estimated $20.3 million in its fifth weekend in theaters. The Avengers has now passed The Dark Knight to become the third highest grossing film ever (not adjusted for inflation) both domestically where it has earned $553 million and globally where its total has reached $1.355 billion. It certainly appears likely that The Avengers will manage to break the $600 million mark domestically, though catching Titanic ($658.6 million) or Avatar ($760.5 million) is pretty much out of the question.
The Avengers set yet another record in May. Its domestic total of $532.5 million for the month accounted for a whopping 52% of the entire domestic box office for May, which was $1.024 billion (down from last year's record total of $1.038 billion). The previous record for the lion's share of the May box office total was held by Sam Raimi's original 2002 Spider-Man, which took in 37.4% of the all the money spent on movie tickets in North America during that month.
The kind of box office dominance displayed by The Avengers didn't leave much oxygen in the room for the other films, and of all the would-be May box office contenders Universal's Battleship, which slipped to #4 as it earned a paltry $4.8 million in its third weekend, suffered the most. So far the film, which Universal admits cost $209 million to produce, has earned just $55 million at the domestic box office, which is less than Disney's John Carter had earned at the same point in its run ($62.7 million). Battleship has done better overseas, where it has brought in $235 million, but Brian Roberts, who is Chairman of Universal's parent Comcast, admitted over the weekend that "Battleship is a big, bad, John Carter-size flop."
Sacha Baron Cohen's The Dictator slipped 49% while earning $4.7 million and bringing its domestic total to $50.8 million. The loopy "R" rated comedy has a chance to break even, but it is definitely not an "R" rated Bridesmaids-like comedy hit that will make much of a contribution to the overall box office totals.
The Best Exotic Marigold Hotel came in at number six with an estimated $4.6 million. This niche film appeals to geriatric viewers and the PBS crowd, and it has done well overseas where it has earned the bulk of its global total of $106.7 million.
Tim Burton's horror comedy Dark Shadows fell to #8 as it earned $3.8 million and brought its domestic total to $70.8 million after four weeks. This is another film that was battered by the enormous size of The Avengers event. Although it has done better overseas where it has earned $106 million, Dark Shadows, which cost $150 million to produce will end up with a worldwide gross that is far below the $325-350 million needed to break even.
Be sure and stop back next week to see what happens to Ridley Scott's Prometheus, a big budget science fiction/horror film with an "R" rating that will be battling the all-ages appeal of Dreamwork's Madagascar 3 as well as Snow White for the box office crown.