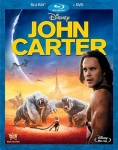 After a couple of dry weeks suddenly there are lots of interesting home entertainment releases including Andrew Stanton's unjustly maligned John Carter, the exciting Safe House, the DVD debut of a new G.I. Joe animated series, and a restored Blu-ray high-def version of Yellow Submarine.
Theatrical Movies
Andrew Stanton's John Carter (Disney, "PG-13," $29.99, BD/DVD Combo $39.99, 3-D BD $49.99) has unfortunately become synonymous with "box office failure." The movie cost over $250 million and Disney took a $200 million write-off on the film. Critics unfamiliar with the work of Edgar Rice Burroughs failed to understand what an excellent adaptation this film is, how it captures the joy of classic science fiction adventure. Daniel Mindel's photography is superb throughout and Disney's $250 million is very much apparent on the screen. Of course viewers have to suspend disbelief with this sort of Edwardian science fiction and its hefty fantasy component, but John Carter is a ripping good yarn that moves gracefully through its 132 minutes—and the use of desert settings modified to look like "Mars," gives the film a physical immediacy that total green screen epics can only dream about. Stanton and writers Mark Andrews and Michael Chabon (The Adventures of Kavalier & Clay) may have included too much of Burroughs Barsoom epic for some critics, but this viewer would have liked even more about the Martian cities and cultures.
Taylor Kitsch starred in both John Carter and Battleship (another major money loser), but he acquits himself well in the title role of Stanton's film and certainly doesn't deserve the "box office poison" moniker. It would be like blaming Mark Strong, who plays the movie's chief villain Matai Shang, for both John Carter and last year's bomb Green Lantern, except for the fact that Strong was very good in both movies. Don't pay attention to the jokes on Letterman and Leno, viewers that enjoy well-told old-fashioned adventure movies will find much to like in the well-photographed and well-mounted John Carter.
The contrast between John Carter and Journey 2: The Mysterious Island (Warner Bros., "PG," $28.98, BD/DVD $35.99, 3-D BD $44.98) could hardly be more striking. In contrast to the reverential John Carter adaptation, Journey 2 does to Jules Verne's seminal science fiction novel what Hitler did to Poland. Campy, dumbed-down, and suitable only for children, Journey 2 makes the 1961 Harryhausen Mysterious Island look like Citizen Kane.
A much better genre film is Safe House (Universal, "R," $29.98, BD/DVD $34.98) a spy drama about a rogue agent (well-played by Denzel Washington) holed up in a South African safe house. At its essence Safe House is an extended chase film, which makes it naturally cinematic, while strong performances by Washington and Ryan Reynolds as an inexperienced agent make it well worth watching.
TV on DVD
There is a bumper crop of interesting offerings in this category to start off June including the geek-friendly, Stephen Spielberg-produced alien invasion drama Falling Skies (Warner Bros., $39.98, BD $49.99), the multiple Emmy-winning series Breaking Bad: The Complete Fourth Season (Sony, $45.99, BD $55.99), and the genre favorite espionage/action drama Burn Notice: Season 5 (Fox, $49.98).
Shows debuting on DVD include the USA Network's drama about a single mom-turned-sports-psychologist, Necessary Roughness (Universal, 500 min., $34.98) and another USA legal drama, Fairly Legal: Season One (Universal, 440 min. $34.98).
Also debuting is the first collection of the new
G.I. Joe
animated series
, G.I. Joe Renegades
.
G.I. Joe Renegades Season 1, Vol. 1
(Shout Factory, 300 min., $19.93) contains the first 13 episodes of the new series that features a Joe team that appears to be based (rather obviously) on the
A-Team
. Purists might not appreciate the too obvious parallels to the
A-Team
, but this series is actually quite a bit of fun.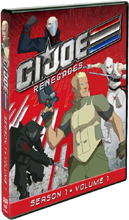 Parents with young children may find
Babar The Classic Series: The Complete First Season
(eOne Entertainment, 293 min., $19.93), which collects the first season of the HBO series based on Laurent de Brunhoff's beloved children's book, especially interesting. The saga of Babar's youth and ascension to the throne is filled with life lessons and yet is entertaining enough to keep the interest of the little ones.
Other animated releases include CatDog: Season 2, Part 2 (Shout Factory, 240 min., $19.93), which collects the 1998 Nickelodeon series about a conjoined twin hybrid canine/feline, The Adventures of Teddy Ruxpin: The Complete Series (Image Entertainment, 1556 min., $29.98), a series based on the talking bear toy that aired in 1987-1988, the often hilarious Phineas and Ferb: The Perry Files (Disney, 154 min., $19.99), and the new Thundercats: Season One, Book 2 (Warner Bros., 176 min., $19.97).
Continuing series include the very funny and acerbic Curb Your Enthusiasm: The Complete Season 8 (HBO, $39.98), Heartland: The Complete Season 2 (eOne Entertainment, 810 min., $39.98), In Plain Sight: Season 4 (Universal, $39.98), Pretty Little Liars: The Complete 2nd Season (Warner Bros., $59.98), White Collar: Season 3 (Fox, $49.98), and the Comedy Central show Workaholics: Season 2 (Comedy Central, 220 min., $19.99, BD W/Season 1 $29.99).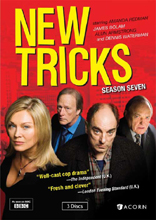 There are also a couple of excellent series from the U.K. this week led by
New Tricks: Season 7
(Acorn Media, 582 min., $39.99), which contains the latest adventures of the aging retired cops of the UCOS, unsolved cases squad.
New Tricks
is an especially well-written series with involving and interesting mysteries that are leavened with large amounts of character-derived humor. This series gets considerable airplay in the U.S. on the hipper public TV stations, but it deserves better. Fans of contemporary police procedurals can't do much better than
New Tricks
, which handles the darkest topics with a deft and often humorous touch.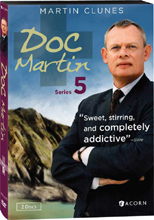 Equally entertaining is
Doc Martin: Series 5
(Acorn Media, 369 min. $39.99), the comedy/drama about a dour London physician (Martin Clunes) who ends up practicing in a spectacularly beautiful Cornish village. In
Series 5
after the birth of his son it appears that Doc Martin, who has overcome his aversion to blood, will return to London as a top surgeon, but events conspire to keep the irascible healer in Portwenn.
Arn: The Complete Series is a Swedish miniseries about the Knights Templar and the Crusades that might appeal those who enjoy all things medieval. Stellan Skarsgard stars in this mini-series based on The Knights Templar trilogy written by Jan Guillou.
Anime
Things have been pretty confused at not-so-stately Flinn Manor and the anime titles included in last week's
DVD Round-Up
are actually coming out this week. The title we missed,
Dragon Age: Dawn of the Seeker
(FUNimation, "16+," 90 min., BD $34.98) is an anime feature film directed by Fumihiko Sori (
Ping Pong, Vexille
) and based on the video game series
Dragon Age
.
Dragon Age
is extremely popular dark fantasy video game created by BioWare that debuted in 2009. I n addition to this anime, the property has also spun-off comic books, and action figures from DC Direct. Sori's computer animated
Dragon Age: Dawn of the Seeker
anime feature should have an appeal to fans who like anime CGI features such as
Vexille
and
Appleseed,
but even more so to devotees of the
Dragon Age
game.
Dawn of the Seeker
is highly imitative of video games in the way the computer animation process is used in fight scenes to present the action from rotating points of view, as well as by frequent use of subjective camera shot in ways very similar to those employed in first person shooter games. The real stars of
Dawn of the Seeker
are the dragons, which are richly rendered though harshly dealt with by the lethal Dragon Seekers. Viewers without video game experience might be surprised by the amount of blood splatter—this is an extremely violent film that won't disappoint fans of the game, but which might be too much for others.
Classics on Blu-ray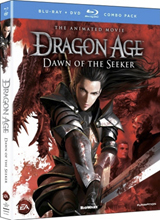 A motion-capture version of the Beatles'
Yellow Submarine
was torpedoed by last year's failure of
Mars Needs Moms
, but the original film has finally been made available in the high-def Blu-ray format.
Yellow Submarine
(Capitol, "G," $21.98, BD $34.98) was more notable for its Beatles songs than for the Peter Max-influenced animation, so George Dunning's 1968 film is no landmark in the history of animation. But as an artifact of the 1960s this psychedelic explosion of color has few peers, and it should look great in this new 4K hi-def frame-by-frame restoration and transfer.