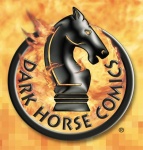 Company legal name:
Dark Horse Comics, Inc.
Headquarters: 10956 SE Main St. Milwaukie, OR. 97222
Phone: 503-652-8815
Fax: 503-654-3218
Website URL: http://www.darkhorse.com/
Business founded: 1986
Employees: 64
Number of locations: 1
Consumer/Customer service contact:
Contact name: Lee Dawson
Phone: 503-652-8815
Fax: 503-654-3218
E-mail: leed@darkhorse.com

First-time retailer contact:
Contact name: Rachelle Deraeve
Phone: 503-652-8815
Fax: 503-654-3218
E-mail: rachelle@darkhorse.com

First-time distributor contact:
Contact name: Mark Bernardi
Phone: 503-652-8815
Fax: 503-654-3218
E-mail: markb@darkhorse.com
Properties
Publisher of comic books and various merchandise based on licensed properties, creator-owned properties and their own properties. Top licensed properties include Star Wars, Buffy the Vampire Slayer, Angel, Aliens, Predator, Tarzan, Planet of the Apes, Terminator, Lone Wolf & Cub, Akira, Blade of the Immortal, Gunsmith Cats, Ghost In the Shell, Bettie Page, Little Annie Fanny, Xena: Warrior Princess. Creator-owned books include Frank Miller's Sin City, Mike Mignola's Hellboy, Paul Chadwick's Concrete, Tony Millionaire's Sock Monkey, Stan Sakai's Usagi Yojimbo, Sergio Aragone's Groo, Harlan Ellison's Dream Corridor, Will Eisner's Last Day In Vietnam and Shop Talk, and Shannon Wheeler's Too Much Coffee Man. Licenses upon which products are based include Futurama, X-Files, The Simpsons, Bettie Page, Star Wars, Austin Powers, Monkeybone, Big Guy & Rusty the Boy Robot, Beetle Bailey, King Features Classic Strip Characters, and Titan AE. Company owned properties include The Mask, Spyboy, and Ghost.
Products
Currently publishing a wide range of comic books and trade paperbacks based on creator owned properties, company owned properties and movie/TV related licenses. Top publications include Frank Miller's Sin City, Mike Mignola's Hellboy, Star Wars, Buffy the Vampire Slayer, Akira and Lone Wolf & Cub. Also produces a wide range of items in the following categories: action figures, models and statues; anime, manga; Movie and TV merchandise, Japanese imports; and novelties.
Products sold in specialty brick and mortar retailers such as comic stores, toy stores, video stores, game stores, trading card stores, videogame stores, and novelty/gift stores. Other outlets include catalogue retailers, e-commerce retailers, discount toy chains, discount department store chains, department stores and convenience stores.
Becoming an account
Dark Horse has an exclusivity agreement with Diamond Comic Distributors, so retailers in the direct comic market must order their products through Diamond. Outside of the direct market, Penguin Putnam offers DH products in the bookstore market, and Headline Entertainment in the gift market. DH will sell new product to distributors serving other markets and retailers falling outside of those markets.
Direct market retailers can purchase comics directly when they're 6 months or older. A resale certificate is required to open a wholesale account. First time wholesale customers can use a credit card. A short form application is available for wholesale accounts that want to order only occasional C.O.D. shipments. For standard and maximum credit terms please inquire.
Dark Horse does sell directly to consumers who can buy products through ads in their publications or through DH's online store (Things From Another World).
Marketing
Consumer marketing: advertising through magazines, online, and distributor catalogues. Conventions attended on a regular basis and website maintained. A consumer catalogue is available online only. Trade marketing: advertising in trade magazines, online, and distributor catalogues. Trade convention presence. Trade area maintained on website. Trade catalogue produced as well as retailer mailings and e-mails send out to retailers. Trade telemarketing also pursued.
Products/orders
Orders for titles and items are solicited in advance and those advance orders help gauge production runs. Reorders are generally available.
Retailer sales
Direct market retail orders must be obtained though Diamond due to exclusivity agreements. Pricing/discount based on quantity purchased. Comics 6 months or older can be sold directly to retailers in the direct retail market.