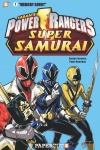 Papercutz, the publisher of youth-oriented graphic novels that recently revealed that it ordered a mammoth 425K first printing for its September Ninjago Vol. 4 release, will unveil the first ever Power Rangers graphic novel at the San Diego Comic-Con. Power Rangers Super Samurai #1: Memory Short written by Stefan Petrucha and illustrated by Paulo Henrique will be available in the bookstore and mass markets on July 17th. The 64-page, full color graphic novel will have a cover price of $6.99 (a hardcover edition is available for $10.99).
Papercutz will be offering a free print honoring the legacy of the Power Rangers to the first 1,000 customers who purchase the new Power Rangers graphic novel at San Diego.
The Power Rangers remain, according to Saban Brands, "the most popular kids' live-action action series on television," thanks to the success of the Power Rangers Super Samurai series, the latest iteration of the long-running property, and with Saban likely to gain control of the old 4Kids Saturday morning block on the CW network, TV exposure for the brand will certainly not be lacking.