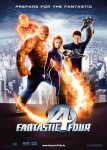 Comic-Con News: Twentieth Century Fox may not have a major institutional presence at Comic-Con this year, but the studio made waves by announcing its firm intentions to reboot two of its dormant Marvel Comics-based franchises, the Fantastic Four and Daredevil. Of course Marvel's "use it or loose it" motion picture licensing agreements make it mandatory for the studios who hold the rights to Marvel characters to use them or let them revert to Marvel Studios. No studio wants to relive the red-faced embarrassment of Paramount after Marvel Studios scored a major hit with the Iron Man property, which Paramount had acquired and then relinquished.
So in spite of two disappointing (both financially and critically) Fantastic Four films, Fox is far from giving up on the property. According to Deadline, Fox has indicated that it has convinced the hot young director Josh Trank, who helmed the sleeper hit Chronicle and has been mentioned as a likely helmer for a Venom movie, to preside over a rebooting of the FF franchise at Fox. In fact Deadline states flatly that the Fantastic Four will be "the next Marvel property to be slated for production and dated for release by the studio."
The clock is ticking on Daredevil at Fox. The studio has a script it likes (see "Fox Hires 'Fringe' Scribe to Reboot 'Daredevil'"), but director David Slade, who has been attached to the project since early in 2011 (see "David Slade to Direct new 'Daredevil' Film") has bowed out of this reboot because of scheduling conflicts. Look for the announcement of a director for the Daredevil reboot soon, because the film has to be in production by this fall or Fox could lose the rights to the character.