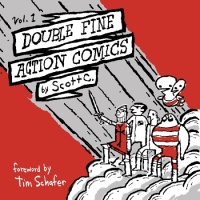 Comic-Con News: At the San Diego Comic-Con today Oni Press announced two new projects that involve collecting long-running and popular Webcomics, Scott C.'s Double Fine Action Comics and R. Stevens' Diesel Sweeties. Oni will launch its first print collection of Double Fine Action Comics in the spring of 2013. Oni's Diesel Sweeties volumes will collect strips with similar themes, rather than just presenting them in chronological order with the first volume due next summer.
Scott C.'s Double Fine Action Comics were a longtime feature of video game developer Double Fine Productions' Website. The strip features the iconic Two-Headed Baby along with other characters that include Knight and Muscleman along with a pair of astronauts, Captain and Thompson. The first Oni Double Fine release, which is set for publication in April of 2013, will reprint the strip's scarce debut volume, with a second volume (of never-before-paper-published material) published at the same time. A third volume that collects the remainder of the Webcomic's 800 strips is due in the third quarter of 2013. Oni will be publishing Scott C.'s Double Fine Action Comics in chronological order.
R. Steven's Diesel Sweeties is an even more extensive strip with over 3000 installments already published on the Web over the past dozen years. With so much material to deal with, Oni's approach to this property will be to organize the strips according to common themes.