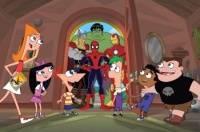 Comic-Con News: The major news to come out of the Marvel TV panel was the announcement of the first ever crossover event for Marvel and Disney properties, Phineas and Ferb: Mission Marvel, an animated special featuring Disney's Phineas and Ferb interacting with Marvel's iconic heroes that is due to air on the Disney Channel in the summer of 2013.
Phineas and Ferb creators Don Povenmire and Jeff "Swampy" Marsh are working closely with Marvel's creative team to design Marvel superheroes and supervillains to fit into the Danville world of the Emmy-winning Phineas and Ferb series. Disney has released a video promo for the animated special that provides every indication that the union of the two different strands of kid-targeted animated entertainment will be a seamless and highly enjoyable event.
In Phineas and Ferb: Mission Marvel, Spider-Man, Iron Man, Thor, and Hulk come to Danville after Dr. Doofenshmirtz's latest "inator" scheme manages to remove their superpowers. Phineas and Ferb have to team-up with the Marvel Heroes to defeat Dr. Doofenshmirtz and his Marvel supervillain allies (Red Skull, Whiplash, Venom, and M.O.D.O.K.), who want to use Dr. Doofenshmirtz's power-draining technology to create widespread mayhem.
This crossover should be good news for the comics industry, even for retailers whose clientele is aged well beyond the Phineas and Ferb target demographic. For the past 5 years Phineas and Ferb has been the #1 animated series among Tweens 9-14 and the #1 animated series in primetime for Kids 6-11. The crossover with Phineas and Ferb is just one more example of the seepage of superheroes into an additional segment of popular culture, a phenomenon that has been growing steadily, driven largely by the popularity of comic book-based movies, and one which has played an important underlying role in the current revival of the comic book market.