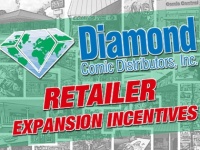 Comic Con News: In cooperation with eight key comic market suppliers Diamond Comic Distributors is offering existing retailers incentives that include free goods, extra discounts and consignment backlist programs to open new locations or move to a better location.
Boom! Studios, Dark Horse Comics, DC Entertainment, Diamond Select Toys, Dynamite Entertainment, IDW Publishing, Image Comics, and Marvel have all signed on to provide qualifying retailers with incentives.
With sales on the uptick in 2012, now is a good time to think about expansion according to Chris Powell, Diamond's Director of Business Development. Programs offered to qualifying retailers vary by supplier but will include: (1) Discounts of up to 69% on backlist products; (2) Backlist consignment programs that will allow retailers to stock their stores with graphic novels, trade paperbacks, and other merchandise with extended payment terms and the ability to adjust stock levels after six months; (3) Increased discounts and/or consignment billing on a new store's initial orders of comics for its first two months of operation with consignment billing deferred until retailers have the opportunity to return overstocked product after keeping it on sale for 6 to 12 weeks; (4) Store Starter Kits that offer a selection of free trade paperbacks and graphic novels from participating suppliers.
Taken together these incentives should help qualifying retailers minimize the risks and outlays involved in opening another store or moving to a better location. The announcement of this plan comes on the heels of another major initiative by Diamond to aid retailers by subsidizing the purchase of a POS system with free product from the same supportive publishers (see "
Diamond & Suppliers Offer Retailers Up to $6250 Worth of Free Product
").