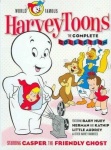 DreamWorks Animation is acquiring Classic Media, owner of properties such as the Harvey Comics characters (including
Casper,
see "
Harvey Sells Out
"),
Golden Books, Lassie, The Lone Ranger, Where's Waldo, Rocky & Bullwinkle
,
Veggie Tales
, and with some rights to
Voltron,
for $155 million, the company announced Monday. Eric Ellenbogen and John Engelman, who co-founded and ran Classic, will join DreamWorks. Classic Media has 80 employees at its headquarters in New York and offices in the UK and at its Big Idea Entertainment offices in Nashville.
Over its most recent year, Classic Media had $89 million in sales and $19 million in operating profit.
Classic Media has a bit of a convoluted history. It was sold to British company Entertainment Rights by Ellenbogen and Engelman in December of 2006 (see "
Entertainment Rights Buys Classic Media
"). Ellenbogen and Engelman formed Boomerang Media with funding from GTCR in January of 2008 (see "
$200 Million for New Content Company
"). When Entertainment Rights ran into liquidity problems (see "
Casper, Gumby Parent Scrambling
") in early 2009, Boomerang acquired its assets in April of that year (see "
Boomerang Media Acquires Entertainment Rights
").
The deal is expected to close by the end of Q3.