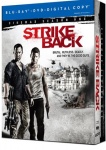 August kicks off with a strong week of releases including the sterling anti-terrorism action saga Strike Back, the ingenious fantasy series Grimm, the bizarre Adult Swim cartoon series Squidbillies, the fascinating true story, The Sinking of the Laconia, and new episodes of the classic One Piece anime.
TV on DVD
Don't be fooled by the generic title of Strike Back: Season 1 (HBO, 600 min., $49.99, BD $59.99). This is a brilliantly realized international espionage series from the U.K. about an elite anti-terrorist squad empowered to take the fight to terrorists across the globe—and folks with out access to pay cable probably don't have a clue how entertaining this show really is. The series' generic moniker is not the only misleading element its titular description. This box set does contain the first season that was shown in North America, but it was not the first season of the series that was shown in the U.K. The real first series of Strike Back featured Richard Armitage as the main protagonist John Porter, who is brutally murdered by terrorists in the first episode of Season 2, which is called "Season 1" here in the U.S.

But enough with the nitpicking already--suffice it to say that Project Dawn as this 10-season episode series is called is altogether superior television. American audiences should think of it as an international espionage saga mounted with the sophistication of 24, but without the temporal gimmicks and with plenty of bloody pay cable level splatter violence and sex (breasts and behinds plus scenes of simulated sexual activity). This is a truly adult drama, but it also has a gritty realistic, ripped-from-the-headlines narrative as Section 20's Sergeant Michael Stonebridge (Philip Winchester) and the ex-Delta Force refugee Damien Scott (Sullivan Stapleton, the poor man's Colin Farrell) chase terrorists and weapons of mass destruction in an increasingly taut drama that wind through Britain, New Delhi, Cape Town, Sudan and Kosovo before reaching an exceedingly satisfying climax. This show is so well-mounted that getting the Blu-ray edition, which also includes a regular DVD copy, is highly recommended.
Fantasy lovers should note the release of Grimm: Season 1 (Universal, 880 min., $59.98, BD $69.98), an engaging fairy tale/cop show hybrid with plenty of droll humor. One of the more noticeable trends in pop culture is the popularity of the classic fairy tale myths, which can also be seen in the ABC series, Once Upon a Time, the popular Vertigo comic book series Fables, and in movies such as Snow White and the Huntsmen and Mirror, Mirror. With its police procedural elements Grimm is one of the more original manifestations of this trend, an urban fantasy of the first rank.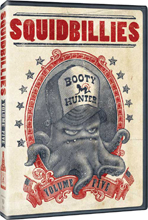 For geek viewers who like offbeat animated series filled with dark absurdist humor there is
Squidbillies: Season Five
(Warner Bros., 124 min., $19.97), which collects the Adult Swim series about a penurious family of anthropomorphic squids living in squalor in the mountains of Georgia. Those who aren't tired of
Star Wars
parodies might want to check out the Blu-ray debut of
Family Guy: Blue Harvest
(Fox, 48 min., $19.99) the Seth McFarlane take on
Star Wars Episode IV: A New Hope
, which was the premiere episode of the sixth season of the long-running Fox cartoon series.
Other animated offerings include the 14-episode collection, Looney Tunes Show: There Goes the Neighborhood (Warner Bros., $19.97), and for the real little kids, My Little Pony: Royal Pony Wedding (Shout Factory, 120 min., $14.97).
Contemporary series due this week include the NBC single-camera sitcom Parenthood: Season 3 (Universal, $59.98), while vintage series include the underrated classic 1960s crime drama 87th Precinct: The Complete Series (Timeless Media, 1,470 min., $49.98), the 1970s African wildlife adventure Born Free: Season One (Sony, 639 min., $38.99), the classic sitcom Dennis the Menace: 20 Timeless Episodes (Shout Factory, 240 min., $12.99), the timeless western series Gunsmoke: The Sixth Season, Pt.1 (Paramount, 484 min., $494 min., $36.99), and the 1970s cop series The Rookies: The Complete Second Season (Shout Factory, 1,110 min., $44.99).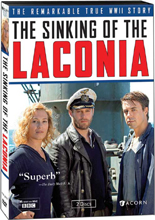 Strike Back
is not the only excellent offering from the U.K.
The Sinking of the Laconia
(Acorn Media, 171 min., $39.99) is a two-part TV film that aired on BBC2 in early 2011. It is based on a fascinating incident that occurred during World War II in which a U-boat torpedoed a British liner that was jammed with 1,800 Italian prisoners of war. Going against orders, the U-boat captain orders his ship to surface and attempts to rescue the numerous survivors. This two-part British/German co-production features a superb cast and superb production values throughout (once you get past the fact that it always seems to be "casual Fridays" on Captain Hartenstine's U-156).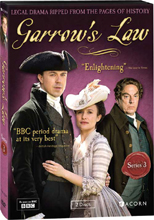 Also due this week is
Garrow's Law: Series 3
(Acorn Media, 236 min., $39.99), a superior period drama based on a real historical figure, the barrister William Garrow, who established many of the key legal rights that we now take for granted. In
Series 3
, the French Revolution has happened, which makes the Crown even less willing to grant rights to suspects. Viewers who enjoy legal dramas should give this series, which airs in the U.S. on PBS, a chance, they will not be disappointed.
Anime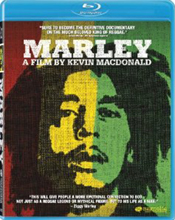 A good week for releases for a change led by the North American debut of
One Piece Season 4: Part 1 Uncut
(Funimation, "14+," 305 min., $39.98), which includes episodes 206 to 217 of what is perhaps the most popular TV anime series in Japan, the rollicking pirate saga of Monkey D. Luffy that appears on the Cartoon Network. Also new this week is
The World God Only Knows
(Sentai Filmworks, "14+," 300 min., $59.98, $69.98). This 2011 Manglobe-animated saga of ditzy demon girls and gaming-obsessed geekboys is based on the
shonen
manga by Tamiki Wakaki, one of the most popular new series in Japan.
Re-priced reissues include the fantasy/romance/horror/action/comedy Rental Magica, Part 1 (Right Stuf, "13+," 525 min. $49.98), which contains episodes 1-12 of the 2007 anime series from Zexcs in both chronological and broadcast order. This same set was released in 2009 with an MSRP of $59.98. The Disgaea Complete Series (Funimation, "13+," 300 min., $19.98) has been reduced even more, while the Parasite Dolls (Section 23, "17+," 95 min., $19.98), which includes all 3 OVA from the 2004 series.
Theatrical Movies
The movie that will undoubtedly sell the most units on Tuesday is The Lorax (Universal, "PG," $29.98, BD/DVD Combo $34.98, 3-D BD $49.98), a computer-animated film based on the classic Dr. Seuss environmental fable. Those who don't really like the often raucous contemporary computer-animated cartoons with their celebrity voice actors and wink-wink jokes for older viewers should understand that this film is probably not for them even if they have fond memories of the Dr. Seuss original. In spite of getting just a 55% positive rating on Rotten Tomatoes, The Lorax made a solid $214 million at the domestic box office.
Even less successful with the critics was Bel Ami (Sony, "R," $22.99), which stars Twilight's Robert Pattinson in an adaptation of Maupassant's cynical novel about a ruthless journalist who uses his sexual wiles to advance his career in late 19th Century France. Pattinson makes a visually more convincing "boy toy" than George Sanders in Albert Lewin's 1947 Private Affairs of Bel Ami, which had to pull some of its narrative punches because of the censorship that was in force in the 1940s. Still Sanders managed to be a much more vital presence, and he oozed the kind of cynicism and fin-de-siecle decadence that the largely blank Pattinson can only begin to suggest.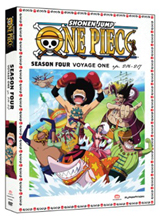 This week's best bet is Kevin MacDonald's documentary
Marley
(Magnolia, "PG-13," $26.98, BD $29.98), an authoritative and even-handed look at the groundbreaking reggae musician that mixes some excellent concert footage with interviews with Marley and the people that knew him. MacDonald manages to present a well-rounded portrait of a man that doesn't exclude the more problematic parts of his personality
. Marley
is a must for fans of reggae music, and surprisingly entertaining even for those who wouldn't know an upbeat from a double stop.
--Tom Flinn
The opinions expressed in this column do not necessarily reflect those of the editorial staff of ICv2.com.