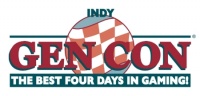 Gen Con Indy celebrated the 45th Anniversary of Gen Con event over the past weekend and continued its record growth setting a turnstile attendance record of 134,775 and over 41,000 unique attendees, a figure that was up more than 12% from last year's record of over 36,000 (see "
Gen Con Sets New Attendance Records
").
Turnstile growth was up 9% from last year's prior record of 119,000 plus weekend attendees. Since 2010, overall attendance at Gen Con is up 30%. Gen Con 2012 also had a record 232 attendees at the Trade Day event (see "
Record-Breaking Gen Con
").
Gen Con will return to the Indianapolis Convention Center on August 15-18, 2013 for next year's event, which will be held in Indianapolis at least through 2020.