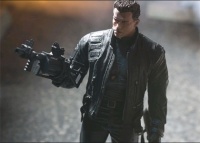 This year McFarlane Toys added Nascar to its burgeoning line of sports figures, unveiled the twenty-third series in its venerable Spawn line of action figures and the sixth version of Movie Maniacs as well as a twisted Todd-take on the classic Wizard of Oz characters by L. Frank Baum, but the company's two biggest releases for 2003 could be blockbuster movie tie-ins for the
Matrix
(see '
McFarlane Toys Matrix Line
') and
Terminator 3: Rise of the Machines
.
McFarlane's
Terminator 3
toys will be out in July for the debut of the third film in the blockbuster series that has so far grossed some $550 million in worldwide box office.
James Cameron may not be around for the third installment, but Arnold is and so is Stan Winston, the original
Terminator
designer, who returns to supervise the film's animatronic and make-up effects, while once again ILM will provide state-of-the-art visual effects.
McFarlane Toys is producing five
Terminator 3
figures plus a deluxe boxed set edition that features a battle-damaged
T-850
(Arnold) and a
T-X Endoskeleton
in a recreation of a scene from the film.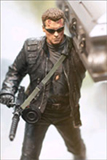 The regular series includes two versions of the T-850. In one version the T-850 is carrying a coffin, recalling a scene from the film, while the other T-850 figure comes complete with an arsenal that includes both a futuristic rifle and a grenade launcher. As is the norm with McFarlane's figures the detail is stunning, especially in the battle-damaged T-850 with Coffin where the figure's clothes display numerous rips and several head wounds reveal the figure's robotic underpinnings.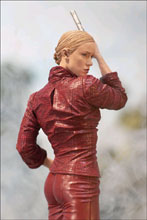 There are also two versions of the T-X Terminatrix, Arnold's antagonist in the film, who is played by actress Kristanna Loken. In the flesh she is a striking blonde as beautiful as she is deadly, while the second figure, the T-X Terminatrix Endoskeleton, displays her robotic workings in great detail.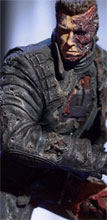 McFarlane Toys is also producing a twelve-inch T-850 figure, which will come with various weapons as well as sound chip that will undoubtedly contain some choice heavily accented catchphrases from the film. But the piece de resistance of this collection is the Boxed Set, which features a severely battle-damaged T-850 and a T-X Endoskeleton figure re-creating a crucial battle scene from the film.