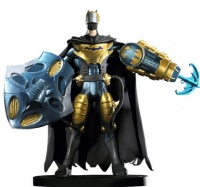 Maybe it was the acquisition of the DC Comics license, or perhaps it was the success of Yu-Gi-oh!, or the revival of Masters of the Universe, but if one thing was clear at Toy Fair in 2003, it was that Mattel had an aggressive plan to seize market share in the highly competitive world of boys toys and action figures. Mattel might be 'the house that Barbie built,' but this was also the company that scored the nationwide success with 'Burp Guns' in the 1950s that proved the efficacy of TV advertising. For 2003 Mattel has expanded its boys toys offerings in a bold attempt to grab market share from its major rival, Hasbro.
Batman
Mattel acquired the DC Comics license last year (see 'Mattel Snags DC License From Hasbro'), and promptly set about revising the once robust Batman action figure line, which had been reduced to the level of gimmicky glow-in-the-dark figures in 2002. To put some oomph back in Batman, Mattel brought in the Four Horsemen, a group of topflight sculptors whose work for McFarlane Toys is legendary. The Horsemen, who also revived the muscular Masters of the Universe line for Mattel, quickly gave Batman his edge back in a series of powerful figures clad in somber tones.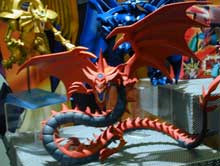 They also designed a sleek new Batmobile that DC Comics is supposedly adding to its style guide. In addition to the regular Batman 6' action figures (A.R.P. $7.99), Mattel is also releasing Batman Deluxe Figures, highly detailed comic book-inspired sculpts that look like they might have stepped right out of the pages of the latest Jim Lee-drawn Batman comic. It was certainly no accident that Mattel invited the red-hot Batman artist to attend the press function for the new DC figures, where Lee expressed his enthusiasm for the new line. Starting in July consumers will get to cast their vote and determine the eventual success or failure of Mattel's major boys' toy initiative for 2003.
Yu-Gi-Oh!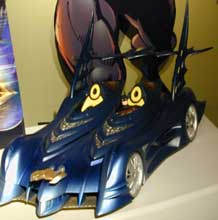 Last year Mattel produced a small line of Yu-Gi-Oh! toys that the company expanded throughout the year as the property started to take off. Mattel has two lines of Yu-Gi-Oh! action figures -- a two-inch line (demonstrating once again that small figures were a major trend at this year's Toy Fair, see 'Art Asylum Snags New Inmates') with 30 new monsters,each of which comes with a 'Holo-tile' with a retail of $2.99 (A.R.P.--$7.99 for a 3-Pack); and a six-inch line that retails for $7.99 (A.R.P.). The coolest items in the line are the most powerful monsters in the world of Yu-Gi-Oh! -- the dragons, who come alive with cool lights and sound. These approx. 7' figures should retail for around $13.99 (A.R.P.).
Masters of the Universe
Mattel reintroduced the muscular He-Man and his nemesis Skeletor last year and the 2003 Masters of the Universe line consists of a some cool accessories including the Mutant Slime Pit playset, the Dragon Walker vehicle, and a Rock 'Em Sock 'Em sword fighting game.
JLA
The DC Comics-based line of action figures that Mattel chose for its inaugural effort was based on the JLA animated series. The first Justice League series of basic figures, which are available now, stand 4' tall and come with a collectible lenticular card and bases that snap together to spell out 'Justice League.' Mattel is also producing JLA Jumbo Figures that are a solid value at $9.99 (A.R.P.) as well as hero/villain Two-Packs, and the Javelin7 Space Jet Vehicle. Mattel is also producing board games for both Batman and JLA as well as a card game based solely on the JLA.