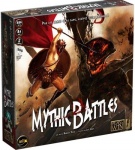 On September 28th French game publisher IELLO will partner with new publisher Play & Win to release an epic new board game, Mythic Battles designed by Benoit Vogt and set in mythic Ancient Greece. The game uses the "Building Battle Board" game system that combines mechanisms from miniature games, board games, and card games. The game is designed for 2-4 players (ages 14 and up) who play legendary warlords who take control of fantasy armies for fast-paced, less-than-an-hour strategic games.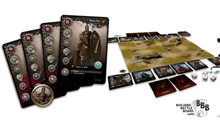 In the game the forces of Athena are at war with the minions of Hades. Players recruit their armies, play their cards to activate their units, and roll the dice to resolve combat situations. The deluxe
Mythic Battles
box includes two complete armies for two or four players, an initiation campaign, as well as all that is necessary to play hundreds of games. Plus new armies and units will be released periodically to expand the possibilities and scope of the game.
The contents of the Mythic Battles game include 145 unit cards, 86 maneuver cards, 9 stele cards, 40 art of war cards, 10 special dice, 5 stele tokens, 34 unit tokens, 6 double-sided tiles, 30 Power Point tokens, 1 rulebook, and 1 campaign booklet.