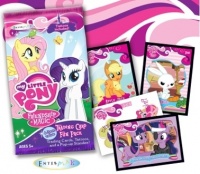 The demographically broad geek fandom for My Little Pony: Friendship Is Magic is now focusing on the related products, driving huge numbers for the trading cards from Enterplay and the comics from IDW Publishing. Where is this incredible response coming from? Bronies. Although the term was originally created from a mash-up of bro and pony and referred to adult male fans of the new show, My Little Pony: Friendship Is Magic, it now has broadened to refer to all fans outside the core demo for the show. The fandom, which noted the clever pop culture references and in-jokes in the show, was nurtured on the 4chan site and has steadily grown since the new show was introduced in 2010.
The trading cards from Enterplay, which shipped in July, sold out the first printing in the first week, with single cards hitting as much as $750 in the aftermarket. A second printing has now been released but will be gone soon as international markets come into play, according to an Enterplay spokesperson. A collector's tin has recently been released into three chains, Walmart, Toys R Us, and Meijer's, with limited distribution into additional channels to follow in a few weeks.
Enterplay's rarity scheme has contributed to the popularity: a foil in every other pack, one gold card per box, and a hobby box topper. The tins also include chase cards.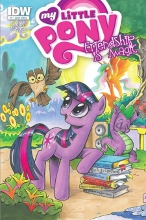 The first issue of the IDW comic, which ships in November (see "
IDW Does 'My Little Pony'
") has gotten incredible orders for what is ostensibly a children's comic. Around 87,000 copies were advance-ordered through Diamond, including the regular version, the subscription variant, and the "box set," which contained all six covers, according to an IDW spokesperson. Approximately 13,500 Retailer Exclusive variants and orders for foreign markets are included in that number. Including the incentive books, over 90,000 copies will be distributed as initial orders. That will undoubtedly make IDW's
My Little Pony
comic one of the bestselling titles of November.