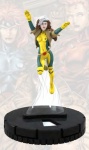 WizKids will release
Marvel HeroClix Wolverine and the X-Men
next summer, incorporating WizKids' new SwitchClix mechanic (see "
WizKids Introduces SwitchClix
"), and Team Bases (see "
'Teen Titans HeroClix'
"). Several Team Bases are planned, including (but not limited to) X-Men Gold and Blue strike forces, the Alan Davis-era Excalibur, and the Brotherhood of Mutants.
The set will be 60+ figures. Thematic chase figures and prime figures are planned.