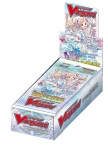 Bushiroad will release two additional booster sets for its Cardfight!! Vanguard TCG before the end of the year.
Cardfight!! Vanguard Extra Booster Pack Vol. 2: Banquet of Divas, with a 35-card set, will be released on November 9th. The set features the maidens of Bermuda Triangle, with a Royal Paladin, Kabero, and Great Nature promotional card in each display box.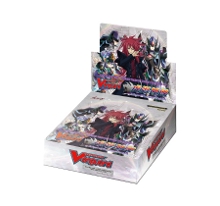 Cardfight!! Vanguard Booster Pack Vol. 4: Eclispes of Illusionary Shadows
will street December 14th with an 82-card set. In this set, the Shadow Paladin clan is introduced and full expansions of Megacolony and Dimension Police are included, along with additional cards for Royal Paladin, Kagero, and Nova Grappler. Each display box also includes an exclusive Great Nature and Shadow Paladin promotional card.