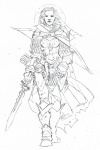 Paizo Publishing has announced that it will launch an extensive playtest for Mythic Adventures, the major Pathfinder Roleplaying Game rulebook due out next August, on Wednesday, November 14th. Mythic Adventures will add a new layer to the game; mythic adventurers gain powers and abilities beyond the reach of non-mythic characters, allowing them to take on bigger challenges and tougher foes.
Players will be able to download a PDF of the rules, test them in play, and post their responses on the Paizo Website. Paizo has used advance playtesting extensively in the development in the game (see, for example, "
Paizo Opens Playtest
").