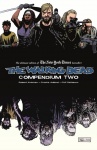 Need a loan? Talk to Robert Kirkman--the guy must be made of money by this point. With the debut of the third season of The Walking Dead last month, Image Comics and Kirkman return to dominate the charts in October with five books in the top 20, according to the ranking of "Top 20 Graphic Novels" sold in the book channel provided exclusively to ICv2 by Nielsen BookScan. Cannily releasing the second The Walking Dead Compendium in time for the show, this second massive $60 volume easily took the top spot, while the first volume jumped back up to position number 5. (Let's all take note again that the The Walking Dead Compendium Volume One is currently the number one graphic novel in bookstores for 2012 in both units and dollars. Especially dollars.)

Coming at number two was the highly anticipated Building Stories by Chris Ware, published by Pantheon. The buzz and excitement around this book is intense, made all the more so by Publishers Weekly's choice to select it as the best book of the year (see "PW's Top Graphic Novels of the Year"). Again, that's best BOOK, not best graphic novel. With the holiday season upon us, look for this one to stay strong through at least December, if not longer.

The third slot was taken by Gene Yang's third Avatar: The Last Airbender graphic novel, published by Dark Horse Comics. One can only imagine (and hope) that Dark Horse is planning a new series of stories set in the Avatar universe, as fans have clearly said they just can't get enough of this awesome toon.

BookScan Top 20 Graphic Novels in October 2012

Rank

Title

Author

Publisher

1

THE WALKING DEAD COMPENDIUM TWO

ROBERT KIRKMAN

IMAGE COMICS

2

BUILDING STORIES HC

CHRIS WARE

PANTHEON BOOKS

3

AVATAR: THE LAST AIRBENDER: THE PROMISE PART 3

GENE YANG

DARK HORSE

4

THE WALKING DEAD BOOK 8 HC

ROBERT KIRKMAN

IMAGE COMICS

5

THE WALKING DEAD COMPENDIUM ONE

ROBERT KIRKMAN

IMAGE COMICS

6

MARVEL AVENGERS: THE ULTIMATE CHARACTER GUIDE HC

ALAN COWSILL

DK PUBLISHING

7

SAILOR MOON VOL. 8

NAOKO TAKEUCHI

KODANSHA COMICS

8

PEARLS FREAKS THE #*%# OUT

STEPHAN PASTIS

ANDREWS MCMEEL

9

THE WALKING DEAD VOL. 1

ROBERT KIRKMAN

IMAGE COMICS

10

NARUTO VOL. 58

MASASHI KISHIMOTO

VIZ MEDIA

11

BLEACH VOL. 48

TITE KUBO

VIZ MEDIA

12

THE WALKING DEAD BOOK 1 HC

ROBERT KIRKMAN

IMAGE COMICS

13

BLACK BUTLER VOL. 11

YANA TOBOSO

YEN PRESS

14

BATMAN: THE DARK KNIGHT RETURNS

FRANK MILLER

DC COMICS

15

BLEACH VOL. 49

TITE KUBO

VIZ MEDIA

16

SAILOR MOON VOL. 7

NAOKO TAKEUCHI

KODANSHA COMICS

17

THE HIVE HC

CHARLES BURNS

PANTHEON BOOKS

18

NIGHTWING VOL. 1

KYLE HIGGINS

DC COMICS

19

DANCE IN THE VAMPIRE BUND VOL. 13

NOZOMU TAMAKI

SEAVEN SEAS

20

WATCHMEN

ALAN MOORE

DC COMICS
Position six was held by DK's
Marvel Avengers: The Ultimate Guide
. While not itself a graphic novel, the book features information about Marvel's most popular heroes along with art from the comics in which the Avengers appear. Curiously, none of those comics have ever shown up in the monthly top 20 list on BookScan, despite the film's massive success. (Yes, I pointed that out last time, and no, I'm not going to stop pointing it out until the situation changes. To be unable to sell
Avengers
graphic novels to casual readers in 2012 is an indication of deep-rooted problems at the "House of Ideas.")
The first manga in the list appears at number seven, with the eighth volume of
Sailor Moon
from Kodansha Comics. Given that this book released on October 30, a number seven slot in October should not be taken as a sign of weakness from this juggernaut shojo series. The seventh volume of Sailor Moon also appears and is ranked at number 16.
Stephen Pastis'
Pearls Before Swine
comic strip shows up at position eight with
Pearls Freaks the #*%# Out
. This is unusual, but a quick scan of Pastis' other books in BookScan shows inconsistent categorization: Sometimes they're listed as graphic novels, and other times they're listed as non-fiction/humor, which is why we don't usually see his books in this list.
VIZ Media has three slots with
Naruto
Vol. 58,
Bleach
Vol. 48, and
Bleach
Vol. 49 taking positions 10, 11 and 15 respectively. Other manga on the list include Yen's
Black Butler
Vol. 11 at position 13, and
Dance in the Vampire Bund
Vol. 13 at position 19, making a total of seven manga this month.
Charles Burns' sequel to 2010's
X'ed Out
,
The Hive
, comes in at number 17, the second Pantheon book to hit the list in October. Rounding out the list are two DC titles, the recently released
Nightwing Volume 1
and the perennial
Watchmen
. It's a poor showing this month for DC, who just a few months ago were dominating the list with a plethora of
Batman
titles.
For those keeping track at home, Image has the most books on the list with five
The Walking Dead
releases, followed by DC and Viz with three books each. Kodansha and Pantheon each have two, while Yen, Seven Seas, DK, Dark Horse and Andrews McMeel all have one each.
Look for things to heat up next month with the release of
Superman: Earth One Volume 2
from DC and two new
The Walking Dead
books from Image Comics and Robert Kirkman.
For past BookScan Top 20 Graphic Novel lists, see the "
BookScan Top 20 GNs Index
."
--
Dallas Middaugh--Disclosure: Dallas Middaugh is the director of publishing services for Random House Publisher Services. RHPS provides distribution and other services for several graphic novel clients, including DC Comics, Kodansha Comics, Archie Comics, and Vertical. He has also worked with or for Viz Media, Oni Press, and Slave Labor Graphics, and he co-founded Seven Seas.