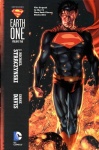 These are estimates of the sales on graphic novels by Diamond U.S. to comic specialty stores during October 2012.
For an overview and analysis of comic sales in October, see "
'Uncanny Avengers' Debuts on Top
."
For an analysis of the dollar trends in October, see "
Graphic Novels Up 53.9% in October
."
For our estimates of actual sales by Diamond
U.S.
from comic specialty stores on comic books shipped during October, see "
Top 300 Comics Actual--October 2012
."
Top 300 GNs -- October 2012

Rank

Index

Title

Price

Pub

Est.Qty

1

13.55

SUPERMAN EARTH ONE HC VOL 02

$22.99

DC

20,090

2

10.15

SAGA TP VOL 01

$9.99

IMA

15,055

3

6.97

WALKING DEAD COMPENDIUM TP VOL 02 (MR)

$59.99

IMA

10,333

4

6.97

WALKING DEAD TP VOL 01 DAYS GONE BYE

$9.99

IMA

10,333

5

4.19

WALKING DEAD TP VOL 02 MILES BEHIND US

$14.99

IMA

6,211

6

3.40

BATMAN THE DARK KNIGHT HC VOL 01 KNIGHT TERRORS

$24.99

DC

5,045

7

3.37

DEADPOOL KILLS MARVEL UNIVERSE TP

$14.99

MAR

5,004

8

3.25

NIGHTWING TP VOL 01 TRAPS AND TRAPEZES

$14.99

DC

4,815

9

2.94

V FOR VENDETTA BOOK AND MASK SET (MR)

$24.99

DC

4,366

10

2.88

BATMAN HC VOL 01 THE COURT OF OWLS

$24.99

DC

4,267

11

2.56

UNWRITTEN TP VOL 06 TOMMY TAYLOR WAR OF WORDS (MR)

$16.99

DC

3,790

12

2.52

WALKING DEAD COMPENDIUM TP VOL 01 (MR)

$59.99

IMA

3,736

13

2.34

BATMAN DARK KNIGHT RETURNS TP

$19.99

DC

3,471

14

2.33

CASTLE PREM HC RICHARD CASTLES STORM SEASON

$19.99

MAR

3,449

15

2.26

JUSTICE LEAGUE DARK TP VOL 01 IN THE DARK

$14.99

DC

3,348

16

2.18

SWEET TOOTH TP VOL 05 UNNATURAL HABITAT (MR)

$14.99

DC

3,234

17

2.02

ALL STAR WESTERN TP VOL 01 GUNS AND GOTHAM

$16.99

DC

2,994

18

1.98

WOLVERINE AND X-MEN BY JASON AARON TP VOL 01

$14.99

MAR

2,935

19

1.98

AVENGERS CHILDRENS CRUSADE TP

$29.99

MAR

2,931

20

1.97

SUPERGIRL TP VOL 01 LAST DAUGHTER OF KRYPTON

$14.99

DC

2,924

21

1.94

GREEN LANTERN NEW GUARDIANS HC VOL 01 RING BEARER

$22.99

DC

2,882

22

1.87

CHARLES BURNS HIVE GN

$21.95

RAN

2,768

23

1.77

WALKING DEAD TP VOL 03 SAFETY BEHIND BARS

$14.99

IMA

2,627

24

1.74

I VAMPIRE TP VOL 01 TAINTED LOVE

$14.99

DC

2,586

25

1.74

SUPERCROOKS PREM HC (MR)

$19.99

MAR

2,574

26

1.73

WALKING DEAD TP VOL 16 A LARGER WORLD (MR)

$14.99

IMA

2,569

27

1.72

MIND THE GAP TP VOL 01 INTIMATE STRANGERS (MR)

$9.99

IMA

2,547

28

1.70

JUSTICE LEAGUE HC VOL 01 ORIGIN

$24.99

DC

2,518

29

1.68

AVENGING SPIDER-MAN TP FRIENDS BEAT UP YOUR FRIENDS

$19.99

MAR

2,485

30

1.62

VENOM TP SAVAGE SIX

$16.99

MAR

2,403

31

1.61

DEATH THE DELUXE EDITION HC (MR)

$29.99

DC

2,391

32

1.60

POWERS TP VOL 14 GODS (MR)

$19.99

MAR

2,377

33

1.56

BATMAN THE LONG HALLOWEEN TP

$24.99

DC

2,311

34

1.52

HELLBLAZER THE DEVILS TRENCH COAT TP (MR)

$16.99

DC

2,260

35

1.47

CROSSED TP VOL 04 BADLANDS (MR)

$24.99

AVA

2,185

36

1.46

STAR WARS AGENT O/T EMPIRE TP VOL 01 IRON ECLIPSE

$18.99

DAR

2,162

37

1.45

HOBBIT TP

$20.00

RAN

2,153

38

1.44

BATMAN ODYSSEY HC

$29.99

DC

2,134

39

1.43

WALKING DEAD TP VOL 04 HEARTS DESIRE

$14.99

IMA

2,122

40

1.41

CHRIS WARE BUILDING STORIES HC

$50.00

RAN

2,087

41

1.39

BATMAN EYE OF THE BEHOLDER TP

$14.99

DC

2,059

42

1.39

SECRET AVENGERS TP RUN MISSION SAVE WORLD

$19.99

MAR

2,055

43

1.35

BLEACH TP VOL 48

$9.99

VIZ

1,999

44

1.34

BLEACH TP VOL 49

$9.99

VIZ

1,987

45

1.32

STAR WARS KNIGHTS O/T OLD REPUBLIC TP VOL 10 WAR

$19.99

DAR

1,963

46

1.32

AGE OF APOCALYPSE TP VOL 01 X-TERMINATED

$16.99

MAR

1,961

47

1.30

WALKING DEAD TP VOL 05 BEST DEFENSE

$14.99

IMA

1,921

48

1.27

UNCANNY X-FORCE PREM HC BOOK 01 FINAL EXECUTION

$24.99

MAR

1,890

49

1.24

RED HULK TP MAYAN RULE

$16.99

MAR

1,846

50

1.22

STAR WARS DARK TIMES TP VOL 05 OUT WILDERNESS

$17.99

DAR

1,811

51

1.20

WALKING DEAD TP VOL 06 SORROWFUL LIFE (MR)

$14.99

IMA

1,777

52

1.19

JOURNEY INTO MYSTERY NEW MUTANTS TP EXILED

$16.99

MAR

1,768

53

1.19

PUNISHERMAX TP HOMELESS (MR)

$15.99

MAR

1,764

54

1.19

SAVAGE HAWKMAN TP VOL 01 DARKNESS RISING

$16.99

DC

1,760

55

1.18

SONIC THE HEDGEHOG COMPLETE COMIC ENCYCLOPEDIA TP

$16.99

ARC

1,754

56

1.18

HUNTRESS CROSSBOW AT THE CROSSROADS TP

$14.99

DC

1,748

57

1.17

BATMAN THE KILLING JOKE SPECIAL ED HC

$17.99

DC

1,732

58

1.17

WALKING DEAD TP VOL 15 WE FIND OURSELVES (MR)

$14.99

IMA

1,732

59

1.15

GREEN LANTERN CORPS THE WEAPONER TP

$14.99

DC

1,709

60

1.11

X-FACTOR TP VOL 16 TOGETHER AGAIN FOR FIRST TIME

$16.99

MAR

1,653

61

1.10

YU-GI-OH 5DS GN VOL 03

$9.99

VIZ

1,637

62

1.08

SUPERMAN BATMAN SORCERER KINGS TP

$14.99

DC

1,606

63

1.08

BIRDS OF PREY TP VOL 02 THE DEATH OF ORACLE

$16.99

DC

1,600

64

1.07

CRIMINAL DELUXE EDITION HC VOL 02 (MR)

$49.99

MAR

1,594

65

1.07

FEAR ITSELF TP AVENGERS ACADEMY

$19.99

MAR

1,594

66

1.06

SHOWCASE PRESENTS THE FLASH TP VOL 04

$19.99

DC

1,572

67

1.05

BATMAN KNIGHTFALL TP NEW ED VOL 01

$29.99

DC

1,557

68

1.04

WALKING DEAD TP VOL 07 THE CALM BEFORE

$14.99

IMA

1,543

69

1.04

JUSTICE LEAGUE OF AMERICA RISE OF ECLIPSO TP

$16.99

DC

1,538

70

0.99

HAUNT TP VOL 04

$14.99

IMA

1,475

71

0.99

WALKING DEAD TP VOL 09 HERE WE REMAIN (MR)

$14.99

IMA

1,469

72

0.97

BLACK BUTLER TP VOL 11

$11.99

HAC

1,444

73

0.97

WALKING DEAD TP VOL 08 MADE TO SUFFER (MR)

$14.99

IMA

1,444

74

0.96

MARVEL TALES BY ALAN DAVIS TP

$16.99

MAR

1,426

75

0.96

INFERNAL MAN-THING TP

$14.99

MAR

1,421

76

0.95

WALKING DEAD TP VOL 10 WHAT WE BECOME

$14.99

IMA

1,410

77

0.95

FEAR ITSELF TP IRON MAN

$16.99

MAR

1,405

78

0.95

DARK TOWER GUNSLINGER TP JOURNEY BEGINS

$19.99

MAR

1,403

79

0.94

WALKING DEAD TP VOL 14 NO WAY OUT (MR)

$14.99

IMA

1,390

80

0.93

GANTZ TP VOL 25 (MR)

$12.99

DAR

1,377

81

0.93

ASTONISHING X-MEN TP VOL 09 EXALTED

$16.99

MAR

1,376

82

0.93

TWELVE TP VOL 02

$15.99

MAR

1,375

83

0.93

AVATAR LAST AIRBENDER TP VOL 03 PROMISE PART 3

$10.99

DAR

1,372

84

0.91

ESSENTIAL THOR TP VOL 06

$19.99

MAR

1,350

85

0.91

MANHATTAN PROJECTS TP VOL 01 SCIENCE BAD

$14.99

IMA

1,343

86

0.89

WALKING DEAD TP VOL 11 FEAR THE HUNTERS (MR)

$14.99

IMA

1,324

87

0.89

SHADOW BLOOD & JUDGMENT TP (MR)

$19.99

DE

1,320

88

0.88

HELL YEAH TP VOL 01 LAST DAY ON EARTHS

$9.99

IMA

1,308

89

0.88

BATMAN HUSH COMPLETE TP

$24.99

DC

1,306

90

0.87

SPIDER-MAN FLYING BLIND TP

$16.99

MAR

1,295

91

0.87

ITS TOKYO CHARLIE BROWN GN

$13.99

BOO

1,289

92

0.87

STAR WARS OMNIBUS CLONE WARS TP VOL 02 ENEMY SIDES

$24.99

DAR

1,286

93

0.87

CAPTAIN AMERICA BY ED BRUBAKER PREM HC VOL 03

$24.99

MAR

1,283

94

0.87

FABLES TP VOL 17 INHERIT THE WIND (MR)

$14.99

DC

1,283

95

0.86

WALKING DEAD TP VOL 13 TOO FAR GONE (MR)

$14.99

IMA

1,281

96

0.86

GREEN LANTERN HC VOL 01 SINESTRO

$22.99

DC

1,269

97

0.86

WALKING DEAD TP VOL 12 LIFE AMONG THEM

$14.99

IMA

1,269

98

0.83

ZOMBIES CHRISTMAS CAROL TP

$19.99

MAR

1,237

99

0.83

BATMAN EARTH ONE HC

$22.99

DC

1,230

100

0.83

LEGENDS OF THE DARK KNIGHT ALAN DAVIS HC

$39.99

DC

1,228

101

0.81

WORLD OF WARCRAFT CURSE OF THE WORGEN TP

$16.99

DC

1,205

102

0.81

EC WALLY WOOD CAME THE DAWN AND OTHER STORIES HC

$28.99

FAN

1,203

103

0.80

CALL OF WONDERLAND TP (MR)

$12.99

ZEN

1,193

104

0.80

LEGION SECRET ORIGIN TP

$14.99

DC

1,193

105

0.80

EPIC KILL TP VOL 01

$12.99

IMA

1,186

106

0.79

TRANSFORMERS MORE THAN MEETS THE EYE TP VOL 02

$19.99

IDW

1,173

107

0.78

FEAR ITSELF TP UNCANNY X-FORCE DEEP

$19.99

MAR

1,164

108

0.77

BATMAN & ROBIN HC VOL 01 BORN TO KILL

$24.99

DC

1,145

109

0.77

BAKUMAN TP VOL 15

$9.99

VIZ

1,141

110

0.76

Y THE LAST MAN TP VOL 01 UNMANNED

$14.99

DC

1,133

111

0.76

BATMAN KNIGHTFALL TP NEW ED VOL 03 KNIGHTSEND

$29.99

DC

1,125

112

0.75

FEAR ITSELF TP SPIDER-MAN

$16.99

MAR

1,119

113

0.75

MMW CAPTAIN AMERICA TP VOL 02

$24.99

MAR

1,106

114

0.74

NOT MY BAG GN

$12.99

IMA

1,095

115

0.74

ONCE UPON A TIME MACHINE TP

$24.99

DAR

1,091

116

0.73

AVENGERS BRIDE OF ULTRON PREM HC

$29.99

MAR

1,082

117

0.72

JOURNEY INTO MYSTERY TP VOL 03 TERRORISM MYTH

$16.99

MAR

1,071

118

0.72

SUPERMAN EARTH ONE HC VOL 01

$19.99

DC

1,066

119

0.72

MMW SGT FURY HC VOL 04

$69.99

MAR

1,063

120

0.71

BATMAN KNIGHTFALL TP NEW ED VOL 02 KNIGHTQUEST

$29.99

DC

1,060

121

0.71

WONDER WOMAN HC VOL 01 BLOOD

$22.99

DC

1,053

122

0.70

BATMAN DETECTIVE COMICS HC VOL 01 FACES OF DEATH

$22.99

DC

1,041

123

0.70

MAN-THING OMNIBUS HC

$125.00

MAR

1,041

124

0.69

WRINKLE IN TIME GN

$19.99

ST.

1,028

125

0.69

SPIDER-MAN NOTHING STOP JUGGERNAUT PREM HC

$29.99

MAR

1,025

126

0.68

ALICE IN WONDERLAND HC (MR)

$24.99

ZEN

1,012

127

0.68

ABSOLUTE FINAL CRISIS HC

$99.99

DC

1,011

128

0.68

BLUE ESTATE TP VOL 03 (MR)

$12.99

IMA

1,004

129

0.67

DEADPOOL TP VOL 01 SECRET INVASION

$14.99

MAR

1,000

130

0.67

NEW YORK DRAWINGS ADRIAN TOMINE HC

$29.95

DRA

996

131

0.67

MUDMAN TP VOL 01

$9.99

IMA

992

132

0.67

SKULLKICKERS TP VOL 03 SIX SHOOTER ON THE SEVEN SEAS

$16.99

IMA

991

133

0.67

BATMAN YEAR ONE DELUXE SC

$14.99

DC

988

134

0.66

AQUAMAN HC VOL 01 THE TRENCH

$22.99

DC

973

135

0.65

SANDMAN TP VOL 01 PRELUDES & NOCTURNES NEW ED (MR)

$19.99

DC

967

136

0.65

DANCER TP

$16.99

IMA

962

137

0.65

VALIANT MASTERS BLOODSHOT HC VOL 01

$24.99

VAL

962

138

0.65

POKEMON ADVENTURES PLATINUM GN VOL 06

$7.99

VIZ

960

139

0.65

SWAMP THING TP VOL 01 RAISE THEM BONES TP

$14.99

DC

958

140

0.64

V FOR VENDETTA TP (MR)

$19.99

DC

945

141

0.63

SPIDER-MAN SPIDER-ISLAND COMPANION TP

$34.99

MAR

934

142

0.62

SUPERMAN RED SON TP

$17.99

DC

924

143

0.61

SGT ROCK ARCHIVES HC VOL 04

$59.99

DC

906

144

0.61

KISS GREATEST HITS TP VOL 02

$19.99

IDW

905

145

0.61

MARVEL UNIVERSE ULT SPIDER-MAN COMIC READER TP #3

$3.99

MAR

905

146

0.61

GFT PRESENTS JUNGLE BOOK TP (MR)

$15.99

ZEN

903

147

0.61

CIVIL WAR TP

$24.99

MAR

901

148

0.59

EXTREMELY MORONIC MAD TP

$12.99

DC

880

149

0.59

EC KURTZMAN CORPSE O/T IMJIN AND OTHER STORIES HC

$28.99

FAN

879

150

0.59

SPIDER-MAN COMPLETE BEN REILLY EPIC TP BOOK 06

$39.99

MAR

879

151

0.58

AVATAR LAST AIRBENDER TP VOL 01 PROMISE PART 1

$10.99

DAR

863

152

0.58

BATGIRL HC VOL 01 THE DARKEST REFLECTION

$22.99

DC

862

153

0.58

WALKING DEAD HC VOL 08 (MR)

$34.99

IMA

862

154

0.58

WATCHMEN TP

$19.99

DC

854

155

0.57

MU AVENGERS HULK AND FANTASTIC FOUR DIGEST TP

$9.99

MAR

845

156

0.57

NEW MUTANTS TP VOL 06 DEANIMATOR

$12.99

MAR

842

157

0.57

X-MEN BISHOPS CROSSING HC

$49.99

MAR

842

158

0.56

ARCHIES GIANT KIDS JOKEBOOK TP

$6.99

ARC

831

159

0.55

FATALE TP VOL 01 DEATH CHASES ME (MR)

$14.99

IMA

814

160

0.55

LOCKE & KEY TP VOL 01 WELCOME TO LOVECRAFT

$19.99

IDW

812

161

0.54

ARCHIE LOVE SHOWDOWN TP

$9.99

ARC

805

162

0.54

AVATAR LAST AIRBENDER TP VOL 02 PROMISE PART 2

$10.99

DAR

803

163

0.54

BATWOMAN HC VOL 01 HYDROLOGY

$22.99

DC

797

164

0.54

X-MEN HIDDEN YEARS TP VOL 02

$34.99

MAR

794

165

0.53

SANDMAN TP VOL 09 THE KINDLY ONES NEW ED (MR)

$19.99

DC

791

166

0.53

REAL GHOSTBUSTERS OMNIBUS TP VOL 01

$24.99

IDW

785

167

0.52

AVENGERS ASSEMBLE TP VOL 05

$34.99

MAR

774

168

0.52

ULTIMATE COMICS X-MEN BY NICK SPENCER TP VOL 01

$15.99

MAR

774

169

0.52

AMERICAN VAMPIRE TP VOL 02 (MR)

$17.99

DC

770

170

0.52

TRANSFORMERS CLASSICS TP VOL 04

$24.99

IDW

766

171

0.52

GI JOE A REAL AMERICAN HERO TP VOL 05

$19.99

IDW

765

172

0.51

PROPHET TP VOL 01 REMISSION

$9.99

IMA

759

173

0.51

SMOKE & MIRRORS TP

$19.99

IDW

759

174

0.51

CROW MIDNIGHT LEGENDS TP VOL 02 FLESH & BLOOD

$17.99

IDW

755

175

0.51

HALO FALL OF REACH HC

$49.99

MAR

751

176

0.51

PANDORA HEARTS GN VOL 12

$11.99

HAC

749

177

0.50

DURARARA GN VOL 04

$11.99

HAC

748

178

0.50

WALKING DEAD HC VOL 01 (MR)

$34.99

IMA

745

179

0.50

FAIRY TAIL GN VOL 21

$10.99

RAN

741

180

0.50

AMERICAN VAMPIRE HC VOL 04 (MR)

$24.99

DC

739

181

0.50

INFINITY GAUNTLET TP

$24.99

MAR

736

182

0.49

CREEPY ARCHIVES HC VOL 14

$49.99

DAR

734

183

0.49

TRIAGE X GN VOL 01 (MR)

$13.99

HAC

731

184

0.49

FEAR ITSELF TP HOME FRONT

$24.99

MAR

728

185

0.49

TEEN TITANS TP VOL 01 ITS OUR RIGHT TO FIGHT

$14.99

DC

725

186

0.49

DMZ TP VOL 12 THE FIVE NATIONS OF NEW YORK (MR)

$14.99

DC

724

187

0.48

LOEG VOL ONE TP

$16.99

DC

718

188

0.48

MARVEL ZOMNIBUS HC

$125.00

MAR

705

189

0.47

BRIDE OF THE WATER GOD TP VOL 12

$9.99

DAR

703

190

0.46

CATWOMAN TP VOL 01 THE GAME

$14.99

DC

689

191

0.46

DANCE IN THE VAMPIRE BUND GN VOL 13 (MR)

$11.99

ST.

687

192

0.46

FEAR ITSELF TP YOUTH IN REVOLT

$16.99

MAR

687

193

0.46

GHOST IN THE SHELL GN VOL 1.5 (MR)

$17.99

RAN

683

194

0.45

BATMAN INCORPORATED DELUXE HC VOL 01

$29.99

DC

673

195

0.45

LORD OF THE JUNGLE TP VOL 01 (MR)

$19.99

DE

672

196

0.45

CHEW TP VOL 01 (MR)

$9.99

IMA

667

197

0.45

SUPERMAN ACTION COMICS HC VOL 01 SUPERMAN MEN OF STEEL

$24.99

DC

667

198

0.45

BATMAN YEAR ONE DELUXE EDITION HC

$24.99

DC

665

199

0.45

MARS ATTACKS CLASSICS TP VOL 02

$19.99

IDW

665

200

0.45

FABLES TP VOL 01 LEGENDS IN EXILE NEW ED (MR)

$12.99

DC

662

201

0.45

KICK-ASS 2 PREM HC (MR)

$24.99

MAR

660

202

0.44

SONIC THE HEDGEHOG GENESIS TP

$14.99

ARC

659

203

0.44

BLACKEST NIGHT TP

$19.99

DC

650

204

0.43

TENJO TENGE GN VOL 09 (MR)

$17.99

VIZ

645

205

0.43

AUGUST MOON GN

$14.95

TOP

641

206

0.43

BATMAN GATES OF GOTHAM TP

$14.99

DC

641

207

0.43

DEADPOOL TP VOL 02 DARK REIGN

$14.99

MAR

637

208

0.43

EXECUTIVE ASSISTANT IRIS TP VOL 02

$14.99

ASP

637

209

0.43

GI JOE COMPLETE COLL HC VOL 01

$49.99

IDW

634

210

0.42

FALLING SKIES GN VOL 02

$9.99

DAR

627

211

0.42

WARRIORS OF MARS TP

$19.99

DE

625

212

0.41

JOKER HC

$19.99

DC

612

213

0.41

NIGHT OF 1000 WOLVES TP

$17.99

IDW

612

214

0.41

MARVEL FIRSTS BEFORE MARVEL NOW TP

$24.99

MAR

609

215

0.41

NORTHANGER ABBEY GN TP

$14.99

MAR

608

216

0.41

HIGHER EARTH TP VOL 01

$14.99

BOO

604

217

0.40

A TALE OF SAND HC

$29.95

ARA

600

218

0.40

PINOCCHIO VAMPIRE SLAYER GN VOL 04 WOOD & BLOOD PT 2

$10.95

SLA

594

219

0.40

RED LANTERNS TP VOL 01 BLOOD AND RAGE

$14.99

DC

593

220

0.40

KINGDOM COME TP NEW EDITION

$17.99

DC

590

221

0.40

PLANET OF THE APES TP VOL 03

$14.99

BOO

589

222

0.39

EXECUTIVE ASSISTANT HIT LIST AGENDA TP

$19.99

ASP

585

223

0.39

LOEG III CENTURY #3 2009 (MR)

$9.95

TOP

585

224

0.39

MIKE NORTONS CURSE GN

$14.99

ONI

584

225

0.39

BIRDS OF PREY TP VOL 01 TROUBLE IN MIND

$14.99

DC

581

226

0.39

AMERICAN VAMPIRE TP VOL 01 (MR)

$19.99

DC

576

227

0.39

BATMAN A DEATH IN THE FAMILY TP NEW ED

$24.99

DC

573

228

0.38

DOCTOR WHO CLASSICS TP VOL 08

$19.99

IDW

569

229

0.38

HACK SLASH TP VOL 02 DEATH BY SEQUEL NEW PTG

$14.99

IMA

569

230

0.38

PREACHER TP VOL 01 GONE TO TEXAS NEW EDITION

$17.99

DC

568

231

0.38

FABLES TP VOL 15 ROSE RED (MR)

$17.99

DC

565

232

0.38

GAME OF THRONES HC GN VOL 01 (MR)

$25.00

RAN

565

233

0.38

ARKHAM ASYLUM ANNIVERSARY ED SC (MR)

$17.99

DC

558

234

0.37

VOLTRON TP VOL 01 SIXTH PILOT

$19.99

DE

556

235

0.37

ROGER LANGRIDGES SNARKED TP VOL 02

$14.99

BOO

555

236

0.37

ANIMAL MAN TP VOL 01 THE HUNT

$14.99

DC

552

237

0.37

TOWER CHRONICLES GN VOL 01 GEISTHAWK

$7.99

LEG

552

238

0.37

DICKS

$19.99

AVA

550

239

0.37

TRIO TP VOL 01

$17.99

IDW

550

240

0.37

DAREDEVIL BY MARK WAID TP VOL 01

$15.99

MAR

548

241

0.37

SAILOR TWAIN GN

$24.99

ST.

545

242

0.37

DOCTOR WHO DALEK PROJECT GN

$23.99

RAN

543

243

0.37

DUNGEONS & DRAGONS FORGOTTEN REALMS TP VOL 04

$19.99

IDW

542

244

0.36

SANDMAN TP VOL 02 THE DOLLS HOUSE NEW ED (MR)

$19.99

DC

541

245

0.36

SKIP BEAT TP VOL 29

$9.99

VIZ

541

246

0.36

DISAPPEARANCE OF NAGATO YUKI CLAN GN VOL 02

$11.99

HAC

538

247

0.36

BATMAN AND ROBIN TP VOL 03 BATMAN ROBIN MUST DIE

$17.99

DC

537

248

0.36

BEST AMERICAN COMICS HC 2012 (MR)

$25.00

HOU

537

249

0.36

METABARONS ULTIMATE COLL ED (MR)

$59.95

HUM

535

250

0.36

LOVELESS 2-IN-1 ED TP VOL 01

$14.99

VIZ

531

251

0.36

GREEN LANTERN CORPS HC VOL 01 FEARSOME

$22.99

DC

530

252

0.36

MORNING GLORIES TP VOL 01 FOR A BETTER FUTURE

$9.99

IMA

530

253

0.36

VALENTINE TP VOL 01 THE ICE DEATH

$24.99

IMA

527

254

0.35

ELRIC THE BALANCE LOST TP VOL 03

$14.99

BOO

524

255

0.35

TRANSMETROPOLITAN TP VOL 02 LUST FOR LIFE NEW ED (MR)

$14.99

DC

524

256

0.35

COLONY TP

$24.99

IDW

521

257

0.35

SWEET TOOTH TP VOL 01 OUT OF THE WOODS (MR)

$12.99

DC

520

258

0.35

MIGHTY THOR BY MATT FRACTION PREM HC VOL 03

$24.99

MAR

518

259

0.35

QUEEN SONJA TP VOL 04 SON OF SET

$19.99

DE

514

260

0.34

UNWRITTEN TP VOL 01 TOMMY TAYLOR AND BOGUS IDENTITY TP

$14.99

DC

508

261

0.34

BARACK OBAMA COMIC BOOK BIOGRAPHY HC

$14.99

IDW

506

262

0.34

GIRL FRIENDS COMPLETE COLL TP VOL 01 (MR)

$17.99

ST.

504

263

0.34

SCOTT PILGRIM COLOR HC VOL 01

$24.99

ONI

500

264

0.34

ASM YOUNG READERS NOVEL TP VOL 03 DR OCTOPUS

$6.99

MAR

499

265

0.34

DEADPOOL TP VOL 10 EVIL DEADPOOL

$16.99

MAR

499

266

0.34

NORTHLANDERS TP VOL 01 SVEN THE RETURNED (MR)

$16.99

DC

499

267

0.34

WALKING DEAD HC VOL 02 (MR)